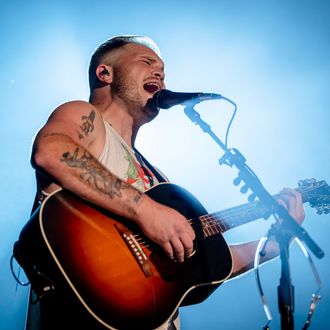 Photo: Michael Hickey/Getty Images
Zach Bryan probably won't be the only Philadelphia Eagles fan arrested on the way to the Birds' opening game this Sunday, but he will be the most famous. The singer-songwriter, who currently has the No. 1 song and album in the country, wasn't booked for any wild Philly antics, though. After being booked for obstruction of investigation in Oklahoma on September 7 (and released on bond), Bryan clarified what went down in a video. "I was an idiot today, and my decisions did not reflect who I was as a person, and I just want to make that clear," said the 27-year-old Navy veteran. He explained that he was pulled over a few days ago for speeding in his home state of Oklahoma and declined to give a police officer his address because, well, he's a popular guy. The officer allegedly threatened to arrest Bryan if he didn't give his address and cuffed the singer; Bryan said he ended up giving his address and got off with a warning.
A few days later, Bryan was on his way out of Oklahoma to go to the Philly game against the New England Patriots in Foxborough, Massachusetts. He said his security guard, who was driving behind him, got pulled over, and after waiting for "ten to 15 minutes," Bryan got out of his car for a cigarette. Then, he said, the officer told him to get back in his car, and threatened to arrest him. "Like a dumbass, I said, 'Take me to fuckin' jail, what do you mean?' And he was like, 'Take you to jail.' And I was like, 'Damn!'" recalls Bryan, ever the storyteller. You can probably guess what happens next: Bryan argued with the officer and ended up getting cuffed and arrested. (Handcuffs hurt, he said.) After a few hours in jail, where "everyone was super kind," Bryan made up with the officer and made bond. (He did say he still has "to deal with the legalities of it" later.)
This whole situation did not dampen Bryan's support of law enforcement, though. "I support law enforcement as much as anyone can," he said in a previous Twitter apology, and added in the video that the officers "were just doing their jobs" — even if it sounds like they were a bit intense about the whole thing. But hey, go Birds.