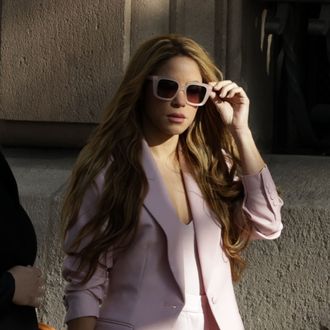 She make a man wanna pay taxes.
Photo: Europa Press via Getty Images
Shakira is paying up to El Jefe. The Colombian performer settled her long-standing Spanish tax-fraud case, accepting a $7.5 million fine on the first day of her trial, People reported. The deal also includes a three-year suspended sentence. Had Shakira been found guilty, she would have faced up to eight years in jail and up to $26 million in fines. But Shakira is still saying "objection" to the claims of fraud in the first place. "While I was determined to defend my innocence in a trial that my lawyers were confident would have ruled in my favor, I have made the decision to finally resolve this matter with the best interest of my kids at heart who do not want to see their mom sacrifice her personal well-being in this fight," she said in a statement. Shakira had been accused of not paying 14.5 million euros, or $15.8 million, in income taxes between 2012 to 2014, for time she spent living in Spain with ex Gerard Piqué.
"Throughout my career, I have always strived to do what's right and set a positive example for others," Shakira added of her innocence. But, she said, resolving this case will allow her to focus on things like "my upcoming world tour and my new album, both of which I am extremely excited about." We'll take those whenever, wherever, however.