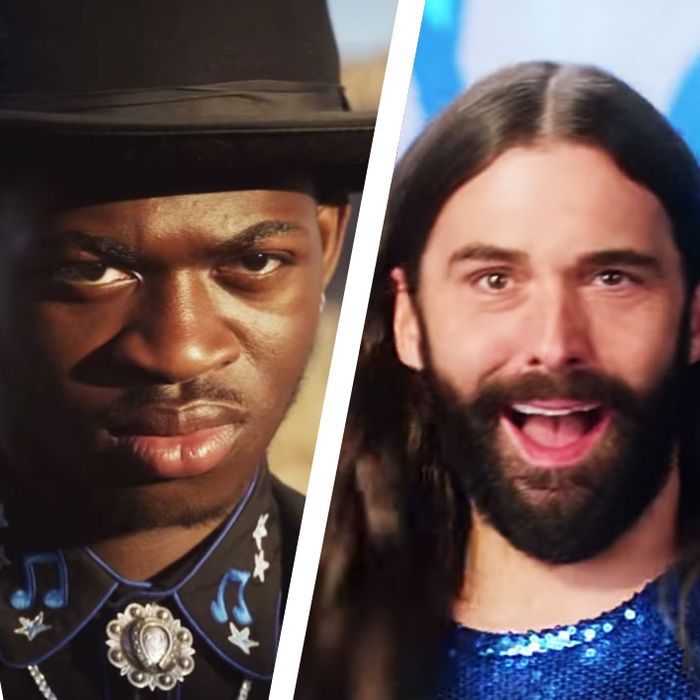 Photo-Illustration: Vulture and YouTube
Peggy Olson was just starting to tackle the Super Bowl commercial craze in the penultimate season of Mad Men. And now, over 50 years after Super Bowl II, the "big game" is still the prime programming slot for advertisers, who shell out north of $5 million to capture American eyeballs for 30 seconds, according to Reuters. It's true that viewership has dipped in recent years. Last year, 98.2 million people tuned in, the lowest ratings in over a decade. But the brands and production companies are still cranking out the trailers and commercials, and this year's crop is a wild medley of moods. From a Doritos dance battle starring Lil Nas X to a Maisie Williams musical number, these ads will take you to some interesting places.
Bill Murray Does Groundhog Day Again, Again, and Again for Jeep
Bill Murray (with a little help from Stephen Tobolowsky and a furry critter) makes the case for why you should buy a Jeep Gladiator.
Avocados From Mexico: Pretty in Green
What's more tender than an avocado-themed music box adorned with a rotating miniature bowl of guacamole? Perhaps only Molly Ringwald holding said music box as part of a QVC-inspired commercial.
Hyundai: A Wicked Smaht Pahk With Bostonian Stars
Chris Evans, John Krasinski, and Rachel Dratch channel big Boston energy to show off Hyundai's new parking technology, featuring Red Sox legend David "Big Papi" Ortiz.
Facebook: Chris Rock Finds His Niche
The tech giant recruited Chris Rock to take part in a "Rocky Balboa Going the Distance" Facebook group. Sylvester Stallone had a little something to say about that.
Planters: The Death of Mr. Peanut


Mr. Peanut reaches sainthood in this Planters ad, featuring Matt Walsh and Wesley Snipes, sparking a controversial #RIPPeanut campaign.
Planters: Baby Nut
Like Jesus himself, in Planters' subsequent commercial, Mr. Peanut rises from the dead in the form of Baby Nut, an adorable peanut baby that resurrects from the grave of his former adult self. Anyway, who's hungry?
Kia Makes Us Cry


Las Vegas Raiders running back Josh Jacobs serves us Friday Night Lights vibes as he waxes poetic to his younger self about striving to "be someone."
Chrissy Teigen and John Legend Try to "Zhuzh" Old-Money Folks With Genesis
Chrissy Teigen disses a crowd of stuffy rich people in an attempt to inject some young luxury realness. When the plan goes awry, she hitches a ride with her husband John Legend in a Genesis SUV, on the condition that she addresses him as "sexiest man alive."
MC Hammer Gets Creative With Cheesy Cheetos Fingers
What happens when MC Hammer eats Cheetos in the midst of a melodic epiphany? Nothing short of musical genius.
Discover Takes Stab at Virality


Discover Card attempts to strike internet gold with this new ad, splicing together iconic movie, TV, and vlog moments of people saying "yes" to underscore that people do indeed take Discover Card.
Discover Takes Another Stab at Virality


We get it, Discover doesn't charge annual fees. The credit card brand mimics the style of their previous commercial to make this very clear.
Doritos: 'Old Town Road' Showdown
Lil Nas X and resident cowboy actor Sam Elliott go for a little hoedown throwdown in the Old West. Stakes are high: The winner takes home a bag of Cool Ranch Doritos.
Audi Goes Electric With Maisie Williams
Maisie Williams won't let the heat of climate change get her down. Instead, she keeps it cool, singing Frozen anthem "Let It Go" in an Audi electric Sportback. It puts La La Land's traffic-jam musical opening to shame.
Walmart Attempts to Heal National Wound
The corporate retail behemoth highlights American communities set to the tune of Elton John's "Rocketman." They could learn a thing or two from Shakira and J Lo.
WeatherTech Gets Wholesome


Scout, the "Lucky Dog" from last year's WeatherTech Super Bowl campaign, plays on our heartstrings as he praises the University of Wisconsin's veterinary school.
Budweiser Brings Strong Patriotic Flavor


Budweiser wants to show us that Americans aren't the worst.
Bud Light Featuring Post Malone


Bud Light takes us inside of Post Malone's brain à la Inside Out as he attempts to buy the brand's hard seltzer.
Bud Light Featuring Post Malone, Part 2


The Bud Light Post Malone saga continues as he tries the mango seltzer flavor. Watch out, White Claw.
Man Remembers With Google


An elderly man recruits Google Assistant to keep the memory of his late wife Loretta alive. Grab a tissue, this one almost matches the emotional punch of the Ellie and Carl sequence in Up.
Jimmy Fallon Fuels Workout With Michelob Ultra


After downing a bottle of Michelob Ultra, Jimmy Fallon runs with a pep in his step, accompanied by motivational music courtesy of the Roots.
Michelob Ultra Pure Gold Goes Organic
Michelob Ultra Pure Gold has an interesting proposition: If you buy a six-pack, the company will convert some farmland to organic standards. Their impact!
Missy Elliot and H.E.R. Remix the Rolling Stones for Pepsi


"Paint It, Black" gets an update with this Pepsi Zero Sugar ad featuring Missy Elliot and H.E.R.
Microsoft Featuring Katie Sowers


Katie Sowers, the first female football coach to reach the Super Bowl, clutches a Microsoft Surface Pro 7 as she makes some stuff happen on the field.
Pop-Tarts Gets Sweet and Salty With Jonathan Van Ness
Your favorite Queer Eye star takes snacking from "ho-hum to so yum."
Reese's Take 5 and the Power of Office Humor


Reese's takes its jokes very literally.
Bryan Cranston and Tracee Ellis Ross Re-create The Shining for Mountain Dew
There are few things more thrilling than watching Bryan Cranston smash through a door while touting sugarless soda. Tracee Ellis Ross has a killer scream, too.
Porsche Is Fast & Furious
Porsche gives us action-packed heist vibes. All it needs is a Teriyaki Boyz soundtrack.
A Snickers Utopia


Snickers laments the state of things in 2020. No more nondairy milk and corrupt politicians, Snickers is here!
The Rick and Morty Ensemble Is Stuck Stacking Pringle Flavors
Help! The characters of Rick and Morty are trapped in a Pringles commercial. How many flavors will it take?!
Heinz: A Condiment of Comfort
Whether you're entering extraterrestrial territory or unloading U-Haul boxes into a haunted house, Heinz is that reliable friend, a companion to french fries and frightened families alike.
Olay: Stars Take Us to Outer Space


Taraji P. Henson, Busy Phillips, and Lilly Singh launch a mission into the stratosphere with some help from NASA astronaut Nicole Scott. Really a dream space squad.
Ellen and Portia Ponder Life Before Amazon Alexa


After Ellen DeGeneres and Portia de Rossi marvel at the convenience of modern technology, this ad plunges into period-piece mode, giving us some amusing, historicized iterations of Alexa.
TurboTax Is Ready for TikTok
Get ready to learn about tax deductions and mobile form uploads to the tune of a catchy, New Orleans bounce–inspired track. Also, everyone does the butterfly dance.
Lots of Love With New York Life
New York Life Insurance gets poetic, defining all the ways to love, according to the Ancient Greeks.
SodaStream Affirms Life on Mars


In a heroic sequence featuring Bill Nye the Science Guy, we witness the discovery of water on Mars. It's a marvel, a gem. Too bad a guy named Mark turns it into seltzer.
Little Caesars Featuring Rainn Wilson


Rainn Wilson takes us inside the headquarters of Sliced Bread, which tries to put up a fight against a more compelling carb.
Dashlane Saves Us From Password Purgatory
For anyone who needs an excuse to power up their cyber security in 2020, the password management platform Dashlane is pretty convincing in this spooky commercial.
Squarespace: Winona in Winona
Winona Ryder returns to her birthplace (and namesake) in this very pure Squarespace commercial. She explains to a curious cop that she is creating a website about the Minnesota city "with pictures on it." You can even check out the impressive fruits of her labor.
Rocket Mortgage: Jason Momoa Gets Comfortable
When Jason Momoa gets home, he finally gets to take off his muscle suit, peel off his gorgeous wig and kick off his huge heels. Only in a man's house can he finally be free. As an added bonus, Lisa Bonet is there to spot him on his benchpress.
Tide Pods: Charlie Day Asks, 'When Is Later?'
In Tide's multi-commercial runner, It's Always Sunny in Philadelphia's Charlie Day panics when confronted with the question: when is the right time to treat a stain? After facing the initial quandary, Day encounters the Bud Knight in 1436, Wonder Woman in 1984, you get the picture. One thing's for sure: no matter what era he's visiting, those Tide Pods sure look delicious. Wait, no, we mean, look really effective! Forget we said anything!
NFL Makes Us Tired


To score points with next generation of athletes, the NFL taps a talented kid to deliver a football to the "big game." It's no Forrest Gump marathon, but we're still feeling winded.
T-Mobile: Anthony Anderson's Mom Approves


She's concerned when her son, comedian and actor Anthony Anderson, switches her cellular network from Verizon to T-Mobile. But after FaceTiming him in the aquarium, at the beach, and in the club, she's a 5G believer.
Verizon: 5G is Awesome, But…


Verizon rattles off a short list of why 5G is cool, but they're not really about the hype. Instead, they give us a montage of first responders doing heroic things to the soundtrack of a new Pearl Jam song.
Secret Says Girls Can Kick, Too


After a rousing football field goal, the kicker takes off her helmet, revealing long, wavy locks of hair. The crowd is silent, then they erupt into applause. Now that's feminism.
Toyota Featuring Cobie Smulders


The Stumptown actress swoops in with a Toyota Highlander to save the day at a chemical plant, a cowboy ranch, and an arctic research center before rescuing her son from waiting in the rain after a movie.
Sabra Promotes Some Questionable Hummus Combos


We're all for copious hummus consumption, but this celebrity-laden commercial shows us some repulsive dipping preferences.
P&G: A Big Mess Featuring Sofia Vergara


After a pot of chili hits the fan and flies all over the room, Sofia Vergara marshals the troops, including Troy Palomalu and Busy Phillips, to restore the room back to order and cleanliness.