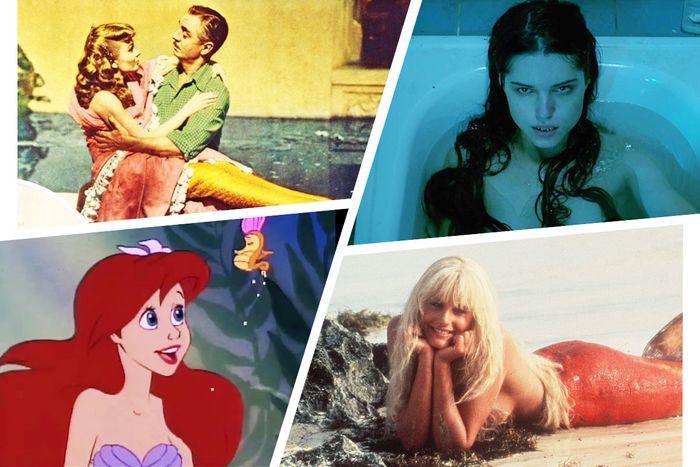 Photo-Illustration: Vulture
Renowned for their ethereal beauty, magical powers, and uncanny ability to cause chaos whichever direction they flap their tail toward, mermaids are some of the most Hollywood-friendly creatures in mythology. These half-human–half-fish have been enticing moviegoers for more than a century, first appearing onscreen in The Mermaid, a silent short by pioneering filmmaker Georges Méliès, way back in 1904.
It makes sense that there are plenty of half-fish in the cinematic seas. Mermaids have a fluidity that can lend itself to everything from fantasy adventures (Mermaids of Tiburon), to slasher horrors (Nymph), to teen rom-coms (Aquamarine). But whether they're the damsel-in-distress or the wicked temptress, they're a far more relatable presence than any other mythical figure. Ignore everything below the waist and they look just like us mere mortals. And they offer a glimpse into a visually appealing underworld of possibilities which unless you're a regular scuba diver remains strictly out of bounds.
Of course, there's no getting away from the fact they have an inherent sex appeal, too, their luscious flowing locks and forever beach-ready bodies presenting Tinseltown's picture perfect vision of femininity. Yet the modern mermaid also typically possesses a strong feminist streak, with their attempts to break free from, and often bring down the fall of, the patriarchy making them an ideal cinematic heroine.
With the release of the live-action remake of The Little Mermaid this week, what better time to compile their most alluring movies ever? To keep things strictly mermaid, our list doesn't contain any selkies (no The Secret of Roan Inish or Ondine), any mermen (no Luca or The Shape of Water), or any films in which the mermaids don't drive the narrative (The Lighthouse, Peter Pan). And despite its title, Mermaids, the 1990 comedy in which Cher briefly dresses up as one, doesn't fit the bill either. Having established the parameters, let's dive into the ten best mermaid movies and see if it really is better down where it's wetter.
Miranda (1948)
Adapted by Peter Blackmore from his own stage play, the lighthearted comedy stars future Tony Award winner Glynis Johns as the titular mermaid who turns the tables on a fisherman and reels him in. Luckily for her married captive, Miranda agrees to set him free, albeit after seven days of trapping him in an underwater cave on the Cornish coast. Her only demand is a trip to see the sights of his London hometown.
Hilarity ensues as Johns attempts to disguise the fact he's brought home a finned stranger via various ridiculously elaborate dresses and a wheelchair. (See, Lady Gaga and Bette Midler? Neither of you were first!) Johns, a delight as the (half-) fish out of water who seduces every man she meets, ensnared both audiences (Miranda was one of the year's biggest box-office hits) and director Ken Annakin with the pair going on to work together six more times.
Mr. Peabody and the Mermaid (1948)
There were actually two mermaid movies in 1948 and while Miranda may have been first out of the blocks, this similarly themed post-war picture was by far the starrier effort, boasting two Academy Award nominees as its leads. Based on Constance and Guy Jones's novel Peabody's Mermaid, the fantastical romance is also far more dramatic, throwing in a suspected murder subplot, accidental near drowning, and existential crisis into the mix.
Mr. Peabody and the Mermaid is largely told from the perspective of William Powell's Arthur, a recovering flu victim whose Caribbean vacation, marriage, and entire life get upended by a mischievous and mute human-fish hybrid. But despite not uttering a word or leaving the confines of the fictional island's fishpond, it's Ann Blyth's mermaid, Lenore, who steals the show. Sure, certain parts of the story haven't aged particularly well. There is something slightly icky about Arthur giving Lenore a kissing lesson within moments of their offshore meet-cute, for example. But the dreamlike cinematography and sense of mystery — conversations with a cynical doctor fail to confirm whether the interspecies love story occurred for real or was simply a figment of the imagination — means this still intrigues 75 years on.
Night Tide (1961)
Night Tide was a pivotal film in many ways. It was the debut feature from New Queer Cinema auteur Curtis Harrington, provided the first starring role for a young Dennis Hopper, and — according to the latter, anyway — ground zero for American independent cinema: The lack of a union logo meant it took two years to receive a general release.
As was the case with Mr. Peabody and the Mermaid, this 1961 picture keeps audiences guessing about the existence of its mythical figure. Linda Lawson's Mora is certainly convinced she is one, performing as a freak-show attraction at a Santa Monica amusement park while apparently also luring several offshore sailors to their demise. However, Hopper's enamored Johnny Drake, who very nearly ends up a victim himself, finds it hard to believe that murder and mermaidery are part of her nature. Although more straightforward than most of Harrington's oeuvre, Night Tide is still a curious, atmospheric watch, blending elements of fantasy, horror, and even psychosexual drama into one Edgar Allan Poe–inspired melting pot. Hopper, meanwhile, impresses with an uncharacteristically subdued turn, far removed from the enfant terrible he'd become.
Splash (1984)
The only film on this list to pick up a major Academy Award nomination (Best Screenplay), this 1984 box-office smash is also the kind of Über-charming rom-com Hollywood simply doesn't make anymore. (The long-delayed, gender-flipped remake that may or may not star Channing Tatum doesn't count until it actually exists.)
Splash, the tale of an unlucky-in-love fruit-and-veg wholesaler who reconnects with the mermaid that saved him from a watery near death two decades previously, undoubtedly has a gimmicky premise. But Tom Hanks and Daryl Hannah help sell all the madness with sparkling performances that deservedly launched them both onto the A-list, and the latter's childhood obsession with mermaids essentially gave her lifetime preparation for the role.
Ron Howard also banishes the ghost of Richie Cunningham once and for all, showcasing the unfussy, crowd-pleasing directing style that would later guide him to Oscar glory for A Beautiful Mind, while John Candy provides another comedy master class as Hanks's free-spirited elder brother. All parties went on to make more substantial work, of course, but this remains a classic of the early VHS era.
The Little Mermaid (1989)
We'll soon discover how the likes of Halle Bailey, Javier Bardem, and Melissa McCarthy match up to their animated counterparts in the beloved 1989 hit that truly kick-started the Walt Disney Renaissance. Indeed, who knows whether Beauty and the Beast, Aladdin, and The Lion King would have lived to see the day had the Mouse House not given Hans Christian Andersen's same-named tale the musical-cartoon treatment first.
Everything about The Little Mermaid is top-drawer Disney. Alan Menken's refined orchestral score was rewarded with an Oscar, and the most toe-tapping of his Broadway-inspired show tunes, "Under the Sea," took home another when it won Best Original Song. The lush hand-drawn animation instantly immerses viewers in the aquatic underworld, while the inventive script is peppered with gags for kids and big kids alike. Then there's the compelling cast of characters, from goodies such as wisecracking crab Sebastian and anxiety-ridden tropical fish Flounder to Pat Carroll's devilish sea witch Ursula, an all-time-great villain. And while Ariel's willingness to surrender her beautiful voice for the love of a bland prince isn't the best message, she's still an inspirational Disney princess. The 2023 remake has a tall order.
The Lure (2015)
The Lure is also loosely based on the Andersen classic. But it's part twisted romance, part gothic horror, and part Rocky Horror goes '80s electro cabaret — Disney's The Little Mermaid this ain't.
Director Agnieszka Smoczyńska found her muse on dry land, though, as The Lure was inspired by her mother's nightclub, the place where she had her "first shot of vodka, first cigarette, first sexual disappointment, and first important feeling for a boy." This Polish export centers on two Siren sisters who encounter the local rock band Figs n' Dates, and the musicians take a shine to the mermaid pair. Pretty soon, however, they're left wishing they'd turned to Craigslist for their backing singers instead. Not only are they upstaged by their new recruits, but they also find themselves entangled in murder plots on both sides, resulting in a Red Wedding that almost makes Game of Thrones's appear the height of civility. The Lure certainly isn't for the fainthearted. But it's quite the achievement to make such a well-worn story feel like nothing you've ever seen before.
The Mermaid (2016)
Best known for his outlandish martial-arts spectacles, Stephen Chow (Kung Fu Hustle, Shaolin Soccer) was never going to make a straightforward mermaid tale. Perhaps surprisingly, his 2016 contribution to the genre doesn't contain any physics-defying acrobatics. It does, however, boast murderous mer-octopuses, malfunctioning jet packs, and more roast-chicken talk than a rotisserie convention.
Lin Yun, a previously unknown actress who was selected out of the more than 18,000 auditionees for the title role, lights up the screen as a mermaid tasked with assassinating the property tycoon (Deng Chao) threatening to destroy her underwater community. Of course, this being a rom-com and all (albeit an unashamedly unhinged one), her mission goes slightly awry when she ends up falling head over heels for her target.
The Mermaid broke all kinds of box-office records in China with audiences fully embracing its go-for-broke mix of absurdist humor, Looney Tunes–esque violence, environmental activism, and fairy-tale love. Western viewers may take a while to adjust to its tonal whiplashes and overwhelming lack of subtlety. But go along for the ride; this is a feast for the senses that never fails to entertain.
Blue My Mind (2017)
Two years before becoming a director for hire on the likes of Castle Rock, Servant, and Killing Eve (receiving an Emmy nomination for her work on that last project), Swiss native Lisa Brühlmann first impressed with a feature-length debut that put a nightmarish coming-of-age twist on the mermaid tale.
Blue My Mind stars Luna Wedler as Mia, a 15-year-old who must navigate a new Zurich school at the same time she's navigating puberty. But alongside the usual peer pressures and parental disputes, the teen is also forced to deal with a few more atypical problems: a craving for saltwater and goldfish directly from the family's fish tank, a sudden longing for the ocean, and, most startling of all, her legs gradually transforming into a flipper. (This big reveal is, sadly, needlessly given away in the trailer.) Brühlmann visually impresses, drawing upon the body horror of David Cronenberg as this human-to-mermaid transition starts to take shape, while a dreamlike gray-blue color palette cleverly matches Mia's ever-growing underwater state of mind.
Lu Over the Wall (2017)
While Hayao Miyazaki's magical Ponyo doesn't quite fit the mermaid criteria (its impossibly cute lead character is a goldfish, for one thing), this equally kid-friendly anime released nine years later certainly does. Just don't expect little ones — or anyone at all for that matter — to make much sense of its occasionally incomprehensible plot.
Lu Over the Wall is based on an interspecies friendship between Kai, an isolated middle-school student who plays in an emo band, and the titular ningyo girl, a water-manipulating human-fish hybrid whose fins transform into legs whenever she hears a sick beat. But their touching bond is severely tested when Lu goes viral for her ability to get the whole seaside town busting a move and the jealousy monster rears its ugly head.
Masaaki Yuasa's sketchily drawn, distinctly two-dimensional animation might lack the flair of his Studio Ghibli counterparts. But thanks to its eye-popping colors, slapstick humor, and easy-to-learn life lessons, this environmental-themed fantasy is a no-brainer for anyone wanting to introduce a younger generation to the joys of the genre.
A Mermaid in Paris (2020)
Essentially Amélie with fins, this French-language crowd-pleaser stars Braquo's bad boy, Nicolas Duvauchelle, as Gaspard, a brokenhearted, bohemian boat singer whose miserable existence is enlivened by a mysterious blonde who literally washes up injured on his doorstep. Could she be the Siren who, according to local legend, has lured several Parisian men to their death?
It's not the most obvious starting point for the kind of sweeping fairy-tale love story perfect for watching on a lazy Sunday afternoon. But first-time director Mathias Malzieu (better known for fronting the French rock outfit Dionysos) builds a world so wonderfully off-kilter that it has shades of Michel Gondry at his most whimsical. You'll soon be buying into all the bathtubs–and–fish-fingers romance. Marilyn Lima, who imbues mermaid Lula with a natural charm, and Duvauchelle, who is playing against type, also share a sparkling chemistry that makes their unlikely pairing impossible to root against — this, despite the fact that the former can stay on dry land only for 48 hours and the latter's heart may explode at any given moment.