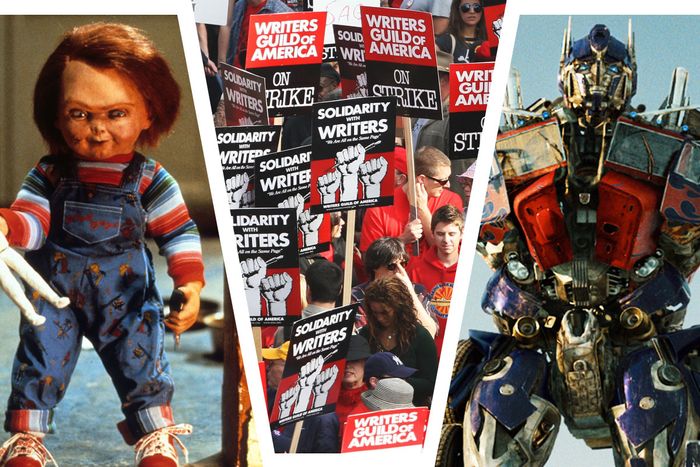 Photo-Illustration: Vulture. Photos: United Artists/Getty Images; Matthew Simmons/WireImage; Paramount Pictures
The Writers Guild of America is on strike — and not for the first time. The ongoing 2023 strike, like the 2007–8 and 1988 strikes before it, is a means for writers to remind Hollywood that they're the essential creative force behind movies and TV shows and a demand for fair pay and credit. Sometimes, as is the point of a strike, things go off the rails when the essential laborers aren't involved. With the WGA strike, focus tends to center on the way it impacts TV shows, which typically have a much quicker turnaround than their big-screen counterparts. But it's not only TV productions and late-night shows that have gone off the air because of the strike by the Writers Guild of America. The strike is also having an effect on the movie business, which has tentpoles to keep on schedule with or without a writer available on set.
The past has shown us how deadly it can be to cut writers out of the equation — scripts are meant to be revised during production; dialogue is meant to be tinkered with. Daniel Craig is not supposed to be your star and your script doctor, as he became for Quantum of Solace. Good writing takes time, especially when millions and millions of dollars are at stake.
Below is a look at ten films that were impacted by the two previous WGA strikes. Some of them are stories of the ways that other creatives managed, with much effort, to pull off a decent movie; others are notable messes that show just how essential writers are when it comes to making blockbusters.
Child's Play, 1988
You can blame Chucky's origin story on the 1988 WGA Strike. Don Mancini created the iconic serial-killing toy, but due to the strike he wasn't present on the set when the first Child's Play went into production. Some strange ideas — like Chucky's voodoo origins, awkward even for a killer-doll flick — came up in his absence. Mancini later told Mental Floss it was "a mythology we got stuck with for six movies." The strike took Chucky out of Mancini's wise hands for a little while as co-writer and director Tom Holland, co-writer John Lafia, and producer David Kirschner tried to bring the cheery redheaded murderer to life on a cold Chicago set.
Mancini told The B-Movies Podcast that being away from the production made him more objective when Child's Play was in post and he could once more be involved with his creation. With now-longtime producer Kirschner, Mancini was instrumental in whittling Holland's two-hour cut (which tested disastrously) down to a fleet 88 minutes. The key was in Mancini's original script: By reducing Chucky's screen time to the more Jaws-like presence he originally had in Mancini's mind, the doll's debut became a peek-a-boo classic.
Batman, 1989
Many years before his highly anticipated return in this month's The Flash, Michael Keaton's portrayal of the Dark Knight was but a risky gamble for Warner Bros. studio, pushed into existence by comics-savvy screenwriter Sam Hamm. Hamm delivered three drafts before he was sidelined by the 1988 Writers Guild strike right before Batman started production in London. Burton then had to scramble on new drafts with collaborating British writer Charles McKeown and uncredited Top Gun rewriter Warren Skaaren (none of them members of the WGA). In the process, an absent Hamm lost a major battle with director Tim Burton over a reveal about the Joker being the one who killed Batman's parents — a connection that's not in the original comics.
As Hamm tells it, "That was something that Burton had wanted from early on … I wound up talking him out of it for as long as I was on the script." To this day, Hamm still pleads the fifth on the Joker twist while also distancing himself from another polarizing moment: It wasn't his idea for butler Alfred to just let Batman's love interest Vicki Vale into the Batcave. "I agree with you," Hamm jokes. "That is Alfred's last day of employment at Wayne Manor."
License to Kill, 1989
The WGA Strikes have compromised two Bond films (so far), the first being the grim 1988 film License to Kill, Timothy Dalton's shaken and stirring return to the role after the success of 1987's The Living Daylights. Originally known as License Revoked (which was changed to not confuse Americans with the DMV), the movie lost its writer Richard Maibaum shortly after he provided treatment with co-writer Michael G. Wilson (who was not a WGA member). The two had co-scripted four Bond movies before, but Maibaum was the veteran, going back to the first movie, Dr. No. Most of all, Maibaum injected humor into adaptations of Ian Fleming's stories.
With Maibaum sidelined by the 1988 strike, the far less experienced Wilson struggled to make a case for License to Kill's darker version of Bond (which ended up earning the franchise's first PG-13 rating). The result was a languid, erratic thriller that, for some reason, had Bond's friend Felix Leiter tortured to death. It became one of the franchise's least adored installments, making way for the '90s rebooting with 1995's Goldeneye.
Angels & Demons, 2009
It may seem mundane compared to some of the horror stories about movies that pushed through a writers strike, but delaying a movie — especially a highly anticipated follow-up to a box-office sensation — is no small matter. And however one may feel about Angels & Demons, the sequel to Ron Howard's thriller The Da Vinci Code, the overall product could have been a lot worse if they had actually attempted to finish making it without writers. In fact, it's the rare case of a studio knowing that it had an incomplete story on its hands; instead of rushing it into production during the strike to hit a release date, it pushed the whole project back. A February 2008 production changed to the summer of that year, delaying its eventual release by a few months.
Considering the success of The Da Vinci Code, it was a wise move from Sony, even though it meant the company had to wait a little bit longer to sell tickets to the sequel. And it reflected well on WGA members Howard and screenwriter Akiva Goldsman, who was spared the grief of having an undeveloped work forced into shooting status. As Goldsman said to CBS News during the strike, "it would be agony to have to stand there knowing you could fix something and not fix it … that's what a lot of my brothers and sisters are doing right now." He added, "It's like watching someone you love wander out into traffic."
G.I Joe: The Rise of Cobra, 2009
In the months before it looks like a writers strike is inevitable, studios tend to make the same play: Scramble to get writers to work as much as they possibly can in the very short time period before the strike-mandated "pencils down." The quality of this last-minute, no-revisions work tends to be about what you'd expect. That's what happened when the WGA strike of 2007–8 loomed, and seasoned writer Stuart Beattie found himself with a bizarre new gig: Script a G.I. Joe adaptation in only six weeks. Paramount Pictures and producer Lorenzo di Bonaventura had just made a hit with Michael Bay's 2007 summer flick, Transformers, but they needed to ensure they had a similar production ready when writers were unavailable.
What you see in G.I. Joe: The Rise of Cobra was more or less work done in half the time that a first draft takes, according to Beattie. (And he spent three of those weeks mostly thinking about the structure.) But while Beattie succeeded in giving Paramount a platform for cartoonish action, it's not one that star Channing Tatum is proud of. As he reflected to Howard Stern about Cobra years later: "The script wasn't any good. I fucking hate that movie."
Star Trek, 2009
One of the biggest films of summer 2009 was shot in the middle of the 2007–8 WGA strike, with its writers Alex Kurtzman and Roberto Orci, producer Damon Lindelof, and director J.J. Abrams unable to change its script. WGA member John August, a friend of Abrams, and Lindelof conveyed their experiences as WGA members working on such a high-stakes project. "J.J. was describing a scene he was shooting the day before. Midway through it, he got a great idea for a new line. Which he couldn't write. Couldn't shoot. Couldn't be in his movie. Damon described it like having one of your superpowers taken away."
Kurtzman and Orci could be on set without violating Writer's Guild commitments because they were executive producers, but no words were allowed. The two shared their workaround with First Showing: "All we could do was sort of make funny eyes and faces at the actors whenever they had a problem with the line and sort of nod when they had something better," said Orci. That more or less fulfilled Kurtzman's proclaimed allegiance when they were standing outside the studio: "We haven't touched a line," they told CBS News during the strike. "And we won't."
Terminator: Salvation, 2009
Production on Terminator: Salvation began on schedule shortly after the 2008 WGA Strike ended, but it probably shouldn't have, as there was no time for the recently striking writers to iron out all the kinks that come with a $200 million project. Among those who wrongly assumed that the studio would push back shooting dates was Christian Bale, who came onto the project pre-strike with an interest in beefing it into a John Connor story for him to play. But as Bale told GQ about the "balls to the wall effort" to make the film, "the strike kept going on, and we were getting less and less time to get it together." The rushed script had to be fixed as cameras were rolling on McG's Apocalypse Now–inspired set, and not even uncredited work from future Westworld co-creator and WGA member Jonathan Nolan (who had to depart the project midway for another obligation) could salvage it.
McG told Reuters that the script was like "a moving target," and co-star Sam Worthington later griped about the bad writing ("Some of the lamest gags I'd ever read," he said to CBR). Looking back on it a few years later, Bale confided to the Happy Sad Confused podcast, "[Terminator Salvation was] a great thorn in my side because I wish we could have reinvigorated the franchise. And unfortunately, during production, you could tell that wasn't happening." The messy experience offers a tiny bit more context for why Bale's temper famously got the best of him mid-production in his regretful diatribe ("Seriously, you and me man, we're fucking done professionally"), which became more legendary to moviegoers than the lackluster experience of the movie itself.
Transformers: Revenge of the Fallen, 2009
Along with helping put Star Trek back into orbit, screenwriters Alex Kurtzman and Roberto Orci were tasked with providing some type of structure for a sequel to 2007's Transformers. The massive problem, however, was that they only had two weeks to create an outline for the project to take into pre-production.
Director Michael Bay was insistent on keeping the pre-production on schedule, telling Rotten Tomatoes that "I'm not going to let the strike take me down." As his writers were pens-down, Bay filled sequences with goofy characters and sight gags. "I'm not in the guild, but I've been writing every day," he said. When the strike ended two months before cameras rolled, Kurtzman and Orci holed up in a hotel alongside writer Ehren Kruger, pounding out a screenplay for Bay's massive film.
After making his third robots-in-disguise film, Transformers: Dark of the Moon ("Dork-free Transformers," he called it to Empire Magazine), Bay shared some frustration about the making of Transformers: Revenge of the Fallen and what made the movie "crap": "It was just terrible to do a movie where you've got to have a story in three weeks. I was prepping a movie for months, where I only had 14 pages of some idea of what the movie was. It's a BS way to make a movie."
X-Men Origins: Wolverine, 2009
One of Deadpool's superpowers is that he basically can't die, but the WGA Strike of 2007–8 nearly killed off any interest in the Marvel character, making it something of a miracle that Ryan Reynolds was able to revive the Merc With a Mouth and make him one of the most popular characters in all comic cinema. Originally, Deadpool was meant to be a cameo in X-Men Origins: Wolverine and had no dialogue written out. Enter Reynolds, who was hoping to one day make the character his own, and whose improvisation was appealing for a writer-less production. As Reynolds told Entertainment Weekly, "Every line I had in the movie I just wrote myself," referring to the earlier scenes in which he lets the character's motormouth run as Wade Wilson. Naïve executives then "called an audible at the last minute" and made bad-comic-book-movie history: They sewed the chatty character's mouth shut as he became Deadpool and gave him laser eyes and giant blades. As Reynolds advised them, "People are gonna go nuts over this … not in a good way."
Reynolds has since become a WGA member with a co-writing credit on Deadpool 2 and other Deadpool-related shorts. But because of the current strike, Reynolds's mouth as a writer has been sewn shut on set, with guidelines preventing him from changing up the script. As Deadpool creator Rob Liefeld recently pointed out on Twitter, it's a good thing that Deadpool wears a mask and that Reynolds can ad-lib from inside a recording booth during post-production, as he always has. But if Reynolds and team are in a Quantum of Solace– or Star Trek–like pinch on set, here's hoping they've already baked in some comic relief about laser eyes.