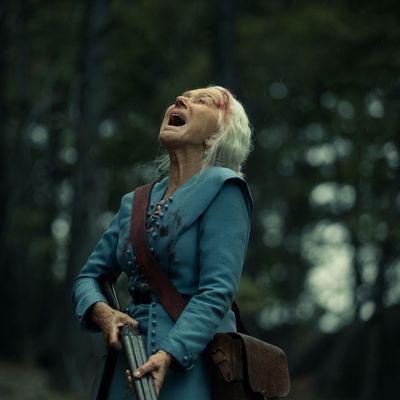 1923
The War Has Come Home
Photo: Emerson Miller/Paramount+
If you were on the fence about 1923, this is not the episode for you. Taylor Sheridan bearhugs the melodrama on "The War Has Come Home," a dusty hour of television devoted to off-duty cowboys and their misuses. It's an episode about love, really: love at first sight, puppy love, mature love, and dogged love, the kind that's outlasted drought and famine, war and time. As a concept, I dig it. But I'd be lying if I said Sheridan's fiercest writing was in the domestic stuff. No, this is an episode for people who see the romance inherent to the frontier and are willing to carry it with them into the story. This is for people who, when others decry rom-com's Big Romantic Speeches because "people don't really talk like that," mutter under their breath unintelligibly.
But if none of that appeals to you, "The War Has Come Home" still has a barn-burner of a finale sequence, which means Sheridan's ode to love on the range is also the 1923 episode with its ugliest bloodbath. Another small mercy is that we're entirely spared the horrific and questionable "noble savage" storyline, in which the passing of time at an American Indian boarding school is marked by the purple blossom and fade of one teenage girl's bruises.
The lusty New Year's Day episode opens with an overdue homecoming. Jacob Dutton and his men have been away for weeks herding the cattle up the mountain, which means their ranch WAGs have spent weeks worrying they might not return at all. Ellen lovingly greets John Sr. in her own warm, restrained way; Cara embraces Jacob with a light-hearted scolding for riding his horse too fast. And Elizabeth — who, in her khaki dungarees, is finally beginning to look more like a rancher's wife than a New York deb — sprints out of the paddock, tripping and falling in an effort to shave seconds off the time until she's reunited with Jack. Little gets said of the drive itself. Jacob tells Cara only that they had "some trouble" and he'll need to go report to the sheriff in Bozeman. The "trouble" he speaks of is, of course, the vigilante mass hanging of shepherds he orchestrated.
In the end, reluctant to be parted again, the whole merry group makes their way to town, including Jake and Cara, John and Emma, Elizabeth and Jack, and the ever-watchful ranch foreman Zane — 1923's answer to Yellowstone's chief bruiser, Rip Wheeler. On the range, the Duttons are the baddest crew around, but in Bozeman, they're rubes with a toddler's taste for continuous question-asking. What's a washing machine? What's a refrigerator? Why would I want electricity if it means I have to pay money to a stranger? Who are all these people? What are they drinking? You say they're paving roads? To the park? Into Yellowstone National Park? To make it accessible? To people? On Vacation? From New York City? You! Don't! Say!
In the evening, the younger Duttons find themselves drinking gin Rickeys and Bees Knees at a speakeasy, trying out the latest dance craze — a turn of events that feels lifted from a Roaring Twenties bingo card. Naturally, dancing leads to sex, not to mention the answer to the $64,000 question. No, Lizzie and Jack have not had premarital sex … until tonight! And I'm happy for those crazy, love-drunk kids, but also scared for Jack. From the moment Elizabeth becomes pregnant with the next generation of Duttons, Taylor Sheridan is free to off our baby-faced cowboy.
My most meaningful criticism of 1923's third hour is that it takes far too long (18 minutes, 42 seconds) to head to Africa, which for me, right now, is where the show's big thumping heart lives. The scenery is enchanting, the music gets all plucky and whistly and happy. The bush is where the story goes to replenish its lungs.
Spencer has been called to track a hyena that's been killing railroad workers for sport. He brings Alexandra to this untamed land, who, in the course of just 36 hours, goes from a high society bride to a runaway called "Alex" to the fiancee of a man she's known for just 36 hours. She's also very good for the show. In a world overstuffed with know-it-alls, Alex asks questions. She turns a tormented and taciturn man into someone practically loquacious. She tells little jokes and even laughs.
On a spontaneous day trip to see what Spencer believes is a child's footprint petrified in lava rock, Alex accidentally-on-purpose baits him into a marriage proposal he's all too prepared to make, albeit in his own discouraging way. "Are you worried there's things about me you might not like?" he asks Alex, who verbally-but-not-in-her-heart fears they might be rushing in. "I can promise you there's plenty." Challenge accepted! To prove she's just as reckless as he, she'll even have sex with him on the wide-open African plain … twice! FWIW, Alex also agrees that the imprints on the rock belong to a prehistoric child, that time is precious and fleeting, and that Darwin's theory of biological evolution is a good shout.
It's shaping up to be a magical day, really, but this show doesn't do good days. Before long, a rogue elephant charges their truck, leaving them stranded and vulnerable moments before sunset. As such, the freshly betrothed spend several hours in a tree, hoping help reaches them before the voracious, scavenging lions come for the elephant Spencer just put down. It's okay, though! No one's big proposal ever goes as planned.
For all her bravado back in a Nairobi bar, Alex quickly admits when she's insanely scared. A pride of lions shows up, followed by hyenas, followed by, luckily, a search and rescue team from the railroad camp. But Spencer is compelled to gun down four, maybe five, maybe six, maybe seven (?!?) lions before the cavalry arrives, each gunshot bringing Alex closer to hysteria. Upon rescue, Spencer refuses to leave the lion-infested area without recovering his lucky rope, so I expect to see this rope again. This is a rope of spectacular importance.
It turns out Alex isn't a huge fan of staring death in the eye, and she never wants to feel that horror again. Fortuitously, falling in love has put Spencer off the thrill of imminent death, too. But what to do next with their one wild and precious life together???
I called this recap Everybody Gets Some, but to be honest, I cannot definitively say that the Dutton elders had sex, only that there's something alluringly post-coital about the way Cara watches her man shave his face the next morning. Counterpoint: Cara goes into the bathroom for privacy to change into her clothes. Still, it must be said that they are very in love and that their declarations of affection rattled me as they made them. All declarations of love carry with them the whisper of good-bye. These are the rules of the horse opera.
Suffice it to say, the sheriff was displeased at Jacob's unsanctioned lynching of the shepherds, though not displeased enough to do anything about the "trouble." Which means the Dutton clan is cleared to leave town the next day, en masse, just 24 hours after an angry Banner finally reached home with pools of blood in his boots. The Duttons make easy targets on the open road, riding slowly in a wagon with three women.
When Banner's men attack, it's carnage. Elizabeth is hit in the stomach, Jack in the shoulder, and John in the chest, all before the Duttons start shooting back. By the time the Yellowstone ranchers come to help, more damage has been done to the family tree than in the last 20 years. Just when things seem like they can't get worse, Banner himself joins the fray with a Tommy gun in hand. It's hard to say how many bullets the vengeful shepherd puts through old man Dutton and his nephew. (In an evocative echo, we learn that Cara's in medias res kill shot — the one that kicked off the season premiere — was lifted from this deadly battle.)
By the time the doctor reaches the ranch, John is dead. Jake looks to be close behind, which is fair enough; if I was 80-year-old Harrison Ford, I would not be putting in full, grueling seasons of TV either. Liz and Jackie-boy look like they'll make it, but enough has happened to change the shape of this series for the rest of the season. Cara writes to Spencer that he must come home now and protect his inheritance from the banks, miners, and thieves — the enemies that Jacob foretells. But that journey will take weeks or months. If this is how much damage can be inflicted in a single afternoon, what will Mr. and Mrs. Spencer Dutton be coming home to?