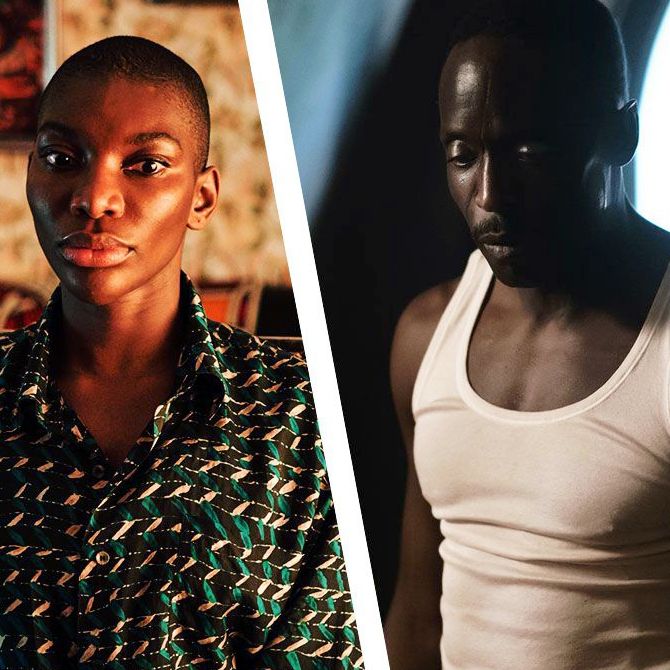 Photo-Illustration: Vulture, HBO and Netflix
"Vision" is right there in the name of the damn thing, but as a medium, television is as much dependent on sound as it is on sight. This year, from comedies to dramas, from terrestrial networks to streaming services, a good soundtrack was often as big a part of a show's critical conversation, and as crucial a component in separating great TV from the rest of the pack, as any other element. As part of our annual holiday tradition, we're once again counting down the year's top music cues, for those glorious moments when sound and vision collide. Crank 'em up!
10. What We Do in the Shadows
"Simply Irresistible" by Robert Palmer
"When you're Jackie Daytona, you can do whatever you want." Truer words, Coach Swanson, truer words. What We Do in the Shadows, actor-creator Jemaine Clement's TV reincarnation of the vampire-comedy movie of the same name, is at heart a comedy of manners — and nobody else has the manners of Jackie Daytona, the "human" alter ego of aristocratic vampire Laszlo (Matt Berry) who relocates from Staten Island to Pennsylvania just because it sounds like Transylvania. All to the tune of Robert Palmer's gleaming 1980s pop-rock smash, "Daytona" presides over a popular watering hole, sponsors the local high-school girls' volleyball team, and kicks the asses of a local biker "gang" (actually just a bunch of weekend warriors doing a fundraiser for Toys for Tots). The whole sequence rides on the inherently funny nature of the original track, which is basically a popped collar and Ray-Ban sunglasses in musical form. Let all mortals cower before its power.
9. Billions
"Old Man" by Neil Young
Has there ever been a rock star as misnomered as Neil Young? Even in his early 20s, the hippie icon and grunge forerunner's voice had the warbly, world-weary quality of a man three times his age. Perhaps that's why he was able to, so convincingly at a tender 21, sing "Old Man," an homage to the elderly caretaker of the ranch he bought with his rock and roll fortunes. That makes the song perfect fodder for Billions, Brian Koppelman and David Levien's ongoing autopsy of political and financial big-league macho men. The song shows up as an ode to Charles Rhoades, Sr. (Jeffrey DeMunn), the father of legal eagle Chuck Rhoades (Paul Giamatti) — and as a fuck-you to the deadbeat dad of billionaire hedge-fund king Bobby Axelrod (Damian Lewis). This show is never less than self-aware in its examination of moneyed machismo, and its multifaceted use of this classic-rock staple is a case in point.
8. Dark
"If I Could Turn Back Time" by Cher
If you've never heard of Dark, Netflix's astonishing science-fiction drama, let me stop you right here: Go and binge it. If you're anything like me, it won't take long. All set? Good. Now we can get into it: Series co-creators Baron Bo Odar and Jantje Friese's emotionally taxing multi-generational murder mystery is the most sophisticated exploration of time travel on camera since … maybe the first Terminator film? As such, it's rarely gotten kitschy or cutesy with its music cues — which makes the deployment of Cher's camp classic "If I Could Turn Back Time" in the show's third and final season premiere that much more impactful. It's a cheeky homage to Groundhog Day's use of Sonny & Cher's "I Got You Babe" as alarm-clock music, a nod to the show's occasional 1980s setting, and even a bit of black humor about the show's core concept. No matter how you slice it, it's as clever as syncs can get.
7. The Queen's Gambit
"Venus" by The Shocking Blue
"I felt like destroying something beautiful." From your lips to God's ears, Fight Club. Let's not kid ourselves here, watching our gorgeous big-and-small-screen peers unmake themselves is one of the highlights of watching movies and television in the first place. And in Scott Frank and Allan Scott's The Queen's Gambit, a series festooned with classic '60s pop-rock moments, watching Anya Taylor-Joy's chess queen Beth Harmon PBR her way to the bottom to the unmistakable tune of "Venus" is dark wish-fulfillment. We reach that bottom with an unceremonious kerplunk as Beth's head hits her coffee table — a fittingly ugly denouement for a genius never free of her own demons.
6. The New Pope
"Watchtower" by Devlin
He's baaaaack! Paolo Sorrentino's The New Pope, the Italian filmmaker's every-bit-as-good successor to his meme-worthy spiritual-surrealist series The Young Pope, began as the story of Sir John Brannox, the philosophical English cardinal played by John Malkovich. But when circumstances bring the original show's pontiff, Jude Law's Pius XIII, back to the forefront, his theme music comes with him. English hip-hop artist Devlin's remix of Jimi Hendrix's cover of Bob Dylan's "All Along the Watchtower" (phew) served as the opening-credits music for The Young Pope; when it suddenly recurs in the middle of The New Pope's run, the message is clear — the boy is back in town. The fact that it's all accompanied by Jude Law striding across the beach in bikini briefs, surrounded by bodacious babes? Sacrelicious!
5. Lovecraft Country
"Lonely World" by Moses Sumney
I'll admit it: I'm a huge mark for musical sequences about the power of dancing. I remember Spike Lee's Scorsesean serial-killer movie Summer of Sam as much for Mira Sorvino and John Leguizamo dancing to "Got to Give It Up" by Marvin Gaye than for anything involving the actual Son of Sam; I'm the guy who remembers the short-lived Vinyl for the "Wild Safari" scene, period. As such, I'm primed to appreciate the scene in Misha Greene's ambitious but uneven Lovecraft Country in which Michael K. Williams's closeted Montrose loses himself to the music of Chicago's underground gay ball culture. (It's just where I live, musically speaking.) But the moment here isn't whatever song Montrose and his drag queen boyfriend Sammy (John Hudson Odom) are actually listening to — it's Moses Sumney's gorgeous, tremulous song "Lonely World," an exceptionally beautiful paean to the place we all live in before human connection carries us away. Sumney is a soundtrack staple in recent years, and for good reason. You don't need to recognize the music, this sequence seems to say; you need only recognize the need for music, and the rest takes care of itself.
4. The Stand
"The Stranger" by Billy Joel
Between The Crown and The Boys, this was a very Billy Joel year in the needle-drop game. But take it from a fellow Long Islander who's been reading Stephen King novels since the seventh grade: It took a unique stroke of musical genius to make one of the Piano Man's biggest hits the theme music for the Antichrist. Thank Josh Boone and Benjamin Cavell's new adaptation of the Master's masterwork The Stand on CBS All Access. When we get our first glimpse of arch-villain Randall Flagg's (Aleksander Skarsgård) worn-out boots clocking down the highways of the night, they're accompanied by the signature whistle that kicks off Joel's sneering white-funk track about the darkness inside all of us. Stephen King has always been more of a Bruce Springsteen guy, in terms of New York metro-area classic-rock icons, but it's amazing how well Mr. William Joel works here. He once argued "We Didn't Start the Fire"; what The Stand presupposes is, maybe we did?
3. The Third Day
"Dog Days Are Over" by Florence + the Machine
It's wishful thinking. That's the most painful thing about the use of Florence Welch's anthemic "Dog Days Are Over" in The Third Day, Felix Barrett and Dennis Kelly's examination of loss and grief through the prism of British folk horror. When the song first appears in the show, it's via the headphones of main character Sam (Jude Law) as he walks through a forest. We don't know it yet, but he's come to a spot near where his son was abducted and killed years earlier. The thing is, we don't need to know it: His grief, let out through racking sobs as he listens to the song and places one of his son's garments in a nearby stream to float away, is apparent enough. It's clear that both Sam and Helen (Naomie Harris), the lead character in the show's second half, listen to this song in hopes of better days to come; what's not clear is whether those days will ever arrive. This needle drop walks the fine line between processing grief and succumbing to it.
2. Better Caul Saul
"I Got The…" by Labi Siffre
Peter Gould and Vince Gilligan's portrait of the con artist as a young(er) man has maintained the knack for musical montages of its predecessor series Breaking Bad. Perhaps you recall the split-screened sequence soundtracked by "Scorpio," the oft-sampled Rhythm Addicts funk workout? The show went back to the funk well for what is arguably its most effective musical montage yet: The long, strange trip across the desert made by main characters Jimmy McGill (Bob Odenkirk) and Mike Erhmantraut (Jonathan Banks) after a deadly shootout, to the tune of British musician and poet Labi Siffre's "I Got The…" Anyone who's heard the song sampled before, most famously on Eminem's signature single "My Name Is," can recognize its loping, slightly off-kilter beat — perfect for a slow-paced trek in no man's land, duffel bags full of sniper-rifle gear and cartel cash in tow. Its playfulness, juxtaposed with the seriousness and the black humor of Jimmy and Mike's journey, makes for a perfect TV musical moment.
1. I May Destroy You
"Something About Us" by Daft Punk
Michaela Cole's sprawling, harrowing story of trauma and recovery has no original score to speak of. Instead, dozens of songs from across the hip-hop, R&B, and dance spectrum — Janelle Monae's "Pynk," the Prodigy's "Firestarter," a host of Black British artists who aid in the show's exploration of that identity — play the role a score normally would, complementing and commenting on the triumphs and setbacks of Cole's Arabella and her circle of friends.
One of a handful of songs called upon to pull double duty across the series' 12 episodes, "Something About Us," the French duo Daft Punk's gentle late-night ode to star-crossed love, plays with maximum pathos. It's first cued up by Arabella to soundtrack a small-hours hookup with Biagio (Marouane Zotti), a friendly Roman drug dealer with whom she kindles a long-distance romance with minimal strings attached. It's the "minimal strings" that comes back to bite her.
After a pair of deeply upsetting experiences with sexual assault, Arabella impulsively makes a trip back to Rome to see Biagio, ignoring the fact that he's clearly been ignoring her messages and going so far as to sneak into his apartment when he's not home. At first, he seems simply surprised, and a little bit worried, by Arabella's well-intended intrusion; sensing that there's a distance between them that needs to be bridged, Arabella heartrendingly cues up "Something About Us" once again, in hopes that the magic they once shared can be recaptured.
Unfortunately, it's not to be. When Arabella leaves to accept a pizza delivery, Biagio locks her out — and when she, hurting, starts banging on his door while yelling in anger, he opens it with a gun in his hand, demanding she leave. Now, her attempt to relive their first romantic evening together feels like a pipe dream — as if the DJ in charge of her life heard her cue up "Something About Us" and unceremoniously hit skip. Few of 2020's musical moments could live up to one of the song's uses on I May Destroy You, let alone both.