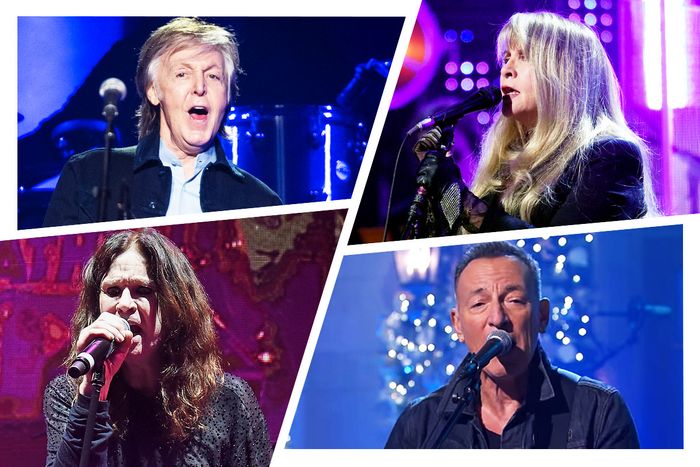 New releases from Ozzy Osbourne, Paul McCartney, AC/DC, Bruce Springsteen, and others confronted the veteran rockers' mortality and often touched on the pulse of what motivates us all these days.
Photo-Illustration: Vulture and Getty Images
Death was the main character of 2020, and like knife fodder in a slasher film, we ran, hid, and isolated in hopes of clenching the crown of final girl, the one who survives the barrage. We woke up every day and read, fretted, and argued about death. We obsessed over mortality rates. We mourned personal friends and public figures. We united, to the extent that such a thing remains possible in a society splintering into fiefdoms of accepted and unaccepted truth, around the question of how to carry ourselves in the shadow of certain doom. Revelers partied in defiant spite of it; distancing flourished because of it. Auteurs made art that, to use one of the year's favored turns of phrase, hit differently because of our circumstances. In any other year, the steady stream of new releases from classic rock legends staring down the barrel of the afterlife might scan as business as usual; one thing old timers are gonna do is worry that the best of life is in the rear view. But this year, new releases from Ozzy Osbourne, Paul McCartney, AC/DC, Bruce Springsteen, and others confronted the veteran rockers' mortality, each in their own way, and, by force of the unusual circumstances of the year, often touched on the pulse of what motivates us all these days.
Ozzy Osbourne has been threatening to retire for decades; his first farewell tour, cheekily dubbed the No More Tours Tour, happened in 1992, four years before the debut of Ozzfest, the traveling metal show that would carry him around the world into the 2010s. But the cancellation of last year's No More Tours 2 Tour in the wake of a hospitalization for a respiratory infection and the subsequent revelation that he had been diagnosed with Parkinson's disease scared fans of the once seemingly unsinkable Black Sabbath front man. Last fall's crushing ballad "Under the Graveyard" cast Ozzy as an undying figure stalking the earth in search of final rest, noting glumly that, "Everything you are / Can't take it when you go." Ordinary Man, the British singer's first solo album in a decade, is both a love letter to his own elaborate catalog of hard rock and early metal staples, and a chilling bout of septuagenarian reflection, because, as is often the case with a man whose message songs about occult matters were routinely mistaken for Satanism, it is hard to tell where truth ends and fiction begins. Ordinary Man's story songs about prideful men eager to shake the hand of doom offers a word about dignity in death. The music — care of Red Hot Chili Peppers drummer Chad Smith, Guns N' Roses bassist Duff McKagan, and producer Andrew Watt with help from Slash, Tom Morello, Elton John, Travis Scott, and Post Malone — is as darkly psychedelic as anything in Ozzy's illustrious catalog of classics. He couldn't have known what was coming after Ordinary's February 2020 release when he stressed over long and lonely nights in "Holy for Tonight," but he sounded ready.
AC/DC got an inkling that its classic lineup — ratified in 1980, when vocalist Brian Johnson stepped into the space left by the passing of original lead singer Bon Scott with the breathtaking Back in Black — was not long for the earth in 2014, when rhythm guitarist Malcolm Young was diagnosed with dementia, and longtime drummer Phil Rudd was arrested for drug possession and death threats. Bad news piled up. In 2016, bassist Cliff Williams quit. The band soldiered on, as hard-rock lifers do, with skilled replacements even as problems with Johnson's hearing necessitated time off the road (he was replaced for a bit, quite scandalously, by Axl Rose). Young passed away in 2017, but Williams, Rudd, and Johnson rejoined the band the following year, and AC/DC set about digging through the trove of unused Angus and Malcolm Young riffs, coming out with last month's Power Up, the Australian quintet's best album since the '90s at least. Power Up hits all the highlights — songs about fucking, songs about persevering, Rudd and Williams's inimitable strut, the mix of blues and brutality driving the Young brothers' fretwork — you'd expect from a great AC/DC album. The effortless glide from shit-kicking stomp to blissful chorus in the lead single "Shot in the Dark" is testament to the enduring power of rock and roll. If Power Up is the final exit on the highway for these road-tested hellions, they've gone out with all the lascivious brilliance they had when they came in.
Like Power Up, both an act of iron resolve and a monument to loss, Bruce Springsteen's Letter to You pines for a missing friend as well, but, where the former album concerns itself with pushing through the hurt, Letter stews in it. The death of George Theiss, who played with Springsteen in the Castiles in the '60s, is the spark for the new album's meditations on aging and the ability of music to both comfort and conjure memories of people we've lost. In "Last Man Standing," the Asbury Park legend realizes that he is the last living member of his first band. What he does with this newfound understanding throughout the course of the album is to get with his E Street Band and commune on friendship, bereavement, and the finer points of a deep back catalog, seating songs left over from the early '70s alongside modern-day reflections on his glory days. Letter is not only a remembrance of the dead but also a kind of conversation with himself across his over 50 year career, in the same way that Bob Dylan's spring release "A Murder Most Foul" parcels out memories of the '60s in a lyric about seeking out and clinging to what provides us solace, that Fleetwood Mac singer Stevie Nicks's brilliant October single "Show Them the Way" prays aloud for this generation to find a song that galvanizes its politics as the protest music of her own formative years did. Airtight live playing and a relative lack of overdubs — detailed in Letter's Apple TV+ film of the same name, which follows the recording of the album — reinforce the underlying point: Our loved ones and favorite songs are life lines in dire times.
This month's McCartney III, sequel to Paul McCartney's 1970 and 1980 self-titled solo albums, and recorded in isolation at his home studio in Sussex in the quiet of quarantine this year, mirrors Letter's message. As with McCartney and McCartney II — the first, a reaction to the breakup of the Beatles and the second, an electronic excursion following a 1979 pot bust that ultimately spelled the end of Wings — III is both a reminder that Sir Paul works as well without a band as he does with one and an excavation of the weird feelings that surface in a time of inertia. Songs like the winsome piano balled "Women and Wives" and "Seize the Day" offer advice to the masses on weathering rough patches and looking after one another, while "Slidin'" and "Winter Bird/When Winter Comes" dream of prosperity at the other end of all this. Throughout III, McCartney stands in his commendable chops as a blues rocker; "Slidin'" and "Lavatory Lil" are cut from the same cloth of sharp, sinister guitar work as "I Want You (She's So Heavy)" (even as the latter seems to nod to John Lennon's Abbey Road proto-punk jam "Polythene Pam"). "The Kiss of Venus" is proof the man who wrote "Blackbird" can still pack a punch with an acoustic guitar. The eight-minute epic "Deep Deep Feeling" calls to mind the more progressive stretches of 2007's Memory Almost Full. This is all in service to McCartney hammering home the same sentiments of love he's been relaying to us since the early days: When times are hard, love harder.
2020 sparked a touch of boomer nostalgia for better and brighter days in all of us, and that yearning made their music much more prescient. But it must be noted that for every tasteful, inspirational, self-referential moment like Ozzy's "Ordinary Man," the Boss's "Ghosts," or Stevie's "Show Them the Way," there's well-meaning if unnecessary message music like Bon Jovi's "American Reckoning," a song where Jon Bon Jovi does a play-by-play of the scene of George Floyd's death and the protests afterward, then drowns the potency of the lyric in motivational pap, and others ruining their legacies with fetid, wrong-headed anti-establishment bluster, like Van Morrison and Eric Clapton, whose collaborative single "Stand and Deliver" foolishly likens lockdown to slavery. (See also: Morrissey lashing out at "diversity" and Oasis's Noel Gallagher espousing anti-masker rhetoric, to name just a few rock legends who chose crankery in this era.) The ease of sliding into a politics of selfishness and a vapid worldview and a musicianship that doesn't honor the gift makes it all the more special when vital, compassionate music comes through 70-year-old vessels. In a year as grisly as this, a word of encouragement from someone who's bucked a few sea changes felt essential.
*A version of this article appears in the January 4, 2021, issue of New York Magazine. Subscribe Now!