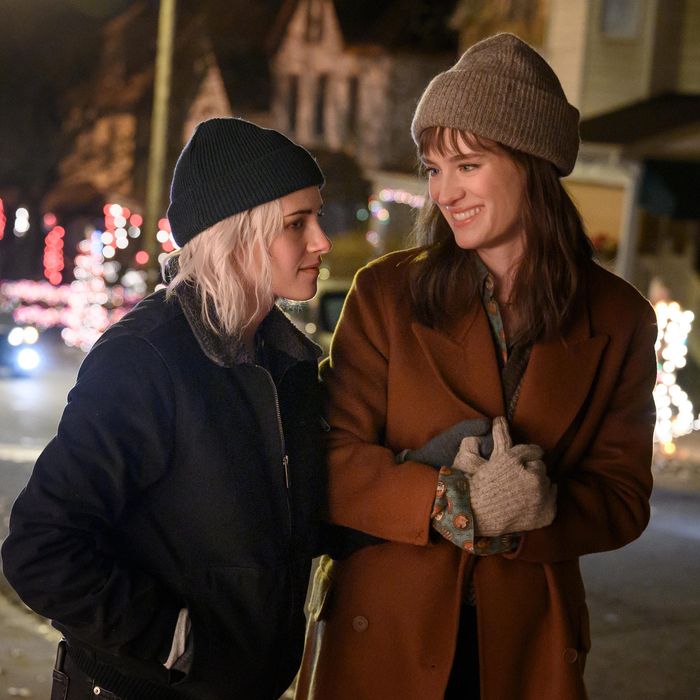 Happiest Season
, streaming on Hulu.
Photo: Courtesy of Hulu
It's mid-December, so there's no more putting it off: It's time to truly get in the festive holiday mood that's mandated every year — yes, even this year. And with everyone stuck at home this season, it's safe to assume you'll be turning to your streaming subscriptions and on-demand apps to fulfill your entertainment needs. Want something festive to watch with your eggnog? A holiday romance while you decorate your tree? A music special while you fill out your shopping list? We're here to guide the way with a dozen of the highest profile new holiday offerings this year, as well as a selection of notable alternates and guidance on where to find 20 holiday classics. Get your calendars out and build your viewing schedule.
New Christmas Movies and Specials
Jingle Jangle: A Christmas Journey
A joyous holiday musical, David E. Talbert's fantasy film has already developed a fan base since it dropped on Netflix on November 13. Forest Whitaker plays Jeronicus Jangle, a toy maker with big dreams of creative inventions and success for his business and family. He creates a matador doll that comes to life named Don Juan Diego, who is then stolen by Jeronicus's apprentice, Gustafson (Keegan-Michael Key), sending the Jangle store and family into disarray. Thirty years later, Jangles and Things is on the edge of bankruptcy when Jeronicus learns that his granddaughter could be the one to reignite his passion in inventing toys. The movie also has something else going for it: new music co-written by John Legend and sung by artists like Ricky Martin, Anika Noni Rose, Usher, and more. (Streaming on Netflix)
Christmas Waltz
This one aired on the Hallmark Channel on Thanksgiving weekend but now exists on its app, where one can watch literally dozens of Hallmark holiday original films. Christmas Waltz checks a lot of boxes for Hallmark Movie Bingo, including an old TV star in the lead role (Lacey Chabert), a wedding plotline, and unexpected romance. Chabert plays a woman dumped a month before her planned Christmas wedding, who finds love at the ballroom dance lessons she chooses to take anyway. Trivia: It's written and directed by former pop star Michael Damian ("Rock On"), who has become a holiday movie auteur with titles like A Princess for Christmas, A Royal Christmas, and Crown for Christmas. (Streaming on Hallmark)
Dolly Parton's Christmas on the Square 
The legendary country singer Dolly Parton has become one of the unexpected heroes of the pandemic, spending a fortune to help try and contain it by funding the Moderna vaccine. As if the country didn't already love the cheerful singer enough, Netflix has a new Christmas special — a musical, naturally — that casts Parton as an actual angel. Perfectly building on the Parton persona, the singer's film charts the arc of a woman named Regina (Christine Baranski), who learns the meaning of Christmas. There's plenty of Dolly charm, buoyed by memorable musical numbers. As we recently detailed on this site, there's reason to believe that Dolly Parton may actually be a literal angel. (Streaming on Netflix)
Happiest Season
There are dozens of romantic comedies set around the holiday season but most of them follow a heteronormative formula. Hulu's Happiest Season aims to rewrite the classic Christmas movie by centering on the story of a lesbian couple going home for Christmas. Directed and co-written by Clea DuVall, this is the story of Harper (Mackenzie Davis) and her girlfriend Abby (Kristen Stewart), who learns at the last minute that Harper is still closeted to the family they're visiting for Christmas. Victor Garber and Mary Steenburgen play Harper's parents; Aubrey Plaza, Alison Brie, and Dan Levy fill out a fun supporting cast. (Streaming on Hulu)
The Christmas Chronicles: Part Two
Chris Columbus, once the king of the family blockbuster with hits like Home Alone and Harry Potter and the Sorcerer's Stone, is now directing and producing films for Netflix, including this sequel to what they claim is one of their biggest hits. (Columbus co-produced the original but Clay Kaytis directed that one.) Kurt Russell returns as Santa Claus, once again forced to win over the now-cynical Kate Pierce (Darby Camp), who ends up at the North Pole with the young son of her mother's boyfriend. Inevitably, there's a threat to Santa and Christmas, leading to a family adventure film wherein two young people have to save the holiday for the world. The real draw here is an on-screen reunion between Russell and Goldie Hawn, playing, of course, Mrs. Claus. (Streaming on Netflix)
Minions Holiday Special
It's all really right there in the title. Picture the cackling little yellow guys in holiday sweaters and Santa hats, and you're pretty much there in terms of what NBC offered in this seasonal special (which then went to Hulu and not Peacock because the streaming service wars are so weird). What might make this Minions special a bit more of a draw than usual is that kids still feel ripped off by losing the theatrical release of Minions: The Rise of Gru, which was supposed to drop in theaters months ago but got pushed all the way to July of 2021. A year with no Minions? These holiday hijinks will have to do for now. (Streaming on Hulu)
My Gift: A Christmas Special from Carrie Underwood
There are always new Christmas albums from established stars every year, and some are accompanied by companion TV specials; Michael Bublé and Josh Groban have bought mansions with money they've made on holiday classics. Now it's Carrie Underwood's turn! The country star's special lands exclusively on HBO Max this year, one of the streaming service's few original offerings this month (until Wonder Woman 1984). The special will include a selection of traditional favorites from the season and new material from My Gift, the latest Christmas album from Underwood. Two highlights, at least according to HBO Max, are a duet with John Legend on "Hallelujah" and footage of Underwood recording "Little Drummer Boy" with her 5-year-old son Isaiah. (Streaming on HBO Max)
Dear Santa 
Maybe the holiday cheer is getting a little exhausting? Why not put the kids who still believe in the big red guy to bed and watch a documentary about the holiday season with the latest from IFC, a documentary about all those letters that don't actually get sent to the North Pole every year? Dear Santa takes us inside the 100-year-old program called Operation Santa, where thousands of letters get sent via the post office, with the goal of making some of the letter-writing children's dreams come true. Directed by Dana Nachman (Pick of the Litter), the doc examines the program by focusing on Operation Santa centers all over the country, telling heartwarming stories of fulfilling wishes during the holiday season. (Available on VOD)
Dr. Seuss' The Grinch Musical Live!
Believe it or not, even in the age of Covid, there's a new live musical on network TV this season — and it's all about The Grinch. Matthew Morrison of Glee fame plays the title character with the great Denis O'Hare as beloved pooch Max. The live musical is based on the stage play by Timothy Mason and Mel Marvin and features two songs that fans will know from the classic TV adaptation of the children's book. (Streaming on NBC and Hulu)
High School Musical: The Musical: The Holiday Special
The original cast of High School Musical may have left the series behind years ago, but the franchise still has life on Disney's streaming service through the humorously named High School Musical: The Musical: The Series. And guess what: The team behind that show have produced a holiday special with an even longer title! For all the giddy HSM enthusiasts among you, the special includes songs from the season, along with holiday memories from the cast, and a sneak peek performance from the upcoming second season. All of the regular cast members will appear to tell stories and sing songs. Don't expect a Zac Efron cameo. (Streaming on Disney+)
The Christmas Setup
Much like Hallmark, the Lifetime channel has turned the holiday season into a backdrop for cheap, original rom-coms with Christmas themes. One of the more interesting ones this year is the network's first ever LGBTQ+ film, starring real-life married couple Blake Lee and Ben Lewis. Lewis plays a New York City lawyer named Hugo, who returns home to Milwaukee over the holidays. His mother Kate (Fran Drescher) plays matchmaker with her son, reuniting him with his high school crush Patrick, played by Lee. When Hugo is faced with choosing between Patrick and a promotion that would relocate him to London, well, you can probably guess what's going to happen. (Streaming on Lifetime)
A Creepshow Holiday Special
There's not enough horror on Christmas! Leave it to Shudder to jump in and fill the void. This edition of Shudder's recurring Creepshow franchise is live-action and features one holiday-themed story (instead of the traditional structure of two stories per episode for the show's regular season). Anna Camp and Adam Pally star in "Shapeshifters Anonymous," which is reportedly about a werewolf support group. How is that holiday-themed? Well, Santa gets involved. Creator Greg Nicotero said in a statement, "The Spirit of Christmas is alive and well in true Creepshow fashion. Reimagining how we look at the holidays and Santa Claus with an outrageous ensemble cast, a myriad of creepy crawlies and a few thrills and chills shouldn't be missed." Sign us up. (Streaming on Shudder, available Dec. 18)
12 More Seasonal Options
Holidate (Netflix) – Maybe you want to ignore some of the not-great reviews and give Emma Roberts and Luke Bracey a chance? Best of luck to you.
The Lego Star Wars Holiday Special (Disney+) – The team behind the Lego Star Wars universe try to supplant memories of the notoriously awful 1978 holiday special with a modern spoof of the recent hits like The Rise of the Skywalker … with a holiday twist.
The Princess Switch: Switched Again (Netflix) – Vanessa Hudgens returns with a sequel to her 2018 Netflix original holiday hit.
12 Dates of Christmas (HBO Max) – What if there was a dating show like The Bachelor but with the goal of finding someone to bring home to meet the family over the holidays? HBO Max wants to answer that question. Let's hope the winners wear masks.
Dance Dreams: Hot Chocolate Nutcracker (Netflix) – The legendary Debbie Allen is profiled in this documentary that takes viewers behind-the-scenes at the Debbie Allen Dance Academy as they prepare for their annual production of The Nutcracker.
Dear Christmas (Lifetime) – Melissa Joan Hart is the Queen of the Lifetime original holiday movie. She stars in this one and directs the network's amazingly titled Feliz NaviDAD, starring Mario Lopez, who appeared with Hart in ABC Family's Holiday in Handcuffs. It's all kind of overwhelming.
Angela's Christmas Wish (Netflix) – A sequel to the 2017 animated film based loosely on the work of Frank McCourt, which was nominated for an Emmy.
Just Another Christmas (Netflix) – Leandro Hassum stars in this seasonal comedy that's basically a riff on Groundhog Day, featuring a guy who has to live Christmas Day over and over again.
Christmas Crossfire (Netflix) – Finally something more for adults than kids, Christmas Crossfire is a German action film about a man on the run from would-be killers during the holiday season.
Mariah Carey's Magical Christmas Special (Apple TV+)  - The Queen of pop Christmas albums brings her latest special exclusively to Apple TV+. Expect all the Carey holiday classics.
Euphoria Christmas Special (HBO Max) – HBO is planning to premiere two episodes of their Emmy-winning hit between seasons, starting with this episode, featuring an extraordinary performance from Zendaya.
A Sugar & Spice Holiday (Lifetime) – The final interesting Lifetime holiday flick this season offers some wider representation in the story of a Chinese-American woman who is trying to win a Christmas baking competition.
Looking for Your Favorite Holiday Classics?
20 more annual favorites that you may be searching for this holiday season and where to find them.
Arthur Christmas, streaming on Starz
Bad Santa, available for rent on Amazon and iTunes
Black Christmas (1974), streaming on Peacock, The Criterion Channel, and Shudder
A Christmas Story, streaming on TNT
Elf, streaming on Starz
Ernest Saves Christmas, available for rent on Amazon and iTunes
Holiday Inn, available for rent on Amazon and iTunes
Home Alone, streaming on Disney+
How the Grinch Stole Christmas (2000), streaming on Netflix
It's a Wonderful Life, streaming on Amazon Prime
Jingle All the Way, streaming on TNT
Love Actually, available for rent on Amazon and iTunes
Miracle on 34th Street (1947), streaming on Disney+
The Muppet Christmas Carol, streaming on Disney+
National Lampoon's Christmas Vacation, available for rent on Amazon and iTunes
The Nightmare Before Christmas, streaming on Disney+
The Polar Express, available for rent on Amazon and iTunes
The Santa Clause, streaming on Disney+
Scrooged, available for rent on Amazon and iTunes
A Very Harold and Kumar 3D Christmas , streaming on HBO Max