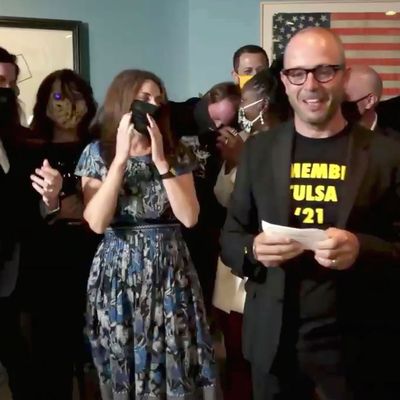 "Stop worrying about getting canceled and ask yourself what you're doing to get renewed."
Photo: ABC/ABC via Getty Images
During Sunday night's 72nd Primetime Emmy Awards, Watchmen creator Damon Lindelof accepted the award for Outstanding Limited Series and gave a speech in which he encouraged others to "embrace paradox."
"Stop worrying about getting canceled," he said from what appeared to be his office while his masked-up fellow writers stood behind him, "and ask yourself what you're doing to get renewed."
It was advice phrased in television-industry parlance that could have worked just as well in a political speech, which was appropriate given Watchmen's dual role as an exciting comic-book saga and a condemnation of systemic racism. It also applied to the vibe of the entire 2020 Emmy Awards, the first of the major awards shows — if your letter ain't in EGOT, you don't count as major — to unfold on national television during a pandemic.
The Emmys is, first and foremost, a live program designed to celebrate entertainment while simultaneously being entertaining. But the political could not be ignored this year — not in Mark Ruffalo's acceptance speech for his work in HBO's I Know This Much Is True, a speech that passionately called on Americans to vote; nor in the Breonna Taylor T-shirts worn by the lead and supporting-actress winners in the limited-series field, Regina King and Uzo Aduba; nor the fact that the "In Memoriam" segment kicked off with a brief tribute from host Jimmy Kimmel to the late Ruth Bader Ginsburg.
One could argue that the whole Emmys ceremony itself, broadcast with nominees Zooming in from various locations and a far greater reliance than usual on working Wi-Fi, embraced paradox. For the first five minutes, when Kimmel walked onto the stage of Staples Center and began his monologue, footage of the crowd from last year's ceremony suggested we were watching an awards show no different than any other awards show. Then the lights came up, Kimmel acknowledged that the place was empty, and Jason Bateman, pretending to be a cardboard cutout of himself that had been placed in a seat, decided to leave when he realized he would be required to laugh at Kimmel's jokes.
The remainder of the first hour, during which Schitt's Creek, in unprecedented fashion, won every single Emmy in the comedy categories, still sort of felt like a regular awards show. The Schitt's Creek gang was gathered in Toronto at a socially distanced party held in a festive space that looked, if not like the Emmys, at least a little like the Film Independent Spirit Awards. All seven of the initial Emmys handed out were received in a celebratory environment that wasn't somebody's house. Whether you thought Schitt's Creek deserved so many Emmys or not, there was something appropriate about this turn of events, and not just because so many people binge-watched Schitt's Creek during the pandemic. The fact that we couldn't watch people gather at the Emmys in L.A., but we could watch some Emmy winners gather in Canada, served as a subtextual reminder that other countries are doing much better than America is right now. (Yes, the Schitt's Creek folks self-isolated after testing negative for COVID-19. I stand by my point.)
The PandEmmys, as Kimmel dubbed them at one point, embraced other paradoxes, both by design and by accident. The presentation of the awards this year was designed to match, as closely as possible, the way the Emmys unfolds in any other year. But it was also a testament to how much a live audience is needed to make the night flow the way it should. On more than one occasion, including an unnecessary gag involving Randall Park and an alpaca, and another in which Sterling K. Brown pretended to believe that This Is Us had won the Emmy for Best Drama, you could actually hear the dead air where audience laughter would have been. Yes, these moments were a bit awkward, but it was an awkwardness born of necessity, and the sheer novelty of the whole endeavor helped offset what might have been bum moments in a normal Emmys telecast.
But another uncomfortable paradox of the evening couldn't really be chalked up to grading on the pandemic curve. In keeping with the night's open embrace of the political, the ceremony went out of its way to highlight conversations about inclusion, featuring segments with Issa Rae and America Ferrera discussing the ways in which Hollywood higher-ups patronized and overlooked them because of their race and ethnicity. As nice as it was to hear Rae and Ferrera tell their stories — Rae's button about the male executive who belittled her pitch getting fired was especially satisfying — the packages also underlined a contradiction that's plagued the Television Academy when it comes to recognizing diverse voices with Emmy gold. On the one hand, more Black actors won this year than ever before. On the other, two of the three shows that dominated the ceremony — Schitt's Creek and Succession — feature creators and principal casts that are entirely white. And despite Watchmen's multiple wins for Black actors and for Cord Jefferson's writing on "This Extraordinary Being," it was ultimately Lindelof who accepted the big prize, a dissonance he seemed ready to acknowledge both in his speech and his "Remember Tulsa '21" T-shirt.
Throughout the evening, you could sense the tension between Emmys-as-usual and an awareness that this year was anything but. The three-hour program — seriously, all the clap emoji to producers Reggie Hudlin and Ian Stewart for ending this thing exactly on time — was filled with celebrities as it is every year, but, in a hat tip to the folks doing the "real work," also featured a variety of essential workers announcing the winners in all of the supporting-acting categories. (Get it? Supp-or-ting?) It was the "relatable" Emmys, where regular people were as involved in the proceedings as the celebrities, and you could see Stephen Colbert at home hugging his dog when he lost in the variety-talk category. But it was also still the glam Emmys — Zendaya wore not one but two runway-worthy ensembles; some tuxedos still made their standard appearances — as well as the just-plain-weird Emmys, thanks to the interns in hazmat suits who handed out some of the awards.
It was also an Emmys that looked back at a recent, less troubled TV past, not just in its attempts to cling to normalcy in its format where it could but in its throwbacks to old television. When Jennifer Aniston joined the broadcast from home, after an early appearance at Staples Center in which she and Kimmel literally almost started the fire, she brought Courteney Cox and Lisa Kudrow on-camera for a mini Friends reunion. (Bateman was there too, as part of a The Switch–Horrible Bosses–Office Christmas Party reunion, I guess?) David Letterman, in a prerecorded announcement of the Outstanding Variety Talk Series winner — Last Week Tonight With John Oliver, no surprise — read some discarded jokes from his gig as Emmy host in 1986, tossing index cards aside with a glass-smashing sound effect that brought back memories of his own late-night talk-show days. But there were acknowledgments of the new as well, particularly in what was the most surprising win of the night: the Outstanding Lead Actress in a Drama victory for Zendaya, who, at 24, became the youngest winner ever in that category and only the second Black woman to win it. (Viola Davis was the first in 2015.)
But overall, the evening stuck to awards-show tradition as much as possible, showing us the faces of all the nominees as winners were announced and giving those who received Emmys the space to make acceptance speeches. Throughout the evening, winners uttered thank-yous over and over again in a manner that sounded, to my ears, more personal. Jefferson, who, with Lindelof, received an Emmy for writing the Watchmen episode "This Extraordinary Being," thanked his therapist. Aduba called out "Mom, I won!" to her mother in the next room. Ruffalo was able to acknowledge his wife, Sunny, while she was sitting next to him on a sofa looking like she was going to cry. Normalcy was invited to the Emmys, but its plus-one this year was a sense of abnormality.
This merging of normalcy and abnormality really stood out in the two acceptance speeches delivered by Jesse Armstrong, the British creator of Outstanding Drama winner Succession. In the first, when the series won for its writing, Armstrong gave more or less a typical acceptance speech, thanking the cast, the crew, HBO, and a bunch of names that didn't mean anything to those watching at home, as is standard awards-show operating procedure. But in the second speech, and the last one of the night following Succession's win for Outstanding Drama, he was first interrupted by a phone that rang in his hotel suite, a thing that doesn't happen during most Emmy acceptance speeches. Then, rather than saying thank you, he offered a series of un-thank-yous.
"Un–thank you to the virus for keeping us all apart this year," he said. "Un–thank you to President Trump for his crummy and uncoordinated response. Un–thank you to Boris Johnson and his government for doing the same in my country. Un–thank you to all the nationalist and sort of quasi-nationalist governments in the world who are exactly the opposite of what we need right now. And un–thank you to the media moguls that do so much to keep them in power."
Thank you but also un–thank you: That about sums up the 2020 Emmys, which, given how much could have gone wrong, were pulled off relatively seamlessly. By the end, I am sure the producers and everyone involved in pulling together the broadcast were just glad they got through it. And there may be no sentiment more 2020 than that: a feeling of relief that it's all over.