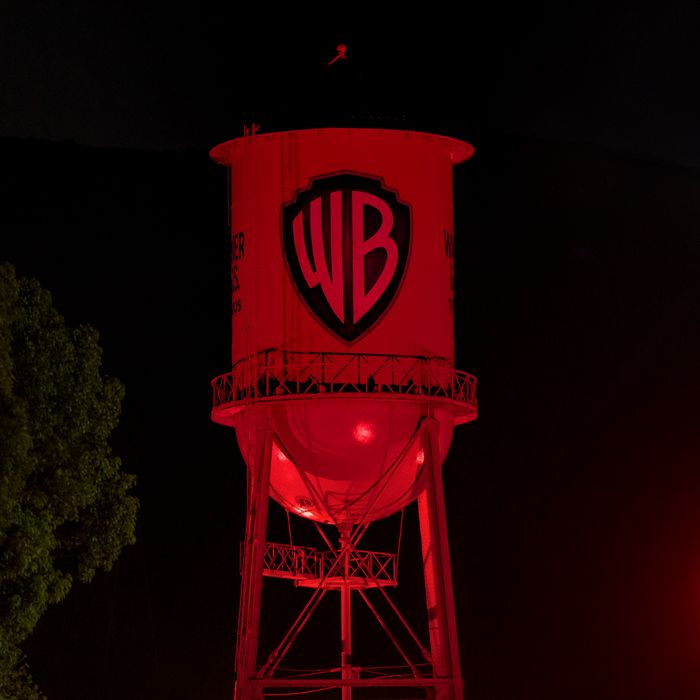 It took a pandemic to force the movie-making business to change its ways. But what does a post-2020 industry really look like?
Photo-Illustration: Vulture and AaronP/Bauer-Griffin/GC Images
A funny thing happened this December, or to be more exact, didn't happen this December in North America's 8,043 movie theaters. At a time of year typically associated with cinematic overabundance, when multiplexes teem with smaller awards-season fare and four-quadrant event titles, precisely zero new films entered wide theatrical release. Instead, George Clooney's widely promoted drama The Midnight Sky premiered on Netflix, and the Jamie Dornan–Emily Blunt project Wild Mountain Thyme befuddled a predominantly VOD audience (earning a wee $95,000 in limited release). With more than 60 percent of the continent's big screens still closed for business, fans awaited Wonder Woman 1984 arrival on HBO Max (on Christmas Day, in a revolutionary custody-sharing rollout that saw the movie hit some theaters the same weekend). The theatrical top grosser from December 11 to 13? The Croods: A New Age, which came out on Thanksgiving and earned $3 million in its third weekend, a sum that could be considered either paltry or robust, depending on how narrowly one chooses to evaluate box-office returns relative to extenuating pandemic circumstances.
A mere 12 months earlier, such primacy from a "holdover" movie would have been unthinkable, much like the idea of big-budget film like Mulan heading straight to a streaming platform. But at the tail end of a year in which the mightiest IP, the most megalithic impending blockbusters and the starriest of star vehicles, all packed up and headed for the vaccinated horizon of 2021, the particular December weekend's outcome elicited a collective shrug around the industry. 2020 has marked an unprecedented toppling of Hollywood shibboleths — the constants on which modern moviedom has historically flourished and failed — and a readjustment of expectations that has been so incessant, so encompassing, so thorough, that a sudden attrition of films in wide release barely registers. Since March, the industry has, in effect, attempted to defibrillate its own heart attack while also reattaching its severed limbs and recover from a grand mal seizure, all at the same time. We're lucky to have Croods 2.
With that attitude in mind, Vulture is taking a moment to look back on the year Hollywood stopped playing by its own most steadfast regulations. As surely as the sun sets in an orange-and-pink blaze over the Pacific, there will come a time when the merciless tide of cinematic dysfunction will wane and the industry will settle into some new kind of normalcy. Until then, the movie-making business remains fundamentally shocked. Here are the major rules Hollywood abandoned in 2020:
The Theatrical Window Rolled Up
Back in 2011, the title Tower Heist became shorthand for a generation-spanning, industry-defining cautionary tale. That year, Universal planned to test an audacious $60 video-on-demand release of the Eddie Murphy–Ben Stiller action-comedy in two cities (Atlanta and Portland, Oregon) just three weeks after the movie's theatrical bow. But when giant theater chains including AMC, Regal, and Cinemark (as well as several smaller national circuits) banded together to declare they would not screen Tower Heist if Universal moved forward with the experiment, the studio scrapped its narrowing of the usual 90-day theatrical "window." And Hollywood got its first real glimpse of the exhibition community's terrifying unity, learning the hard way that chains would rise up together to squeeze off box-office receipts if threatened by any attempt to shift consumer behavior toward increased at-home viewing.
Things basically stayed in that uneasy stasis for the next decade.
However, due to widespread and ongoing theater closures this year, the window between streaming and theatrical finally — if not irrevocably — rolled up, and in one studio's case, it slammed shut entirely. In July, in a first of its kind, lions-laying-down-with-lambs agreement, the world's largest cinema chain, AMC, ironed out a deal with none other than Universal, allowing the studio to stream its releases on paid platforms just 17 days after the movies arrive in theaters. In exchange, Universal will share PVOD profits with the theater chain in a kind of hostage-release payoff. In the pandemic's early days in March, a similar, albeit much smaller-scale "virtual theatrical distribution initiative" was struck between indie-movie distributor Kino Lorber and art-house cinemas across the country. Under that scheme, moviegoers buy "tickets" to stream first-run films through the web pages of theaters they choose to support. From there, Kino Lorber and the theaters split the revenues 50-50.
But the announcement earlier this month of WarnerMedia's plans to release the entirety of Warner Bros.' 2021 slate of films — high-stakes titles like Dune, The Suicide Squad, and The Matrix 4 among them — to HBO Max concurrent with the films' debut in theaters was greeted with undisguised anguish across the industry. Not only does the move (which reportedly caught the National Association of Theater Owners and most movie-chain executives totally off guard) shut the theatrical window like no overall distribution arrangement before it. Such a concurrent bow, industry insiders suggest, also packs the potential to recondition film fans' consumption habits forevermore. Warner claims the release scheme is temporary, but after having gained access to premium film product from their sofas, C-suite executives elsewhere worry moviegoers won't look kindly on that access being taken away.
Awards Season Got a Late Pass
From its unofficial kickoff around Labor Day — via a trifecta of prestigious international film fests: Venice, Telluride, and Toronto — until the final Champagne toast at the Oscars' Governors Ball in February, the span of months known as Awards Season normally operates on a regimented time table. But with theaters in Los Angeles and New York still off limits for the foreseeable future, and every major studio punting most of their big films into 2021 — thereby disqualifying the films from the Academy of Motion Picture Arts and Science's normally prescribed Oscars' qualifying period — the Academy Awards were forced to take drastic measures.
Earlier this year the decision was made to move the ceremony to April 25 from February 28: the latest date since its first television broadcast in 1953, and only the fourth postponement in Academy history. A cascading series of other awards-season date changes followed suit: the Critics' Choice Awards and the Screen Actors Guild Awards moved to March from January; the BAFTA Film Awards hopscotched to April 11 from February 14; the Film Independent Spirit Awards followed tradition (taking place the night before the Oscars on April 24); and the Golden Globes switched from its usual January berth to the February date originally occupied by the Oscars.
In other words, the pandemic managed to affect the industry in a way neither 9/11 nor Hurricane Katrina nor the Weinstein scandal were able to accomplish.
Streaming Movies Stopped Sitting at the Oscars Kids' Table
In yet another signifier of 2020's mutative power, for the first time in the Academy Awards' 92-year run, its eligibility period was broadened to span two calendar years; films released in 2020 and the first couple of months of 2021 can qualify to compete at next year's Oscars. Again, delays due to halted productions and deferred release patterns mandated the move, along with an even more historic pivot. In April, the Academy agreed to temporarily void one of its old-timey-ist rules: that a film needs a seven-day run in a commercial theater in Los Angeles to qualify for Oscars.
To meet the barest minimum of this standard, past offerings from streaming giants like Netflix's Roma (2018) and The Irishman mounted token theatrical runs, the latter playing at a small handful of cinemas rented by the platform and second-run movie houses (AMC, Regal, and Cinemark refused to show the Martin Scorsese biopic after failing to reach a deal with Netflix), thereby skipping moviedom's most outward barometer of success — the reporting of box-office grosses (more on that in a minute). This hybrid practice undoubtedly caused some Oscar voters to regard streaming movies as a different, and perhaps not quite as worthy, species; earlier this year, Netflix movies received a whopping 24 Oscar nominations but only left the Dolby Theatre with two wins.
But in 2020, streaming awards titles like Netflix's The Trial of the Chicago 7 or Amazon Studios' Sylvie's Love can meet the Academy's revised criteria without having to play in theaters at all (under the proviso, that is, that the streamed film had planned a theatrical release in the Before Times). Moreover, most Academy voters will watch contention titles for the 93rd Oscars on a members-only streaming platform (with DVD screeners having been largely mothballed). Both developments ultimately level the playing field for OTT services, if not providing them an inarguable advantage, with everyone stuck contemplating the award-worthiness of a raft of releases from home. The abandonment of the theatrical mandate might be temporary, but the Academy made a smaller, permanent adjustment: When cinemas do come back to accommodate more regular releases, a movie won't have to play in L.A. to be eligible for an Oscar nod; theaters in New York, Chicago, San Francisco, Atlanta, and Miami will be able to host qualifying runs, too.
Studios — Well, One Studio — Stopped Reporting Ticket Sales
Blame Entertainment Tonight for the opening-weekend box-office numbers horse race that now overshadows almost all other discussions of movie merit. Back in the '80s, the syndicated showbiz-news-lite show began dutifully reporting the top-ten highest-grossing new movies entering wide release, thereby recalibrating the interest of nonindustry consumers on Hollywood's bottom line forever onward.
Although not formally obliged to report the numbers by any International Olympic Committee–like moviegoing governing body, the studios generally complied for the sake bragging rights and fair play, as well as the added promotional boost that proclaiming a title as "the No. 1 movie in the country!" can have on a one sheet. But that would all change some four decades later with Tenet.
At this late stage, fudging an intended blockbuster's box-office numbers doesn't even rank in the top three of Warner Bros.' 2020 indiscretions. But in September, with the domestic release of Christopher Nolan's time-bending corporate espionage caper, the Burbank lot overturned convention by refusing to share daily ticket-tally information, selectively dribbling out tidbits of data to reporters instead, and waiting until the movie's third day in theaters to announce any monetary figures, in a bid to make Tenet's box office seem as robust as possible. We now know that's because the film was already dramatically underperforming Hollywood's worst-case scenario for it. But the refusal to play by industry rules drew bad blood among executives at rival studios who have suggested they too would just as soon forgo the reporting altogether.
That opprobrium, however, hasn't stopped Warner Bros. from continuing to hide daily ticket tallies to game a perceived advantage. Over Christmas weekend, the studio also failed to report Wonder Woman 1984's returns until its third day in theaters, again apparently out of concern that industry observers and reporters would misinterpret or unfairly analyze the DC sequel's returns. (To banish even the merest perception of financial underperformance, Warners green-lit a threequel.)
The Opening Weekend Box-Office Tally Became Insignificant
Way back in the Mad Max Beyond Thunderdome — prior to March 2020, to be exact — a film's opening weekend ticket sales could be responsible for upward of one-third of its overall grosses, and therefore, a reliable barometer of said movie's overall profitability. To wit: In April 2019, Avengers: Endgame harvested a record-setting $1.2 billion over its opening three days in theaters, en route to a $2.79 billion cumulative haul.
Then came the coronavirus. And with it, government-mandated theater closures, quarantining measures, and spiking infection rates that scared audiences straight out of the cinema, bringing the major theater chains AMC, Regal, and Cinemark to the brink of bankruptcy in the process.
With close to 96 percent of the country's theaters reporting losses of 70 percent for 2020, opening-weekend box-office tallies became something of an afterthought — their efficacy as a yardstick of success infected by the same malaise that has brought ticket sales to historic lows and snarled any normal calculus of the bottom line. Hence, Tenet's three-day sub-$10 million debut provided no kind of augury for its $57 million domestic bow, bore virtually no relationship to its $362.2 global "cume" and did almost nothing to presage how far the sci-fi epic would fall short of the $450 million it would need to hit break even. In the streaming era, when Netflix and its competitors practice some of the most opaque "box office" reporting, it seems unlikely that the industry's typical methods for reporting ticket sales will persist.
Some Studios Stopped Releasing Movies Altogether
In a year that showcased a long, miserable exodus of films — F9, Marvel's Black Widow, and the 25th Bond installment No Time to Die among them — from prime summertime and awards-season real estate into the increasingly crowded and treacherous unknowns of 2021, every major Hollywood studio charted its own separate course. No two navigated the post-COVID theatrical marketplace in exactly the same way.
While Sony did more than most studios to vacate its 2020 slate, pushing movies great and small — Ghostbusters: Afterlife, Morbius, Fatherhood, Peter Rabbit 2 — into next year and selling the Tom Hanks World War II drama Greyhound to Apple+, the Culver City lot fulfilled its mandate with a few token releases — notably The Burnt Orange Heresy and The Broken Hearts Gallery — that signaled an intention to stay in the distribution scrum even as the movies fizzled at the box office.
Paramount has made not even the most symbolic of efforts. Although the studio relocated its highest-stakes tentpole titles A Quiet Place Part 2 and Top Gun: Maverick to the more-amply vaccinated higher ground of spring and summer of next year, respectively, Paramount has effectively abdicated the rest of its studio-ing duties by selling off a raft of titles to streaming services. The studio hasn't put out a movie since Sonic the Hedgehog, way back in the pre-pandemic days of February. Instead, it sold the Issa Rae–Kumail Nanjiani rom-com The Lovebirds and Aaron Sorkin's awards-bait biopic The Trial of the Chicago 7 to Netflix (along with the foreign rights to SpongeBob: Sponge on the Run). It pawned off the Michael B. Jordan–starring Tom Clancy adaptation Without Remorse to Amazon in July, and sold the Seattle streamer Borat: Subsequent Moviefilm in September. Then a month later, the last of Paramount's theatrically intended Mohicans — the long-anticipated Eddie Murphy comedy vehicle Coming 2 America — went to Amazon Studios in a deal worth $126 million.
According to a source with knowledge of Paramount's distribution game plan, the sale or delay of each movie was conducted tactically and is not part of some overarching strategy to change the way the studio does business. Like just about everybody else in Hollywood, Paramount wasn't necessarily looking to change the rules, just to weather the passing storm. Nevertheless, the consequences of such measures will likely be lasting.