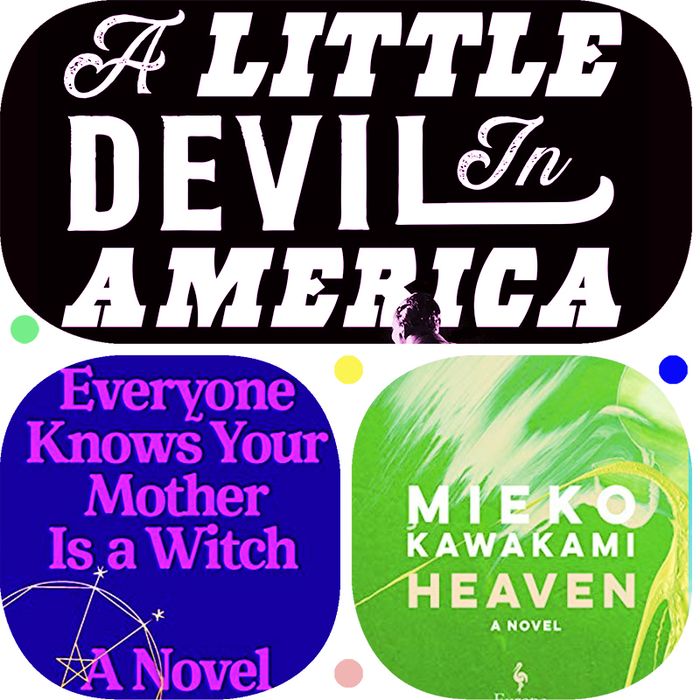 Photo-Illustration: Vulture and Photos by Publishers
After a year of industry chaos and many delayed book releases, 2021 brings a bumper crop of new fiction and nonfiction books — including a collection by cultural critic Hanif Abdurraqib and much-anticipated novels from Kazuo Ishiguro, Rachel Cusk, and, yes, Jonathan Franzen. It also brings promising fiction debuts from writers such as the late Anthony Veasna So and poet Melissa Lozada-Oliva. Here's everything you need to get you through this last stretch of indoor time.
Photo: Publisher
This quick-witted, trenchant debut novel starts like a superhero origin story. Darren Vender (he describes himself as an "attractive black man" who is "taller than average") is a manager at a Starbucks in Park Avenue, where he's worked for four years. At night he returns to the three-story brownstone in gentrifying Bed-Stuy where he lives with his mother. Then one day at work Darren is overcome by an ability he never knew he possessed: He convinces a regular customer who always places the same order to purchase another drink instead. Turns out the customer is a bigwig who is impressed by Darren's salesmanship, and he invites Darren to work at his start-up. What follows is a harrowing tale that operates at the fraught intersection of capitalism, race, and class. —Tope Folarin
Photo: Publisher
In this gripping reimagining of Jane Eyre that takes place in Birmingham, Alabama, Jane starts out as a dog-walker in Thornfield Estates, a wealthy gated community, where she soon finds out all that glitters is paste. She snares the attention of the mysteriously widowed Eddie Rochester, who recognizes that the secrets of Jane's past perhaps mirror his own — and invites Jane to move in. She quickly gets access to a lifestyle she had only ever dreamed about, but something isn't right: Eddie is distant. Strange noises come from upstairs. And she begins to realize she's on a countdown to someone discovering who she really is. What would have happened if Jane Eyre had not been a naïve innocent with a heart of gold? Grab this page-turner and find out. —Nichole Perkins
Photo: Publisher
Billed as a memoir, Owusu's book is so much more: a history of Africa's relationship with the West, a clear-eyed depiction of the ties that bind — and the grievances that disconnect — Black people around the world, and an analysis of how broken families produce broken human beings. But it's Owusu's life story that will burrow into you. She is the product of a union between a proud Ghanaian man and a hopeful Armenian American woman who perceive their relationship as an expression of intimate love and grand idealism. Owusu relies on the language of earthquakes — foreshock, mainshock, aftershock — to describe what happens to her and her family once her parents' marriage breaks apart. This is a book that will shake you to your core. —Tope Folarin
Photo: Publisher
Peters's novel follows a trans couple, Amy and Reese, whose lives are turned upside down when Amy decides to detransition and become Ames. When Ames gets his lover/boss, Katarina, pregnant, things are flipped upside down once more. The word "polarizing" will be tossed around in discussions about this book, but mostly, Detransition, Baby will force you to think hard about family and queerness and motherhood and sex. And keep thinking about them long after you finish reading. —Madison Malone Kircher
Photo: Publisher
Hubbard's second novel is as original, warm, and expertly researched as her debut, The Talented Ribkins, but with significantly more tragedy. A groundskeeper at a down-on-its-heels southern mansion watches with increasing furor as the house's owner manipulates his employees for riches and glory. A quietly thrilling addition to what I hope becomes a flourishing Ladee Hubbardverse. —Molly Young
Photo: Publisher
Yang's devastating history of the Chinese Cultural Revolution has been long in the making. First published four years ago in Hong Kong, The World Turned Upside Down is now finally available in English, thanks to translators and editors Stacy Mosher and Guo Jian. (Mosher and Guo are also responsible for translating Yang's groundbreaking 2008 book Tombstone, about the Great Chinese Famine.) For Yang, who is 81 and still living in Beijing, the publication of such work is a testament to his political commitment and bravery: The World Turned Upside Down offers an unflinching account of the years 1966 to 1976, when China, under Mao, endured enforced starvation, mass purges, and constant double talk from government officials. This was gaslighting at a national scale. Cutting through decades of propaganda and revisionism, Yang's much-needed corrective joins what one hopes is a new wave of reckonings, which includes Helen Zia's Last Boat Out of Shanghai (2019) and Rana Mitter's China's Good War (2020). —Jane Hu
Photo: Publisher
An elegant writer of unconventional thrillers, Finn has a gift for weaving existential and political concerns through tautly paced prose. The Hare is set in Vermont's Northeast Kingdom, where we find a single mother scrapping for survival while cursed with a royally sociopathic ex-lover. One of many excellent books released by Two Dollar Radio, a family-run publisher out of Ohio. —Molly Young
Photo: Publisher
Broder (The Pisces) is back with a new novel about a 24-year-old in Los Angeles named Rachel, who has an eating disorder, a disordered relationship with her mother, and a stand-up comedy hobby. (Honestly … that tracks.) At a therapist's recommendation, Rachel goes on a 90-day detox from her mom and instead finds herself falling for a fro-yo heir, Miriam, whose family's Judaism looks deeply different from Rachel's own. A story about religion, sexuality, food, and feeling your fucked-up feelings. —Madison Malone Kircher
Photo: Publisher
Hobson's last novel, Where the Dead Sit Talking, a Cherokee coming-of-age novel set in 1980s Oklahoma, was a finalist for the National Book Award, and I'll eat my pajamas if his new novel — which is also set in Oklahoma and deepens Hobson's themes of displacement and violence — doesn't get a nom too. —Molly Young
Photo: Publisher
The suburban American hero of Lee's new novel, Tiller, is a self-described "slightly-below-average guy in all categories" who gets caught up with Pong Lou, a borderline caricature of a Chinese American entrepreneur who sells drinks with alleged restorative qualities. The novel — set at a time when it was still possible to journey to China — alternates between Tiller's whirlwind past, when he traveled across that country as Pong's assistant, and his present, in which he's residing in Middle America with a girlfriend who is under witness protection. As with Lee's debut 1995 novel Native Speaker, or the more recent On Such a Full Sea (2014), which is set in a dystopian "New China," this one subverts as many ethnic stereotypes as it perilously evokes. My Year Abroad is a syncopated surprise, with an ending that will be sure to leave you texting all your friends. —Jane Hu
Photo: Publisher
You could describe Brontez Purnell, who lives in Oakland, as a writer, choreographer, filmmaker, curator, actor, and artist, or you could just cover your bases and call him a "national treasure." 100 Boyfriends is a collection of short stories so wrigglingly alive and counterculturally refreshing that it deserves a new noun — a pod of whales, a murder of crows, a jubilee of Brontez Purnell stories? I'd wager that he sets down the best first lines of any living writer. —Molly Young
Photo: Publisher
A debut novel from critic Oyler, Fake Accounts chronicles a woman who, at the dawning of the Trump presidency, discovers her boyfriend is a decently famous Instagram conspiracy theorist. That discovery is revealed on the novel's back cover — but it's a second, even more dramatic twist that upends the nameless narrator's life and got me hooked on this book. If you're looking for fiction that understands the complexities of life online and the way that world seeps into reality, this is it. —Madison Malone Kircher
Photo: Publisher
Reading Patricia Lockwood raises questions. Questions such as, How can a person understand both herself and the world with such clarity? How does a person experience things so intensely and express them so buoyantly? Am I laughing or am I crying? Lockwood's first novel is as crystalline, witty, and brain-shredding as her poetry and criticism. —Molly Young
Photo: Publisher
When I heard that Ishiguro was coming out with a new novel, I gasped. Klara and the Sun is the writer's first publication since winning the 2017 Nobel Prize in Literature. And if you're a ride-or-die Ishiguro reader (what other kind is there?), you won't be disappointed. Narrated in his signature first person — which hovers somewhere between inscrutable and Very Big Feelings — the book's protagonist is the eponymous Klara, an Artificial Friend who is hypersensitive to human emotions. As Klara carefully and lovingly observes others, the work of Ishiguro's reader is to carefully and lovingly observe her. An ideal novel for our lonely present, exploring questions of alienation, emotional labor, failed communication, and what it means to love a world that refuses to love you back. —Jane Hu
Photo: Publisher
The protagonist of Nguyen's 2015 novel The Sympathizer, a French-Vietnamese immigrant and North Vietnamese government mole, is a man forever caught between — between nations, identities, and his own morals. The last time we saw him, he was out at sea, off to an uncertain locale and praying for absolution and freedom. In this sequel to Nguyen's Pulitzer winner, the same man has taken up residence in Paris, living in the country most implicated in the contradictions of his life as a colonial subject. Immersed in talk and conflict with left-wing intellectuals, junkies, and Vietnamese aunties, and haunted by dreams of torture and betrayal, the protagonist faces an even greater challenge than those he faced in the first novel. His mission, if he chooses to accept it, is to survive. —Kevin Lozano
Photo: Publisher
In this poetry collection, spoken-word artist Jasmine Mans pulls at all the threads of who she is as a Black queer woman from Newark, unravels herself, then puts herself back together via clear, precise language that brooks no argument. In the poem "Because I Am a Woman Now," the speaker wants the comfort of a lie, but knows that womanhood means facing truth in new, vague ways. In "Momma Said Dyke at the Kitchen Table," Mans decodes a mother's reaction to a daughter's coming out. Black Girl, Call Home moves from vignette to cultural criticism to ballad to eulogy to memoir with grace. —Nichole Perkins
Photo: Publisher
Chilean novelist Nona Fernández has developed a reputation for composing unsettling portraits of life during Chile's brutal military dictatorship, with stories that venture beyond the stiff and incomplete histories recorded by truth and reconciliation commissions. In her 2015 coming-of-age novella, Space Invaders, a group of friends piece together memories of a classmate who vanished after her father, a police agent, went into hiding. Fernández's upcoming book, The Twilight Zone, translated from Spanish by Natasha Wimmer, is just as eerie. Its narrator, a documentarian living in modern-day Santiago, obsessively combs through the confessions of a former military officer to reimagine the final moments of the people he tortured and disappeared. In the process, she ventures beyond the historical records that present the Chilean dictatorship's crimes as a series of isolated cases, revealing an alternate world that haunts the nation's psyche. —Miguel Salazar
Photo: Publisher
Fans of Mary Gabriel's exquisite Ninth Street Women, which tells the story of the mid-century New York City art boom from the perspective of five exceptional female painters, will rejoice over Fierce Poise, the first major biography of Helen Frankenthaler. Nemerov organizes his unconventional take into 11 distinct moments from the 1950s — the decade when Frankenthaler (barely out of college) developed her technique of staining a canvas with turpentine and pigment, married fellow artist Robert Motherwell, and worked toward her first major exhibition. Moody and textured, Fierce Poise celebrates, and mimics, Frankenthaler's sweetly explosive paintings. —Hillary Kelly
Photo: Publisher
There's been a boom of workplace-set literature over the past five years or so—novels like Helen Phillips's The Beautiful Bureaucrat, Hilary Leichter's Temporary, and Halle Butler's The New Me, which turn a deadpan focus on the stultifying rhythms and soul-killing mindlessness of the twenty-first century office. There's No Such Thing As an Easy Job, by Japanese phenom Kikuko Tsumura (translated into English by Polly Barton), is the next candidate for this mini canon. The unnamed narrator is burnt out by the emotional stresses of her last job, so she wanders into an employment agency and asks for something easy and brainless. The agency complies, and while the series of bizarre and unexpected jobs she lands after that — hanging posters, writing copy for cracker boxes — free her from the tension of her old work, they also impose new questions about how we can separate any occupation from who we are. —Hillary Kelly
Photo: Publisher
In Abdurraqib's 2019 book Go Ahead in the Rain, a genre-bending tribute to A Tribe Called Quest, he blended criticism and historical analysis with personal essays and poetry. His upcoming collection, A Little Devil in America, is similar in approach and more expansive in scope, celebrating the rich and storied history of Black performance in the United States in a series of essays, reflections, and memories. From chapters on Soul Train and Whitney Houston's musical career to historical analyses of dance marathons and meditations on blackface, Abdurraqib shares his love for Black performance — both onstage and in everyday life — and examines how it has been imagined, molded, and consumed by Black and non-Black audiences alike. —Miguel Salazar
Photo: Publisher
This follow-up to Danan's steamy 2020 debut The Roommate is filled with humor, healing, and heady good times (and, yes, that is a naughty pun). It inhabits the same world as Danan's last book, and follows Naomi Grant — a former porn star and founder of a wildly successful sex-positive start-up — who now wants to share her unconventional expertise via live, in-person lectures but keeps finding that academia is too stubborn and old-fashioned to give her the time of day. When the handsome rabbi Ethan Cohen approaches her to teach a course on modern intimacy that he hopes will entice new blood to his synagogue, Naomi hesitates. Sex and religion, especially a religion she herself walked away from, don't mix well, and this rabbi is way too hot for her not to corrupt. She decides to take the chance, and soon finds herself wondering: Who's corrupting whom? —Nichole Perkins
Photo: Publisher
"Recipes," Lebo writes in the introduction to this glorious mash-up of memoir, love note, and cookbook, "are rituals that promise transformation." The transformations she chronicles here are those of the flesh, both human and fruit — journeys through maceration and tenderization. In 26 essays, each accompanied by recipes for jellies, tonics, or balms, Lebo writes about little-known fruits such as aronia and medlar, known only to niche gardeners and long-dead cooks, and more ubiquitous varieties, such as blackberry and pomegranate. Every sentence is as sensuous as the first bite into a cold, juicy plum. —Hillary Kelly
Photo: Publisher
Sincere and contemplative, Nelson's debut novel is a love story about trauma, masculinity, and vulnerability. A young British-Ghanaian photographer falls for a dancer after a brief encounter in southeast London, and the two quickly develop a magnetic but undefined relationship, complicated by the fact that she lives in Dublin and dates one of his friends. During drunken excursions and sleepless nights, they bond over shared childhood experiences — both were among the only Black students at mostly white private schools — and a profound appreciation for Black artists from Isaiah Rashad to Zadie Smith. But as the relationship deepens, fissures begin to form. —Miguel Salazar
Photo: Publisher
In 2018, Michelle Zauner, lead singer of the band Japanese Breakfast, wrote an essay for The New Yorker titled "Crying in H Mart," where she discussed her connections to shopping in the Asian market chain, tearing up in the food court as she watched people eat, and how it all reminded her of her mother, who had passed away a few years earlier. Now Zauner has expanded that into a memoir, about her mother, her own life, and the centrality of food. Crying in H Mart is palpable in its grief and its tenderness, reminding us what we all stand to lose. —Gabrielle Sanchez
Photo: Publisher
Jhumpa Lahiri craves difficulty. How else to explain the Pulitzer Prize–winning novelist's midcareer pivot to working in Italian? Over the past decade, Lahiri, already bilingual in Bengali and English, committed herself to achieving fluency in a third tongue: She moved her family to Rome, published collections of essays she wrote in Italian, translated novels by Italian writer Domenico Starnone into English, and outlined her obsession with her adopted language in an essay for the The New Yorker. Now we get Whereabouts, a novel Lahiri wrote in Italian then translated to English herself. It follows a woman as she moves through the nameless Italian city where she lives, contemplating her relationships and the unexpected directions her life has taken. Come for the linguistic derring-do, stay for the introspection. —Madeline Leung Coleman
Photo: Publisher
Cusk's latest novel draws loosely from Lorenzo in Taos, the 1932 memoir by art patron Mabel Dodge Luhan about the time D.H. Lawrence came to stay with her in New Mexico. Second Place tells of a male artist, "L," who visits the female narrator, "M," tracing an arc from L's arrival at M's secluded home in "the marsh" and concluding with his sudden departure. The plot is simple, yet the way it unfolds is as nuanced as ever, narrated in M's second person to someone offstage. As with Cusk's Outline trilogy, it takes seriously the complex emotional geometries between ordinary people. Second Place is a deeply philosophical book about what happens when you confuse art with life. —Jane Hu
Photo: Publisher
Either you're already onboard with this series and need no convincing, or you've somehow missed the fact that a cool French writer has been pumping out hilarious and corrosive novels about contemporary urban life at the center and fringes of Paris. Despentes writes like Armistead Maupin, but about aging Gen-Xers instead of hippies and New Agers. —Molly Young
Photo: Publisher
To write on violence — especially violence against women — is a hazardous task. Lingering on sexual violence could spectacularize, or even reenact it. But Rose, a British academic who is one of our leading feminist critics, contends that the far greater risk is to remain blind to it. Her new book of criticism is marked by her usual vigilance, even as it wades into the unfinished business of recent events. In chapters about subjects ranging from trans rights and the Me Too movement to the sexual trafficking of migrant women and children, Rose stays focused, weaving analyses of ongoing sexual violence through readings of literature. What drives the whole work is the writer's unwavering belief that we cannot begin to change our world without confronting the many forms of violence against women that continue to constitute it. —Jane Hu
Photo: Publisher
Kawakami is a literary celeb in Japan whose much-lauded novel Breasts and Eggs was published in America last year, the first of her three books to be translated into English. Inspired by Nietzsche's Thus Spoke Zarathustra, Heaven is an investigation of the intrinsic trauma of violence in which a 14-year-old boy who is bullied and taunted for his lazy eye forges a bond with a teenage girl, another victim of the mindless cruelty of children. (It was translated from the Japanese by Sam Bett and David Boyd, who also did Breasts and Eggs.) Haruki Murakami has called Kawakami his favorite young writer, but don't let that fool you into thinking their work is similar: Kawakami's writing is as grounded as Murakami's is flighty, as dedicated to the pared-down shape of her prose as he is to the wild arcs of his narratives. —Hillary Kelly
Photo: Publisher
When D.H. Lawrence died in 1930, many critics considered him little better than a glorified pornographer. He'd published a slate of highly sexualized (and often autobiographical) novels, starting with The Rainbow in 1915 to Lady Chatterley's Lover in 1928, and the eventual 1960 obscenity trial over the latter in the U.K. only perpetuated his divisive reputation. In this hyperfocused biography, Wilson — Lawrence's first woman biographer — unpacks those years of Lawrence's life and sifts through three major crises that affected his work, marriage, and philosophy, asking how such a gifted and original storyteller ended up scorned by the literary establishment during his lifetime. —Hillary Kelly
Photo: Publisher
Galchen is an inventor and fabulist of the highest order: Her narratives are rigorous, antic creations that explore deceit, misinformation, identity, and the nature of knowledge. Her latest puzzle box of a novel is a surrealist horror story set in the 17th century. Narrated by Katharina Kepler — the herbalist mother of the famed German astronomer Johannes Kepler — the novel is constructed as a defense against the most serious of accusations: witchery. Written as a confession that Katharina offers to her next-door neighbor, the story is winding and hallucinatory, full of poison, gossip, and astral musings. Drawing partly from historical documents, the world Galchen creates feels more than just real. It feels haunted. —Kevin Lozano
Photo: Publisher
In this tremendous novel by the Egyptian novelist, we meet a mother who directs her son to obey the orders of his dead father; a young man who wakes up in a ditch only to discover he somehow missed his own wedding; and another man who discovers he can walk on water. Each anecdote brushes the edge of the miraculous before resolving into something more quotidian — until the commonplace ebbs away, and we are left to ponder the mysteries that remain. This is the first of Kheir's four novels to be published in English, translated from the Arabic by Robin Moger. —Tope Folarin
Photo: Publisher
I'm a sucker for tales about female friendships that slide into obsession. The magnetism between women has so often been underestimated by history and literature that I'll snap up the work of any author willing to go there. And Imamura isn't just any writer. The Woman in the Purple Skirt, which took home Japan's most prestigious literary award in 2019 and was translated from the Japanese by Lucy North, follows the aforementioned, otherwise nameless woman, as she sits in a park, watched by The Woman in the Yellow Cardigan. The two eventually become friends and their lives begin to mesh — but something is off, and one of the women is not what she seems. Not just another cheap thriller with a "you can't trust anyone" conceit, Imamura's latest is like Anita Brookner's Look at Me, reimagined by a surrealist. —Hillary Kelly
Photo: Publisher
Brandon Taylor had a hell of a 2020: His debut novel Real Life, about a queer Black biochemistry grad student barely getting by, was a critical darling that landed on the Man Booker shortlist and is now being developed into a film starring Kid Cudi. Filthy Animals, a new collection of linked stories, promises to delve into similar territory: young Midwesterners navigating cultural landmines and severed connections. A story about a man drawn into the open relationship between two dancers sounds especially Taylor, and especially biting. —Hillary Kelly
Photo: Publisher
Sager has turned out a thriller a year since his 2017 breakout hit Final Girls, about the lone survivor of a horror-movie-style massacre who's confronted with her past ten years later. They're all creepily atmospheric, easy to read without being fluffy, and fun as hell. Each book has also been better and more confident than the last, with 2020's Home Before Dark deftly weaving together narratives from a writer who recounted his experience living in a haunted house (à la The Amityville Horror), and his daughter, who returns to renovate the house after her father's death. Sager's next offering, Survive the Night, sounds just as fun, creepy, and compelling, with the tagline: "It's November 1991. George H. W. Bush is in the White House, Nirvana's in the tape deck, and movie-obsessed college student Charlie Jordan is in a car with a man who might be a serial killer." —Emily Palmer Heller
Photo: Publisher
At a time when we all want to escape our real lives, what could be more alluring than the sparkling world of a romance novel? In her latest book, rom-com doyenne Guillory whisks us away to Hollywood with one familiar face, a male lead from one her previous novels, and a fresh one, an A-list actress waiting for her next big film. Guillory is known for whirling readers around the dance floors of weddings and palaces with glittering charm and delicate care, and now we can't wait to see what she does with the glamourous and messy love lives of movie stars. —Tara Abell
Photo: Publisher
The California-born son of Cambodian refugees, the late fiction writer So described inherited immigrant trauma with what Mary Karr called "mind-frying hilarity." He published stories in The New Yorker and n+1 and died in December, at the age of 28 — nine months before the release of this debut story collection, which is one of the most exciting contributions to Asian American literature in recent years. Afterparties follows everyday life in a Cambodian American community, with a focus on a younger generation negotiating their families' post-genocide trauma alongside the high jinks of American childhood. So wrote with a light touch, in contrast to Asian American refugee fiction that trafficks in melancholic inscrutability or melodrama. These stories are funny without being satirical, refreshingly realist, and generous in their levity. —Jane Hu
Photo: Publisher
Awad is a dark genius, preternaturally gifted at creating vicious, hilarious tales about the depravity inside us. (Please read her 2019 novel Bunny, about a group of treacly, pink-beribboned MFA students who magically conjure up their ideal men — then ax them when the relationships don't work out.) All's Well is set in the theater world, where Miranda, a former actor still in pain from a horrific accident, is attempting to stage Shakespeare's All's Well That Ends Well. But the cast stages a coup: They want Macbeth. A wicked mash-up about opioid addiction, Bard nerds, Faustian deals, and a cursed play? Yes, please. —Hillary Kelly
Photo: Publisher
Inflammation is both the metaphor and the stated subject of this ambitious interdisciplinary tome co-written by Patel, a journalist and activist, and Marya, a physician and composer. Together they map the connections between public health, social injustice, economic disparities, climate change, and ancestral trauma, making the case that our crappy world needs a new medical paradigm. —Molly Young
Photo: Publisher
Henrik is a young Japanese man adopted by Danish parents and living in Paris, where he aspires to be a translator. When his girlfriend dies mysteriously, Henrik sets off on an investigation through the city's seamy underbelly, confronting ghosts of all kinds. This is the debut novel of American writer David Hoon Kim, who himself lived in Paris and studied at the Sorbonne. He writes a mean sentence. —Molly Young
Photo: Publisher
A perfect novel for your end-of-summer ennui, for what will always feel like that moody last week of vacation before school starts again. Four years after her last novel Into the Water and six years years after her international hit The Girl on the Train, Hawkins returns with a new thriller, a murder mystery set on a London canal boat. A little damp and a little cold, we can already feel our bones chilling from the lurking suspense and characters as murky as the Thames. —Tara Abell
Matrix by Lauren Groff (September 7)
With its brilliant he said, she said structure and mythological underpinnings, Groff's 2015 novel, Fates and Furies, ginned up chatter and racked up award nominations. Matrix takes a sharp left turn away from the novelist's usual focus on contemporary Americans. Instead, it heads to the 12th century to follow Marie de France, a former lady-in-waiting to Eleanor of Aquitaine, whom the French court sends to England to run an impoverished abbey. Groff has a knack for dissecting the inner workings of cloistered communities (the scarred small town of The Monsters of Templeton, the doomed cult of Arcadia) so it will be fascinating to see what she makes of the hive-like energy of an all-female community. —Hillary Kelly
Maggie Nelson needs no genre. Reading her books — The Argonauts, Bluets, On Cruelty — tends to make classification of any kind feel destructive, like it would slice through her writing's vital connective tissue. The same will almost certainly be true of her forthcoming book On Freedom, which will ask how that most American of ideals helps and how it hinders us in four distinct arenas: art, sex, drugs, and the climate. Reading Nelson is like watching a prima ballerina deliver the performance of a lifetime: athletic, graceful, and awe-inspiring. —Hillary Kelly
Richard Powers does Big well. His last novel, 2018's Pulitzer-winning The Overstory, is a luminous, 500-plus page collection of stories, set across centuries, about the interconnectivity of forests and the people who live among and nurture trees' primeval glory and innate intelligence. It's so expansive it feels like you're watching his characters from space. So it's no surprise that his next novel, billed as a major event, will leave the atmosphere. Bewilderment is about Theo Byrne, a widowed astrobiologist searching for life on distant planets, who decides to take his young son on a galactic mission. Expect soaring prose and wise lessons about the bonds between humans and Mother Earth. —Hillary Kelly
From what we know so far about Franzen's first novel since 2015's Purity, it sounds exceptionally Franzen. Crossroads, the first novel of a new trilogy called "A Key to All Mythologies" (phew), centers on the Hildebrandt family: father Russ and mother Marion, who are both eyeing the exit out of their marriage, and their nearly grown children, Clem, Becky, and Perry. Reportedly the first in a trilogy of untold page count, this volume starts in 1971 and is set, of course, in a Midwest suburb; the series will eventually work its way through three generations. Most intriguing, the title is a tongue-in-cheek play on the character Casaubon's long-belabored, unfinished book from George Eliot's Middlemarch. So until October, we'll be waiting with bated breath for more details — and another inevitable round of Franzenfreude. —Hillary Kelly
Dreaming of You by Melissa Lozada-Oliva (October 26)
A feverish story of young adulthood, exploring how fandom and obsession shape how we relate to the world. Lozada-Oliva's verse novel borrows its name from Tejana pop star Selena Quintanilla's 1995 album, released posthumously after she was murdered by the president of her fan club, and centers around a young Colombian-Guatemalan American poet grappling with heartbreak and a stalling career. She decides to summon Selena, her childhood hero, using improvised witchcraft — and is shockingly successful, only to watch helplessly as Selena is immediately catapulted back into stardom and out of the poet's life. Using love notes, party gossip, self-reflections, and imagined dialogues — with strangers, exes, Selena, and even Selena's killer — Dreaming of You navigates the complexities of Latinx identity, self-loathing, love, and the loneliness of drifting into adulthood. —Miguel Salazar
Every product is independently selected by our editors. Things you buy through our links may earn us a commission.