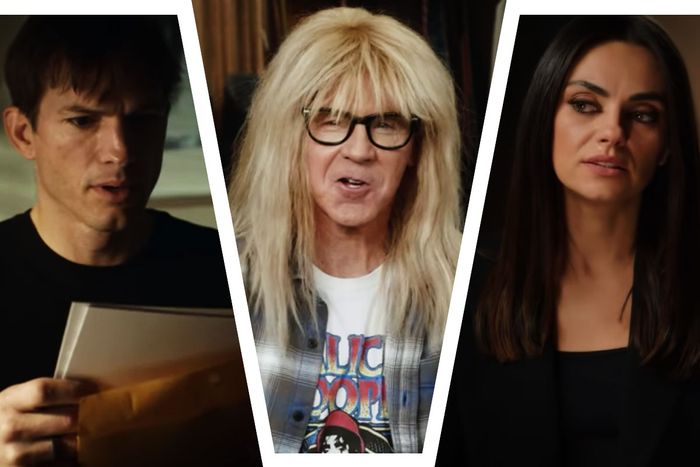 Photo-Illustration: Vulture and YouTube
After a blowout game full of memes, a streaker and, surprisingly, poetry, the Super Bowl commercials are here to make your parents complain about how much better the ads were when they were young. Much like literally everything else, advertising for the big game was affected by the coronavirus, with huge names like Coke, Pepsi, and Budweiser sitting this one out. It took about two more months than usual for CBS to sell ad space for the game, with newcomers and commercial staples alike shelling out about $5.5 million for a 30-second spot. Tom Brady may have taken home his one billionth trophy, but it seemed like no one really won the commercials: brands leaned in to the weird of this year, with Tide focusing its ad on a sentient Jason Alexander sweatshirt and Amy Schumer cosplaying as the fairy godmother of mayonnaise. Catch all the 2021 Super Bowl ads below.
Wayne's World Reunites for "The Big Bowl"
Still broadcasting from Wayne's mom's basement in Aurora, Illinois, Mike Myers and Dana Carvey (and Cardi B) join forces once again to promote Uber Eats. The commercial encourages viewers to eat local and features many of the duo's signature catchphrases. Schwing.
Jason Alexander Gets Stepped on, Spit on, and Sat on for Tide
A beloved sweatshirt featuring the face of Seinfeld star Jason Alexander is, ahem, well loved until it's washed with Tide.
Amazon's Sexy Alexa
Michael B. Jordan is the Alexa of our dreams in this Amazon ad. Read me a sexy audiobook in the bath, sweet prince!
Dolly Parton Works "5 to 9"
Directed by Oscar winner Damien Chazelle, this ad for Squarespace encourages entrepreneurs to pursue their passions "5 to 9," flipping the script on Dolly's classic hit. Just one more reason Dolly is an actual angel.
Cheetos Makes Shaggy a Third Wheel
Ashton Kutcher musically accuses his wife, Mila Kunis, of stealing the Cheetos Crunch Pop Mix, while Shaggy defends her by belting out his 2000 hit "It Wasn't Me." How does Mila make even Cheetos dust look good?
John Travolta Makes a TikTok
In this ad for Scotts and Miracle-Gro, celebs veg out in their gardens, including John Travolta and his daughter making a Grease TikTok, Martha Stewart freshening up her tomatoes, and Stanley from The Office (Leslie David Baker) grumpily grilling.
Michelob Ultra Wants Us to Be Happy
Michelob Ultra bills A-list athletes for this commercial, including Serena Williams, Anthony Davis, and Peyton Manning in a cowboy hat. There's even a shot of golfer Brooks Koepka at a pizza party, for all the dads out there.
Michelob Ultra Round 2: This Time With Don Cheadle
This time advertising Michelob Ultra Organic Seltzer, the brand's second spot features celebrity doppelgängers of Megan Fox, Serena Williams, Usher, Sylvester Stallone and Lucy Liu, but has the real Don Cheadle (and his lookalike brother).
Matthew McConaughey Is … Flat?
Matthew McConaughey is a horrifying, 2-D version of himself in this Doritos ad — even Mindy Kaling and Jimmy Kimmel can't get behind it. Don't worry, Doritos 3-D chips save him from being sucked up by a Roomba.
Amy Schumer's the Fairy Godmayo
Proud of the executive who pushed for the phrase "fairy godmayo." Amy Schumer shows the power of Hellmann's Mayonnaise in this ad, which has more dislikes than likes on YouTube.
Bud Light Has Its Own Avengers
Although Budweiser is out, Bud Light is in, combining spokespeople of commercials past to save the beer. Sadly, the "Dilly Dilly" Bud Knight is killed in an accidental high five.
Bud Light: Round 2
In its second commercial, Bud Light (this time advertising its new lemonade seltzers) reflects on the "lemon" of a year that was 2020.
Lil Baby Is a Rockstar
Rapper Lil Baby encourages hustlers to follow their dreams in this Rockstar Energy ad.
Peyton and Eli Manning Wear Matching PJ's for Frito-Lay
Featuring an all-star NFL cast, this Frito-Lay spot, narrated by Marshawn Lynch, tells the story of the "Night Before Super Bowl" — including a re-creation of "the Immaculate Reception" with Terry Bradshaw, and the Manning brothers, in matching sleepwear, getting a scolding from their father. Eli told People they didn't even need a wardrobe: "It was kind of embarrassing that Peyton and I had matching pajamas, coincidentally."
Lenny Kravitz Tells Us We're All Billionaires
For Stella Artois, Lenny Kravitz could almost be addressing the GameStop controversy head-on, saying, "We're all born with 2.5 billion heartbeats. That makes you a billionaire. So let's not waste the fortune within us. Invest." Guess we're not eating the rich today?
Chipotle Asks a Big Question
In this ad, Chipotle goes for messaging over celebrity, providing aesthetically pleasing shots of black cows mooing, farmers picking peppers, and a child planting seeds while a brother and sister argue over sustainability.
Dan Levy Holds a M&M Captive
Golden Globe–nominated Schitt's Creek star Dan Levy appears in this M&M's commercial, featuring people apologizing with the candy. But Levy doesn't seem that sorry.
Sam Adams Unleashes Budweiser's Clydesdales
Now that Budweiser is out of the game, Sam Adams reimagines its iconic Clydesdales wreaking havoc on Boston. Wicked smaht.
Pringles Strands Astronauts
In this Pringles ad, rescuers are too distracted by stacking the chips to save stranded astronauts.
John Cena Teases Mountain Dew Winnings
Pro wrestler and certified himbo John Cena drives a cotton-candy pink car in this commercial, letting you know you could win $1 million if you count the number of Watermelon Dews in the brand's Super Bowl spot.
Vroom.com Knows We Can't Stand Car Dealerships
Super Bowl newcomer Vroom.com dramatizes the pain of going to a car dealership in its 30-second spot.
Mercari Says Hello
In this ad set to a poppy cover of the earworm "Hello, Goodbye," online marketplace Mercari, another Super Bowl newbie, shows us that we too can order popcorn-makers online.
Ford Encourages America to Finish Strong
Ford highlights ongoing efforts to fight the coronavirus, noting that "soon we will be what we were — touching, loving, living." The surrounding #FinishStrong campaign focuses on donating PPE to underserved communities and designing new products to protect people from the virus.
Fiverr Visits Four Seasons Total Landscaping
Yep, remember them? The online freelancer marketplace Fiverr makes its Super Bowl debut by calling back to one of the strangest political stories of 2020, with the landscaping company's president, Marie Siravo, sprucing up her facility thanks to its new fame.
Tony Romo's Wife Sleeps on Five Mattresses
In this spot, the Romos eat huge sandwiches, sleep on super-tall beds, and drive monster trucks, all in the name of Skechers Max Cushioning Sneakers.
Oikos Shows Its Pro Face
Oikos Pro yogurt shows the, uh, unique faces people make when they're working out, including a few star athletes (and SpongeBob).
Anheuser-Busch Encourages Grabbing a Beer
In Anheuser-Busch's first-ever corporate Super Bowl ad, the company focuses on times that can be made better by a beer.
TurboTax Finds the Weirdest Tax Loopholes
According to TurboTax, you can apparently get tax credits due to old age, nice trees, or alien visitors.
Lil Nas X Is Back, This Time for Logitech
Logitech apparently made so much money selling keyboards, mouses, and PC webcams during the pandemic, it could afford its first-ever Super Bowl spot, a partnership with Lil Nas X, who is no stranger to big-game ads.
Nick Jonas Takes Us Back to Disney Channel Days
Nick Jonas is giving us JoBros diabetes-song vibes in this ad for Dexcom, a glucose-monitoring system for people with diabetes that works without finger-pricking.
WeatherTech Is Patriotic
In its series of pro-America commercials, WeatherTech once again utilizes its own employees to highlight its products. Plus, a mom on the go?
Jimmy John's Is the King of Cold Cuts
Comedian Brad Garrett stars as a shady sandwich mob moss in this spot for "Jimmy's John's," as he calls it.
Maya Rudolph's on Her Own Tiny Horse
The popularity of the tiny horse is here to stay, as Maya Rudolph rides on up to pay for cowboy boots in this commercial for Swedish bank Klarna.
Indeed Rises Up
In its first-ever Super Bowl ad, jobs site Indeed takes viewers through the emotional process of getting a position.
Cutwater Spirits Makes Us Jealous
Anheuser-Busch's canned cocktail brand Cutwater Spirits' first Super Bowl ad features shots of closing work laptops and getting into the sun. It's like it's taunting us.
Will Ferrell, Kenan Thompson, and Awkwafina Vow to Crush Norway
After Ferrell finds out Norway produces more electric cars per capita than the United States, all hell breaks loose in this GM ad.
Toyota Tells the Story of Jessica Long
Ahead of an Olympics that may never happen, Toyota shares the emotional story of Jessica Long, a Paralympic swimmer.
Dr. Squatch Is for Real Men
Direct-to-consumer men's natural care brand Dr. Squatch argues that real men use good soap (and let their daughters braid their hair).
Robinhood Says "We Are All Investors"
In this commercial booked in December, investing app Robinhood says that anyone can become an investor. Well, everyone couldn't last week when it restricted trading on GameStop. Don't worry, this ad has already been lambasted on Twitter.
Paramount+ Declares Sweet Victory
In the latest battle of the streaming wars, the new service Paramount+ is set to make its debut on March 4. In this series of ads narrated by Sir Patrick Stewart, ViacomCBS favorites climb Mt. Paramount, resulting in hilarious shots like a pan from Dora the Explorer to Jeff Probst of Survivor.
Bass Pro Shops Targets Guys With Fishes in their Tinder Profile
Bass Pro Shops (owner of the mysterious Bass Pro Shops Pyramid) makes its Super Bowl debut by encouraging America to participate in outdoor activities during the pandemic.
Dawn and Swiffer Address the Chore Gap
The Proctor & Gamble brands note that in 65 percent of homes, most chores fall on one person, and urge the entire family to pitch in (even the dog).
Joe Montana for Guinness
Football great Joe Montana appears in this spot for Guinness discussing what it means for anyone to be the GOAT.
Timothée Scissorhands
Timothée Chalemet plays the Son of Scissorhands, Edgar, with Winona Ryder reprising her role as Kim Boggs. The iconic moody, sensi, lanky boy, played by another iconic moody, sensi, lanky boy. This commercial seems like it was made in a lab for Twitter.
Daveed Diggs and Doordash Visit Sesame Street
Daveed Diggs and some of your favorite fuzzy, educational puppets remixed the Sesame Street classic "People in Your Neighborhood" to describe all the places you can order delivery from. This ad is brought to you by the letter "T", for tip your drivers.
Drake Dons the State Farm Polo
Like a good neighbor, Drake filled in for Jake from State Farm to become … Drake from State Farm. Shailene Woodley's boyfriend Aaron Rodgers and Paul Rudd are there, too.
Rocket Mortgage? More Like Rocket Morgan
Tracy Morgan is certain you can afford a house with Rocket Mortgage. He's only pretty sure, though, that you can eat a toadstool, fight Dave Bautista, and he's "pretty sure these hornets aren't the murder type."
An Ode to Oatly
In perhaps the evening's most divisive spot, Oatly CEO Toni Petersson sings a slightly off-key, but clearly very passionate, lo-fi homage to the brand's non-dairy milk in the middle of a field.
Reddit's Bet Pays Off
Reddit's ad was only five seconds long, but the text of the spot, posted by HuffPost senior editor Philip Lewis below, celebrated last month's GameStop r/WallStreetBets pandemonium and hopes it will wrangle some new users for the site. "Powerful things happen when people rally around something they really care about," the spot concludes. "And there's a place for that. It's called Reddit."
Jeep and Bruce Springsteen Want You to Meet In the Middle
Jeep, stretching its hands across America to tug at your heartstrings, went to New Jersey, where it enlisted Bruce Springsteen to narrate a rumination of the "ReUnited" States of America in 2021. "We can make it to the mountain top, through the desert, and we will cross this divide," the Boss reassures you. "Our light has always found its way through the darkness, and there's hope on the road up ahead." Also? Buy Jeep.
Gwyn and Blake Cannot Act
Blake Shelton lets himself get roasted in this T-Mobile ad — Adam Levine sets him up with Gwyn Stefani because he is "county, uncultured, and threatened by a strong, confident woman." Though they might want to stick to The Voice to show off their acting chops.
Mama Doris Crushes Anthony Anderson
In their second slot of the night, T-Mobile pits mother against son, with Mama Doris coming out on top (given the help of Chiefs tight end Travis Kelce).
SpaceX Wants You to Go to Space
Directed by Bryce Dallas Howard and narrated by Octavia Spencer, this lullaby-inspired SpaceX ad attempts to lull us into a trance by encouraging us to quite literally go to outer space. Though we have enough problems on Earth right now without adding interplanetary relations to the list.
Guaranteed Rate Enlists Star Athletes to Believe in Themselves
Featuring clips from Dustin Poirier, Rose Namajunas, and Starr Andrews, this ad for mortgage lender Guaranteed Rate says, "If you believe, you will." Inspirational.
CGI Samuel L. Jackson Blames Gamers
Verizon wants gamers to stop blaming their losses on laggy networks in this commercial, while an uncanny-valley Samuel L. Jackson threatens them all with a sparkle stick.
Disney Promotes Its Many Streaming Options
In addition to dropping new trailers for Falcon and the Winter Soldier and Raya and the Last Dragon, Disney advertised the streaming Disney Bundle, which includes Hulu, Disney+ and ESPN+.
The NFL Commissions a Vince Lombardi Hologram
Actor Russ Hutchinson plays legendary football coach Vince Lombardi in the scripted section of this NFL commercial, before flashing to an awkward pregame speech made by a hologram Vince Lombardi in Tampa Bay.
NFL Round 2: This Time With Social Justice
The NFL promotes its Inspire Change initiative in this ad. But Colin Kaepernick still doesn't have a job, so …
Huggies Celebrates Today's Babies
Yes, as in babies born literally today. This spot, featuring babies born on the day of Super Bowl LV, shows all the best parts of being a baby.
An E*TRADE Workout
Forget Chloe Ting — this kid uses old paint cans and a tire to get himself into shape. What does this have do to with E*TRADE? We don't know.
There's a Disinfectant Ad, Because of Course
In this straightforward spot for Microban24, surfaces are kept clean for 24 hours. That would've come in handy when we were all spraying our groceries in March.
All recommendations are made independently by our editors. Services you subscribe to through our links may earn us a commission.