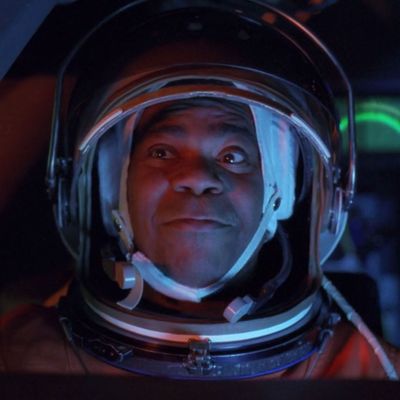 Tracy Morgan as Tracy Jordan.
Photo: NBC
This list was originally published in 2017, but was updated to reflect current streaming information.
Though 30 Rock left the airwaves in 2013, Tina Fey and Robert Carlock's surreal yet biting sitcom about a fictional NBC comedy show remains an essential slice of TV comfort food for many viewers a full decade later. With all seven seasons available on Peacock and Hulu, binge-watching the series like it's MILF Island or Queen of Jordan couldn't be easier. If you're looking to "go to there," grab your Slanket and some night cheese: Here are the best episodes of 30 Rock to watch.
"Tracy Does Conan" (Season One, Episode 7)
Generally acknowledged as the first great installment of 30 Rock, this madcap, race-to-the-finish episode still holds up thanks to its blistering pace and the first appearance of Chris Parnell's "excellent physician and pretty good dentist" Dr. Leo Spaceman, arguably the show's best recurring character. And for lasting emotional impact, it offers a pretty spot-on take on why people stay in shitty relationships.
"Black Tie" (Season One, Episode 12)
30 Rock made it clear early on that it was an SNL-like open door for any celebrity who wanted to test out their comic chops. Many failed, but two guest stars shined in this episode: Paul Reubens, who pushed the envelope in one of his most bizarre and grotesque roles, and Isabella Rossellini, absolutely dynamite as Jack's Big Beef 'n Cheddar–loving ex-wife. "Black Tie" is also the episode that thoroughly torched any will-they, won't-they tension between Liz and Jack, paving the way for one of TV's great (and rare) male-female friendships.
"Rosemary's Baby" (Season Two, Episode 4)
Given its per-episode density of Star Wars references, it's not surprising that 30 Rock created one of its best guest-star showcases for Carrie Fisher. In "Rosemary's Baby," Fisher played a washed-up comedy writer who portends Liz's future (and leads Jack to deliver the iconic line, "Never go with a hippie to a second location"). The subplot in which Jack therapizes Tracy by playing all of his family members probably wouldn't pass muster today, but it's an undeniably impressive bit of impersonation.
"Ludachristmas" (Season Two, Episode 9)
Christmas episodes aren't where most sitcoms shine, but 30 Rock managed to turn in a classic one about the challenges of the holidays, the underlying tensions in families (even Liz's perfect-seeming one), and Tracy's plight of being forced to quit booze right before the NBC holiday party. You've got to love a show where a maudlin "true meaning of Christmas" subplot quickly shifts into an attempt to chop down the Rockefeller Center tree.
"Succession" (Season Two, Episode 13)
Many of 30 Rock's sharpest barbs were reserved for the corporate culture of NBC, and amid tough competition like "Retreat to Move Forward" and "Dealbreakers Talk Show #0001," this episode is the pinnacle. Liz's ascension to head of East Coast Television and Microwave Oven Programming is a hysterical take on the mores of the executive class (and gave us the extremely useful concept of "business drunk"), while Tracy and Frank's Amadeus-inspired parody about a porn video game is one of the show's most inspired bits of silliness.
"Generalissimo" (Season 3, Episode 10)
Two of 30 Rock's best long-running guest stars overlap in this episode: Salma Hayek's murderous, McFlurry-loving nurse Elisa, and Jon Hamm's dreamboat dumbass Dr. Drew Baird. But the real draw of "Generalissimo" is Alec Baldwin's dual performance, as Jack Donaghy squares off against his telenovela doppelgänger, the "surprisingly gay" Hector Moreda. There's also a brief but hysterical C-plot involving Tracy's attempt to outdrink a crew of Wall Street bros.
"Apollo, Apollo" (Season 3, Episode 16)
Often cited by 30 Rock cast and crew as their favorite episode, "Apollo, Apollo" is the show at its most poignant, from Jack's attempt to reclaim childhood happiness on the eve of his 50th birthday to the near-demise of Liz and Jenna's friendship after Jenna sleeps with Liz's sex-addict ex, Dennis Duffy (the great Dean Winters). It also features two of the show's most iconic throwaway moments: Liz's phone-sex ad and Kenneth's Muppet-vision.
"Verna" (Season 4, Episode 12)
This episode about Jenna and her terror of a mom (Jan Hooks) is an underrated winner, with a nuanced take on mother-daughter relationships and a great, subtle parody of Alec Baldwin's iconic Glengarry Glen Ross scene. (Viewers with difficult family members may find Jack's "say no, talk low, let her go" technique surprisingly effective in real life.) And the plot in which Liz and Frank move in together and attempt to kick bad habits showcases two of the show's more undersung aspects: Judah Friedlander's Frank and Tina Fey's gift for physical comedy.
"Reaganing" (Season 5, Episode 5)
Another underrated gem from the middle seasons, this episode features Jack and Liz getting surprisingly frank about Liz's sex-negativity and the impact of childhood trauma on sexuality. But it's also a showcase for one of 30 Rock's most gleefully batshit subplots, an increasingly baroque heist tale involving Jenna, Kenneth, Kelsey Grammer, and an unlimited Carvel VIP card.
"Queen of Jordan" (Season 5, Episode 17)
30 Rock dabbled in the occasional experimental episode (see also: the live shows), but this was its best outing in that department. A spot-on parody of pretty much every Bravo show, "Queen of Jordan" absolutely nails the formal and technical aspects of reality TV, while still delivering the wit and wisdom of an above-average 30 Rock episode. Plus, it gave us Tituss Burgess and the show's all-time best cutaway, consisting solely of the word "ham."
"Leap Day" (Season 6, Episode 9)
Many sitcoms have attempted to create fake holidays, but none did it better than 30 Rock, which contrived a fairly plausible St. Patrick's Day–esque set of traditions around Leap Day — complete with multiple nods to Groundhog Day, a fake Jim Carrey movie about "Leap Day William," and a Jack-centric take on A Christmas Carol. (The ghost of Leap Day future? Liberalism.) The fact that it aired so late in the show's run is probably the only reason that wearing blue and yellow and crying for candy on Leap Day hasn't become an actual thing.
"My Whole Life Is Thunder" (Season 7, Episode 8)
In its abbreviated final season, 30 Rock decided to go full-bore on plot development, squeezing in multiple seasons' worth of weddings, babies, demises, political satire, and corporate espionage. It's a bit jarring, but this episode thrives on the maximalism, packing in some tough truths about Jenna and Liz's toxic friendship and Jack's relationship with his difficult mom (the inimitable Elaine Stritch). With cameos from Florence Henderson and Kermit the Frog, it's wry, touching, and deeply weird. In other words, it's quintessential 30 Rock.