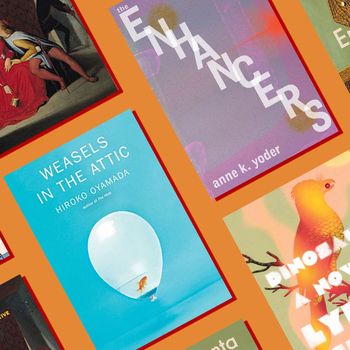 Photo-Illustration: Vulture; Photos Courtesy of the Publishers
Each month, J. Howard Rosier will offer nonfiction and fiction book recommendations. You should read as many of them as possible.
Photo: One World
We expect a lot from novels written by poets: a heightened sensitivity to language, brevity, a sustained sense of theme or metaphor. How wonderful when a poet's novel actually delivers. Asghar's debut, about a trio of Pakistani orphans and the sacrifices they make (or don't) to stay together after the death of their father, is a 300-pager that you can't put down — a typographically experimental work that maintains its focus on the humanity of its characters. It's educational for both its compression and its use of space on the page, but its most subversive trick is the empathy shown for the girls' guardian, their uncle: an objectionable character from virtually every angle who is still afforded three dimensions. Also in the running is the concept of orphanhood intersecting with the many Muslim immigrants who fall in and out of their orbit: "My mind is a confusion of people who come and disappear. I can't keep track."
Photo: New York Review of Books
Society's obsession with résumé, and its use to construct an aura of credibility, is such a pervasive element of contemporary life that it inevitably implicates even the author and his own field of "literary humanities." But that dynamic is exactly what Brooks parses in his terrific critical survey: the essential differences between surface stories and the ways in which they're constructed. It culminates in a postscript about how narratives impose themselves on the American judicial system that articulates a deeper parable about the ease of manipulating facts to one's ends. The parameters of one's story are personal; the onus of calling bullshit rests on us.
Photo: W. W. Norton & Company
That's dinosaurs as prehistoric birds and a pejorative lobbied at a Wasp aristocracy now sidelined by an increasing acknowledgement of income inequality and marginalized persons. Thank God for Lydia Millet. Her latest novel centers on Gil, a trust-fund millionaire who moves to Phoenix from New York City to get over a breakup; it somehow manages to do for bird-watching what The Shipping News did for The Ashley Book of Knots while quarreling with both the concept of trust (ha!) and the nature of philanthropy. What does Gil's sense of goodness mean when he's never had to worry about anything? Do the struggles of his careerist friends and acquaintances mean more because they've had less of a cushion? An unexpected yet relevant work of art by a master of the form.
Photo: New Directions
The specter of snow melting, thus freeing the narrator and his wife from the mountain home in which they're stranded, unspools deliciously backward in this consistently surprising story from one of the brightest writers in Japan. The narrative approach surfaces both clues and questions as a spring thaw does lost items. Who is the immature one: the narrator or his friend Saike, the married, work-from-home, day-drinking dad who owns said mountain home? Was the sperm test that the narrator's wife requested for sampling, or insemination? If it's the latter, has she lost the baby, decided against having it, or kept her pregnancy a secret; each of these decisions could potentially stem from the emotional unavailability of the narrator. Is the titular last weasel, so theatrically killed by his wife's family in the second section, a metaphor for the eventual dissolution of their relationship based on infertility ("They know this house is the last place they want to be"), and the blizzard an opportunity for the couple to see what their lives could've been like? The only certainty is the sense of the main character standing in place while everything changes around him.
Photo: Riverhead Books
Schweblin's latest, which comes in a fantastically lucid translation from Spanish by Megan McDowell, doesn't know or care how it's labeled. Its sections, which have different settings and protagonists, could easily be construed as short stories intended for a collection, though the book's unrelenting momentum makes it unideal to experience its components separately. If Seven Empty Houses has an organizing principle, it seems to be the exploration of shared spaces: What one desires when one doesn't have access to certain spaces. Or what it means to leave and come back to a space with the expectation of forgiveness. Or what it's like to lose control after the person who you've depended on dies and all you have left to think about is how to present yourself. Throughout, there's an eeriness borne of the relatability of the scenarios.
Photo: Publisher
An absolute clinic on unreliable narration, Which Side is a blistering send-up of youthful pretension and pseudo-activism. Stock phrases, uttered on NPR and regurgitated in so-called think pieces, arrive in such an onslaught and feel so real that readers may have to take a break — but Wong's pace is quick and dialogue driven and actually in the service of a moving coming-of-age tale. What Reed, the book's protagonist, says is used to connect with other people and establish his own identity but also to deflect, shield his flaws, and shirk responsibility until he can't anymore. An assured debut novel that gets at the heart of why saying the right thing — hell, even doing the right thing — isn't always enough.
Photo: Meekling Press
The pharmaceutical industry as a scourge laying waste to a chronically ill (or "chronically ill") populace for exorbitant fees is familiar. But the communities, living conditions, and relationships influenced by this state of affairs? Not so much. The most impressive aspect of Yoder's debut novel, outside its vivid imagery and wrestling of indication- and warning-label language to suit its ends, is the world-building taken to construct Lumena Hills, the factory town named for the pharma company that's actively medicating its residents. Satire's too easy; Yoder interrogates the fine line between saying no to medication and being in control of one's faculties. These questions of choice and need, but also whether it's possible to deviate from certain actions in a communal sense, prove thought-provoking.