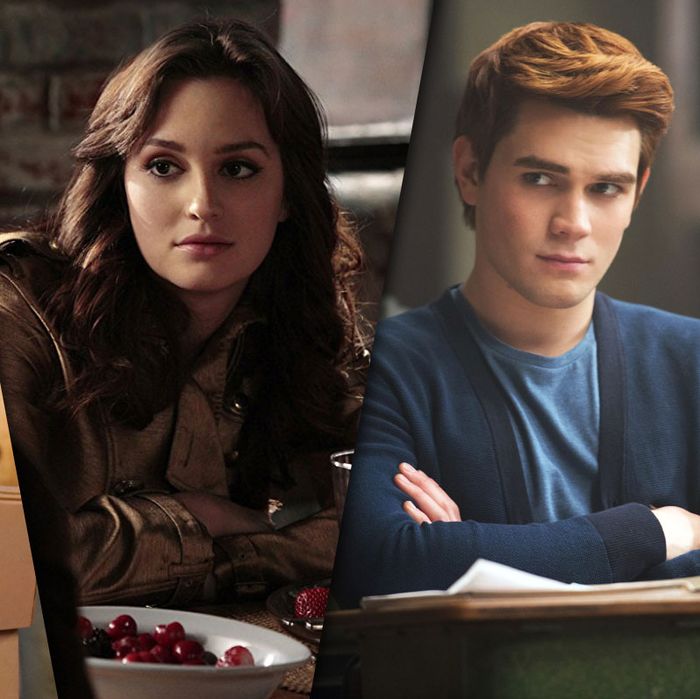 Ten years ago today, the CW premiered a soapy little drama about New York City's most elite prep-school students and the anonymous gossip fiend who sought to expose their every move. This show was called Gossip Girl, and it ran for six glorious seasons. As we reflect on the show's enduring legacy, we should first give thanks for all of the wondrous gifts it bestowed upon us peasants, including but not limited to: Blair Waldorf, a weekly excuse to stare at Blake Lively's hair, making the name "Chuck" hot, getting to say "xoxo" in a weird voice, and the resurgence of headbands.
Gossip Girl also had a lasting impact on the television landscape, especially for the teen dramas and soaps that would follow. Today, Vulture looks back at seven shows that came after Gossip Girl, in which the influence of everyone's favorite Upper East Siders cannot be denied. You know you love me — er, it. You know you love it.
Privileged (2008)
Gossip Girl was never a ratings boon for the CW, but it certainly helped define the new network, which was only in its second season when the show premiered in 2007. Gossip Girl was buzzworthy right out of the gate, so no wonder the CW doubled down on programming about sexy teens and the one percent the following year: 90210, the spinoff of that other show about hot, rich teens, found itself on the CW's programming schedule thanks to Gossip Girl, but the more interesting newbie that fall season was Privileged. The short-lived series followed wannabe writer Megan Smith (JoAnna Garcia Swisher) as she took a job tutoring two unruly billionaire teens (Lucy Hale and Ashley Newbrough) in Palm Springs, California. As if the CW wanted to see how far they could stretch their "lifestyles of the rich and famous" premise, Privileged was just as aspirational as Gossip Girl, but with a much lighter, more playful tone. Megan was our Dan Humphrey, an outsider learning the rules of running with the elite, but she was way less whiny about it and didn't feel the need to secretly harass the people she encountered by creating a fake, troll-y gossip-blogger persona. Much like Dan, though, Megan found herself in the middle of a love triangle, torn between two worlds: Should she choose her waiter–best friend Charlie (Michael Cassidy) or her hot, rich neighbor Will (Brian Hallisay)? Dan wound up with the rich girl of his dreams, and Megan seemed to be leaning in that direction, too. Unfortunately, this gem of a show only lasted one season, so we'll never know how it all plays out. #JusticeForCharlie! Available to rent on DVD from Netflix.
NYC Prep (2009)
As soon as Gossip Girl became a part of the Zeitgeist, a reality show based in the same world was not far behind. After all, the New York City prep-school scene is quite real, and the high-fashion, back-stabbing, privileged teens of Gossip Girl were based in (some) truth. A reality show following real-life Blairs and Serenas would be too good to pass up. Bravo answered the call, premiering a short-lived docuseries called NYC Prep in the summer of 2009. The show had its very own uptight, highly intelligent, headband-clad gal named Camille, who was obsessed with getting into Harvard. Then there was P.C., a Chuck Bass–esque senior who clamored on about how in New York, money equals power. There was even — gasp! — a girl from public school who hung out with the crew, but never felt like she fit in with her rich friends. The kids attended parties, threw charity events, and even complained about a (probably fake) Facebook group dedicated to gossiping about the prep-school elite. Unfortunately, as is usually the case, the fantasy version of the drama surrounding rich teens living in New York City is much more fun than the reality of it. Stripped of the glossy glamour that defined Gossip Girl, NYC Prep was a miss, and lasted only eight episodes. It turns out that if it's not Chuck Bass saying things like, "My biggest problem this week was that my tux was too tight," then no one really wants to hear it. Available to rent on Amazon.
Pretty Little Liars (2010–2017)
Freeform's flagship drama about a group of high-school girls getting harassed via text by a mysterious "A" was basically Gossip Girl on steroids. Sure, none of the gals in Pretty Little Liars were super rich (though none of them were that bad off, either), and the show was much more focused on the mystery surrounding their tormentor, but there's no doubt that PLL benefited from Gossip Girl's success with using technology as an integral part of its storytelling. Also, money or no money, the Liars were known for their fashion as much as they were for not calling the cops. Thanks to Gossip Girl, the creative team behind PLL must have recognized the importance of wardrobe in a teen drama, especially once people began tuning in to see what crazy-fabulous outfits their favorite characters were sporting. Has there ever been a pair of shows that made you want to paint your nails more? Available to stream on Netflix.
Revenge (2011–2015)
If Gossip Girl was all about aspiring to be like the one percent, Revenge represented the antithesis. While Gossip Girl himself, Dan Humphrey, wanted to simply disrupt the upper class, Revenge took retribution to a whole other level. ABC's thriller soap saw Emily Thorne, a.k.a. Amanda Clarke (Emily VanCamp) secretly return to the Hamptons to take down all the rich bitches who framed her father, putting him in prison and ruining her life. A hot blonde arriving in town as a show's catalyst? That sounds familiar! What Blair Waldorf did for the headband business, Emily did for red Sharpies. Revenge takes all the clothes, parties, and drama that Gossip Girl reveled in and turned them on their head, by turning them against the rich and powerful. Available to rent on Amazon, YouTube, and iTunes.
Riverdale (2016–)
Most of the teens on the CW's newest buzzy show are not rich — but if they are, they're either faking it or spending their money on a closet full of ginger wigs and hoarding drugs in their maple-syrup warehouse. In Riverdale, being rich isn't the glamorous lifestyle that it was at Constance Billard prep, but this dark, sexy version of the Archie comics does share some similarities with Gossip Girl, other than, you know, being dark and sexy. The narrators in each show aren't that different from one another: Both Dan Humphrey and Jughead (Cole Sprouse) are wannabe writers chronicling the goings-on of a world they feel very much outside of. Honestly, Juggy could end his chapters "xoxo" and no one would really know the difference — the dude is that dramatic. (Can you imagine how disgusted Blair would be by Jughead? And how much he would hate her? The thought of it warms the heart.) Although Gossip Girl probably has the original Archie comics to thank for its blonde versus brunette pairing, the updated version of Betty (Lili Reinhart) and Veronica (Camila Mendes) owe a lot to Serena and Blair. Gossip Girl and Riverdale both know that a little healthy competition between their female leads is great drama, but ultimately their stories are stronger when they have each other's backs. Available to stream on Netflix.
13 Reasons Why (2017–)
At first glance, it doesn't seem like Gossip Girl could have much influence on a Netflix drama about a high-school student who commits suicide and leaves behind tapes for the people who led her to that decision, but there are both structural and thematic similarities. Structurally, both shows employ a narrator who uses a form of technology to expose the wrongdoings and secrets of their peers as the framework for each episode. Gossip Girl may be snarky and Hannah (Katherine Langford) is definitely a victim on 13 Reasons Why, but both have an intent to do harm. Thematically, both explore how teenagers can hurt one another in big and small ways. It wasn't the first teen drama to do so, but Gossip Girl wasn't afraid to put this message front and center. A decade later, 13 Reasons Why is doing the same. Available to stream on Netflix.
Dynasty (2017–)
The CW's reboot of a classic '80s prime-time soap about the wealthy family behind an oil empire won't premiere until October 11, but already its ties to Gossip Girl are obvious. That's partly thanks to the fact that this iteration of Dynasty will be executive-produced by Josh Schwartz and Stephanie Savage, the same dream team that blessed us with Gossip Girl ten years ago. Much like Gossip Girl (and the original Dynasty), the show focuses on the scheming, the fashion, the parties, and the hookups of the richest people in town. It shares another similarity: Though not often talked about, the parents play an integral role in Gossip Girl. As we saw over six seasons, each major character was driven to live up to or rebel against their family's legacy. Dynasty's main protagonist, Fallon Carrington (Elizabeth Gillies), is fueled by this same fire. Sure, Dynasty skews a bit older than Gossip Girl, but here's hoping it has the same amount of backstabbing that all great soaps need.