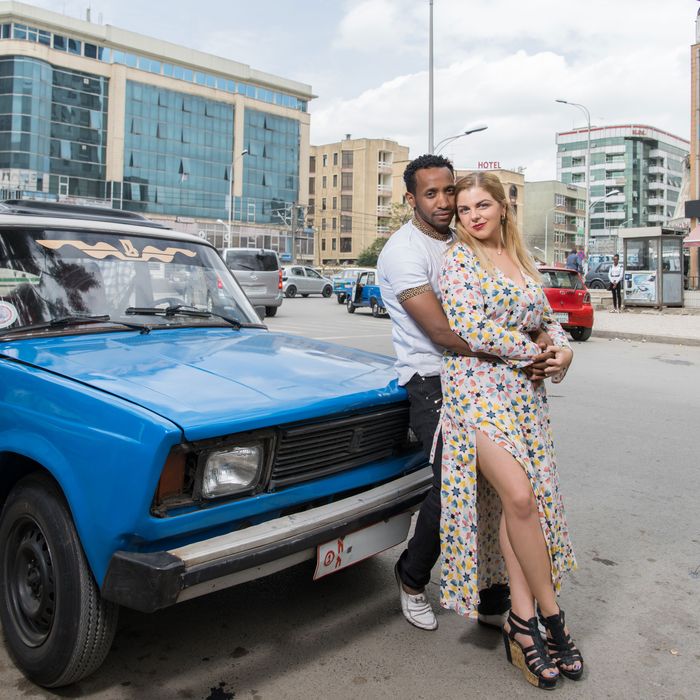 If you'd told me last season that some of the best episodes of this series wouldn't feature Jenny and Sumit, I wouldn't have believed you. Yet, here we are. "The Consequences of Truth" has some of the best drama of the season and Jenny and Sumit are again on the sidelines. At this point, I think Jenny and Sumit should just go off and be happy somewhere, since they're just rehashing the same issues they've had on the show for the last two years. "The Consequences of Truth" brings the rest of our couples into new stages of their journey.
I usually save Kenny and Armando for the end, but what a heartbreaking and enlightening episode for our main couple! They are truly carrying this show as the emotional anchor. I still think Kenny is mostly to blame for the family's initial shock, because he rushed their engagement announcement and Kenny viewed their reaction as homophobic last week. This episode, the homophobia is still there — Armando's mother asking why he even wants to have a wedding hurt — but so are the family's other concerns. There's a huge age gap between Kenny and Armando! Kenny doesn't speak Spanish but is now raising a Spanish-speaking daughter!
At this point, it's 75 percent "Armando's family is skeptical of this old white guy who didn't bother to learn Spanish" and 25 percent homophobia. I stood up and clapped when Armando's father came out to say good-bye, though. Kenny could barely let Armando handle coming out of the closet the way he wanted, so there's likely to be some tension as these two learn to co-parent. Kenny has raised children before, but I hope he doesn't use that as an excuse to dominate the situation. Hannah is still Armando's child and Armando needs to start putting up some boundaries.
Ari and Biniyam are also suddenly learning how to be parents after Ari is forced to have an emergency C-section. Dramatic births are nothing new for 90 Day Fiancé, but a few complications made this one of the scarier births the show has portrayed. It was a relief when the baby finally cried, but his birth only made the issues between Ari and Biniyam even more clear! I thought this baby would bring them closer, but I have never been more sure that Ari is going back to America than when she was holding the kid saying, "Just me and you, baby. Just me and you." Sure, it was a bit soon to be focused on baptism plans with his family, but are you sure you really love this guy if you two weren't planning baby names in advance?
I also already know Ari isn't going to be happy with a single item Bini and his sister bought at the market. A baby might make Ari realize she wants a life in America, but I hope her parents' upcoming visit helps turn things around. When this season premiered, I said parents made all the difference, and Ari and Biniyam definitely had a better energy when her mom was around. I'm happy that's not the case for Tim and Melyza. Melyza's mother has made it her one mission in life to get Melyza to end this relationship, and I love it.
I think that's why Melyza fully shut down when Tim started pushing her about her … tryst. She realized she's already over this relationship and rehashing these details would only hurt him. Obviously, if she cared about Tim she'd want to reassure him by being honest about things like condoms and STD testing. Her unwillingness to open up is hypocritical when you also look at all the questions she constantly asks Tim about his infidelity. I gotta go back to siding with my man Tim here! For Melyza to grill Tim over some flirting when she was out in the world acting fully single? Absolutely unfair! These two are just going to keep hurting each other, but Tim is only now processing that. Hopefully, Tim wakes up when his mother comes to visit, because Melyza is fully wasting his time and I'm tired of it.
While I am back on Team Tim, it is far more surprising that this episode has forced me to firmly dedicate myself to Team Yazan. I have never seen better character rehabilitation on a reality-TV show. When we first saw Yazan, I worried about Brittany's safety. Now, I'm worried about Yazan being homeless on the street because he's in love with a girl who just wants to be on reality TV. In the initial clips, they made it sound like Yazan was just asking Brittany for money because he was broke. I figured this was also part of his grift, that Brittany had actually been paying for his lifestyle and had stopped giving him money while she was in America.
But then I thought, well, Yazan lives with his parents … so why would he need to use Brittany for money or food? Luckily, Yazan's attentive friend Mohammed is here to get the full story. Yazan's family has essentially disowned him over Brittany's social media. I still think most of Yazan's love for Brittany is rooted in some real problematic jealousy, but his willingness to sacrifice is at least evidence that he actually cares about her. When Yazan said Brittany didn't show any concern for him, that was evident. I know she's distracted by her divorce, but the conversation with her sister is all we need to know. She has no intention of converting to Islam and knows she can't actually marry Yazan.
Deavan and Jihoon were also in this episode and I'm happy they finally have a real apartment! And they got a puppy! That was about all that was going on with them, but I'm sure it's only a matter of time before Jihoon goes back to his old ways. That's okay, though. Deavan, Jihoon, Jenny, and Sumit can definitely take a backseat to the drama of The Other Way's new generation. Gay intergenerational co-parenting? Dramatic surgical interventions to stop a circumcision? Melyza going full evil villain? I never thought I'd see the day Jihoon and Sumit would be boring.