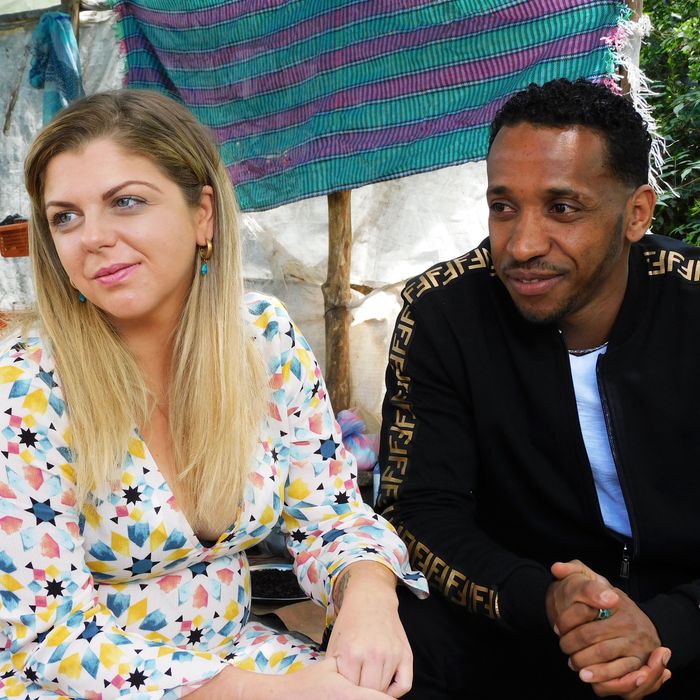 When 90 Day Fiancé: The Other Way premiered, it was one of the more outrageous series in the franchise. It was almost too hard to watch because it was so obvious couples like Laura and Aladin weren't actually in love. This season, 90 Day Fiancé: The Other Way has become far more grounded by finding more realistic couples. It may not be as drama-filled as Laura trying to make wine in her apartment, but it lifts The Other Way series into a more enjoyable segment of the 90 Day franchise versus some of the more exploitative versions of the show (*cough* Before the 90 Days). "Don't Grumpy Stop" is a great example of what the new 90 Day Fiancé: The Other Way can offer viewers beyond arguments and culture conflicts over vibrators.
Maybe it's because there are more moms involved this season. Three couples have their mothers traveling with them, and I absolutely love this addition to their journeys. Brittany and Yazan weren't in this episode (which makes me hope she went straight back to the airport to go home), but if anyone needs a parent around it's her. It's difficult to play games with moms around, and it raises the stakes for the season. If your mom doesn't like your fiancé, are you really willing to move across the world for them?
It's harder for Jihoon to lie to Deavan when he has to deal with her mom's disappointment in real time. It's also harder for Deavan to make excuses for Jihoon's behavior when her mom is sleeping on a child's size twin bed because Jihoon couldn't be bothered to check out their apartment in advance. Jihoon's parents have been on the show since season one, but they have a hard time communicating with Deavan and they don't push Jihoon to own up to his mistakes. They pretty much leave as soon as they see the bad quality of the apartment.
I don't know that I've ever thought Deavan and Jihoon were truly in love. Last season, she mostly seemed to rely on him because she was isolated in a new country. With her mom there, she finally has an ally, and I don't think she can convince herself she even likes Jihoon anymore. He admits that he lied to her again and I really hope Deavan means it when she says she's leaving when her mom does. I'm sure Jihoon's parents were yelling at him too the entire time he was gone. It's sad that Jihoon still needs his parents to tell him what to do. He can't even look Deavan in the eyes when they talk because he knows he messed up. He's had enough time to prove himself, it's hard to imagine things will change now.
I'm also happy Ariela has her mother around. Biniyam was able to comfort her during her panic attack, but I think Ariela is realizing she's in over her head. Ariela doesn't really know him that well and I think having her mother around will help her quickly get an accurate read on him. It's not that he has bad intentions, but he's not ready for the realities of a wife and child. Biniyam seems like he's going to handle things like Jihoon — he thinks he can make this up as he goes along. That being said, he does pass 90 Day Fiancé's first two tests: he brings flowers to the airport and he secures lodgings. A number of men in the 90 Day Fiancé universe have failed on these two simple tasks, so Biniyam deserves some credit. Also, unlike Jihoon, Biniyam is disappointed in himself when Ariela isn't happy with their apartment. He can admit his mistake. He wants to do right by Ariela and his child and doesn't need parents to scold him into doing it.
We also meet Tim's mom this episode, who will be visiting him while he's in Colombia. I like that Tim has a good relationship with his mom. He's honest with her about everything that's happened and even holds himself more accountable than she does. Tim's therapy is working because he seems like a really good communicator. I think I might be a fan of Tim now! He seems like this season's himbo — just an incredibly sweet, emotional guy who isn't thinking everything through. Of course he needs to get rid of his house if he's serious about Melyza, but I think he's keeping it out of fear and ignorance. Still, we haven't actually seen his dynamic with Melyza yet, so maybe he does have other motives. I'm sure his mom and her friend Carmen will help him figure it out on their trip.
As sweet as Tim's mom is, I have to give Mom Of The Episode to Armando's mother. Kenneth and Armando's families are both so perfect, it's like they were crafted in a lab to make us feel warm and fuzzy. Armando's daughter saying she's excited to have two dads was an actual Pride commercial. Armando's mom isn't afraid because she's homophobic, she has the same concerns that Deavan, Ariela, and Tim's moms all have: her child is going away to be with a complete stranger.
I think she actually has the least to worry about. Maybe it's because I'm from the Midwest, but I believe road trips are the ultimate love language. So Kenneth must really love Armando if he's willing to drive 11 hours a day for four days straight to be with him. They shouldn't have to face repercussions for being together, but Armando's father doesn't show up to say goodbye. I wonder if it was just too hard for him to do it on TV. The moment was pretty emotional and he didn't look particularly comfortable on camera when Armando came out of the closet, even though he did accept him. I hope it's that and not a sudden change of heart about Armando's sexuality.
And then there's Jenny and Sumit, who are finally free of their families (for now). It really is sweet watching them wake up next to each other, but I mostly like Jenny's newfound confidence this episode. She isn't just taking Sumit by his word anymore, and is even willing to go down to the courthouse to have someone explain the divorce process to her. Obviously, I don't believe Sumit and I think he's hiding a bigger secret. Sure, he had to choose an apartment in a cheaper area, but two and a half hours from his family is pretty far. Why does he want to keep their lives so distant if they're okay with everything like he said? If Jenny keeps asking questions, she might be able to figure it out without Sumit's family coming over to fight her like last season.