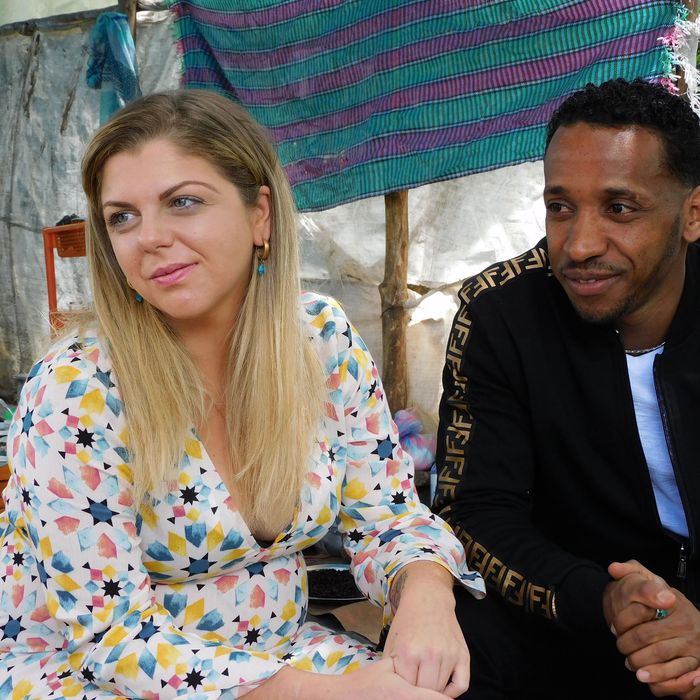 The best seasons of 90 Day Fiancé give you someone to root for in the midst of all the deceit, love, and chaos. You need an anchor of genuine goodwill to keep things from getting weird. At the same time, 90 Day Fiancé is very good at building people up just to watch them fall. "Crossing the Line" has a lot of my favorite people this season engaging in some pretty disappointing behavior. It was easy to cheer for Tim and Kenny until we actually saw their relationship dynamic; now, I don't think either one of them really deserves their amazing partner.
So far, The Other Way has done a great job of slowly revealing Armando and Melyza's perspectives. The work Tim did in therapy made it seem like he really made progress with his infidelity, but that really isn't the truth. Melyza can't decide to get over his affair if he's hiding things about it. Even after everything, she couldn't help but run into his arms at the airport. She really loves him, so she needs to understand what drove Tim to cheat. Especially since now we know she found out about the affair through social media! She obviously feels like Tim is still keeping things from her and their relationship won't survive that. I thought Tim was taking accountability, but he's really just full of self-pity. Melyza's mom made it clear she doesn't have patience for that, but Melyza is more forgiving. I'm not sure it'll be worth it in the end, but Tim must be a really funny guy for her to go through with all of this.
Kenny has sacrificed a lot to be with Armando, but he's still being willfully ignorant of his new culture. Homophobia across the globe is very real and it doesn't always end with just being called names — Armando is right to fear for their physical safety as well. If he doesn't want to kiss or hold hands in public, that's fair. On top of that, Armando knows these precautions make Kenny feel insecure and he's comforting him! He's putting Kenny at ease and showing intimacy when he can! Armando is my new Perfect 90 Day Saint! He listens. He holds his boundaries. He communicates. He's empathetic and responsible, but understands the culture he was raised in. He sounded authentically hurt when he pointed to the church they could never attend, and Kenny needs to understand that pain. Armando deserves to come out on his time, especially since he has a daughter. I'd be worried if Armando wasn't thinking about these things. Hopefully Kenny will eventually understand Armando does this to support the longevity of their relationship.
Biniyam almost had me convinced he was ready for his new life with Ariela. It's awkward they have to share a room with Janice, but it's for the best if it gives Biniyam more time to finish their actual apartment. He was also really proactive at the hospital. But then Bini had to suggest coffee and everything came crashing down. Once Janice realized Ariela was really giving birth in Ethiopia, she brought out the heavy-duty questions, and I love her for it. We haven't actually seen how Bini makes money since he was in the studio singing in the first episode. Historically, that's not a career choice that works out for 90 Day Fiancé participants, or most people in the world.
Bini expects to support his family by dancing and singing. By the look on Ariela's face, it was the first time she'd heard that. She knows she can't support them as a freelance writer and editor (I can also confirm this), but she isn't really pushing Bini about getting a job. She needs to make her expectations clear to him. Instead, she does what most Americans do on 90 Day Fiancé and centers the sacrifices she made. Her mom says she came from a privileged place and she'll need those privileges in Ethiopia. Ariela asks Bini if he knows for sure what "privileged" means. Of course he does! He understands what she gave up; what he doesn't understand are his actual financial responsibilities. Ariela should pray to Saint Armando because she needs to find her voice and set realistic expectations with her future husband.
Yazan and Brittany are far too removed from reality for any prayers to work. Brittany was happy with Yazan's uncle, but their meeting wasn't particularly helpful. He just reiterated the concerns of Yazan's parents: Brittany needs to convert and change if she wants to marry Yazan. Brittany has already made it very clear she doesn't want to convert or change for Yazan. She keeps saying she wants to learn "slowly," but I think that's just an excuse to hide that she's not divorced yet. In the end, if Brittany was willing to change, she'd be making small changes like not having alcohol as a sign of respect. Yazan also did a horrible job translating. His uncle listed the specific changes she had to make clear and he didn't say any of that. For the first time, though, I understand where he's coming from, because he wants time too. He knows he isn't going to marry Brittany if she isn't serious about converting. I think that's the real truth Brittany is avoiding.
And then there's Deavan and Jihoon. I hate how Jihoon's mom has tried to paint Deavan as frivolous when her son is a clown. Deavan is taking the time to make important decisions and she wants real answers. She deserves the truth if she's going to stay there with her children. She has two kids to raise and no time to deal with Jihoon's lies or his mom's dismissive laughs. I thought it was incredibly kind of Deavan to meet with them so they could figure things out, but they didn't even greet her and completely ignored the kid! His mom didn't even stand up! When he said he was too embarrassed to face her, I wanted Deavan to turn around and leave. It was all so disrespectful and childish on Jihoon's and his mom's part. Jihoon's father was the only one who actually wanted to fix the situation.
I'm not sure why Deavan and Jihoon couldn't switch to a text-based translator when things got complicated, but the way Jihoon reacted was enough. He admitted to keeping money for himself. His mom told him to lie about why she kept the money. Deavan deserves better from these people, and her mom is right, she needs to get on the first flight home. If Jihoon can tell her to go back to America and his mom can laugh at the thought of not seeing her grandchild again, they don't deserve to have them in their lives. Also, Deavan's mom was great at the market. Her "point and pray" approach to South Korean cuisine was more inclusive than most Americans on 90 Day Fiancé. Deavan's life isn't ruined. She has enough support back home to make it through this.