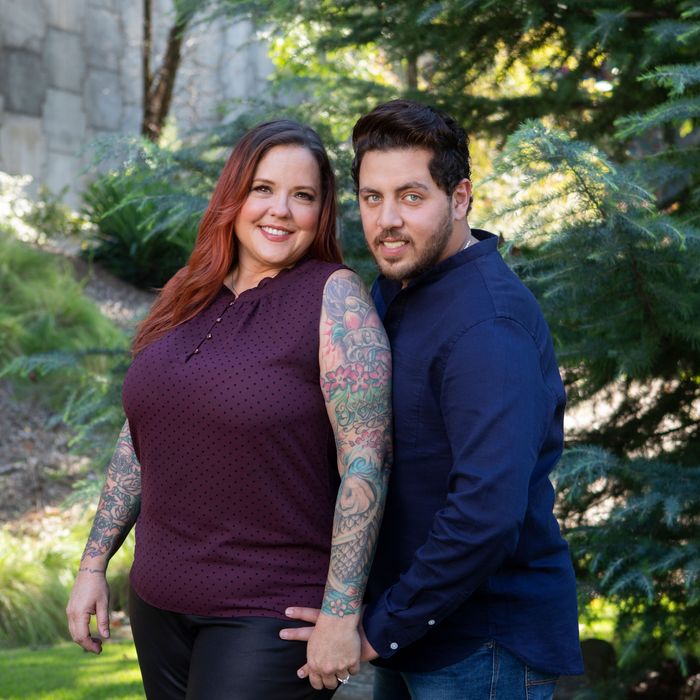 Photo: Jessica McGowan/TLC
There's an uneasy balance between 90 Day couples that are fun to watch and couples that cause anxiety. It's no fun to watch well-meaning, seemingly smart people like Rebecca be used by seemingly manipulative people like Zied. But as more and more people ask Rebecca to really think about her relationship with Zied, you can just see her blatantly ignoring the red flags. God bless the video game store clerk who put on a brave face and didn't scream over Rebecca's matching Zied credit card, phone, and shirt, but all of it is just too much.
If you watched Before the 90 Days, you know some of Rebecca and Zied's background. The age difference doesn't really matter, but the way Zied treats Rebecca does matter. He's controlling and he has a temper that forces Rebecca to keep things from him. In Before the 90 Days she tried to tell him her divorce wasn't final yet and he blew up. Rebecca's first thought was that she wouldn't find someone else like Zied. I have no clue why she thinks that, she could absolutely find someone better than Zied, but at this point it seems like she feels like she's stuck with him because she's invested money in him. Personally, I still don't like Zied's attitude. Rebecca and her family are making a lot of sacrifices to make space for him and he isn't acknowledging that at all. Rebecca's friend who did the background check doesn't seem any more sure of Zied after Rebecca's pleas.
"Shame On You" might've made me feel bad for Rebecca, but it did give me a new franchise hero in Hazel. Tarik and Hazel are another old couple we're being reintroduced to this season. There's plenty of drama in their relationship history: Hazel lost custody of her son and hid the fact that she was homeless. Tarik's brother was a jerk to Hazel. Tarik suspects Hazel of getting an abortion and lying about it. Hazel refuses to show any romantic or sexual interest in Tarik and seems to be in pain whenever he kisses her on the cheek. This background only makes their most recent obstacle even better: Hazel has revealed that she's not only bisexual, but polyamorous as well, and she fully plans on dating women in America during her relationship with Tarik.
There's obviously a lot of red flags here and I am convinced Hazel is gay and using Tarik as an opportunity to improve her life and help her son. Tarik is going along with it, but he doesn't seem to be thinking it all the way through. He does think it's concerning that Hazel is more worried about girlfriends than getting to know her actual fiancé, but he's a man, so he's putting his worries aside for the fantasy of threesomes. Tarik and Hazel have been together for two years and it's odd she only shared this with Tarik after he proposed and her trip to America was confirmed.
Not that I care about Tarik in this exchange. Hazel is a baller and I respect her hustle. As a proud poly bisexual myself, I'll call this a happy ending if Hazel ends up making the rounds at a Lilith Fair revival 10 years from now with her fully lesbian lover. Unlike Rebecca, Tarik isn't ignoring any awful truths; he's just as focused on his needs as Hazel is, and on 90 Day Fiancé that's the closest we're ever gonna come to a fair and equal relationship.
Mike and Natalie are in a similar situation. Neither one of them is a victim in their situation, they're just two people who don't want to admit they need to break up. In fact, when it comes to Mike and Natalie, the only person I feel bad for is Uncle Beau, who now has to move in with his brother because Natalie doesn't want him in their house. Mike promises Uncle Beau might be able to move into the barn, but I think Beau knows he's going to be back in that bedroom sooner rather than later. Watching him pack was hilarious. That man gathered up, like, four shirts and two pairs of jeans and was like "Buddy, I know this relationship isn't going to work, I'll see you in 90 days."
Natalie is really good at putting on an act and it's fun to watch when she can't help but let the real Natalie shine. She's clearly still upset with Mike about his debt and their issues around religion, but she drops everything and runs to him so she can play the dutiful, loving fiancé. Nevermind that she can barely say the words "I love you" and spends most of their reunion complaining about the color of the flowers Mike bought her. The fact that Mike even remembered to get flowers puts him in the top percentile of 90 Day men! On top of that, he gets her a night in a luxurious Seattle hotel.
Natalie is only surprised because she thought he was in debt, which tells me she might only be considering the financial benefits of staying with Mike in America. To Mike's credit, he seems to genuinely be happy that Natalie is there, but he is playing it close to the vest. I think it's smart for Mike to protect his feelings because Natalie is absolutely going to destroy him if she gets the chance. That woman does not want to live on a farm and she is not the kind of woman who wants an Uncle Beau in her barn.
Brandon and Julia are what Mike and Natalie could've been if they'd met sooner (and Mike had overbearing parents). It's sweet that Brandon's parents love Julia more than he does, but what was cute in the season premiere feels like an invasion of privacy now. I thought Brandon's mom's call to the gynecologist was mostly a producer-driven plot, but after their dinner conversation I think she might just be the kind of mom who thinks she gets to make demands in her son's life. And Brandon doesn't seem to know he has other choices when it comes to listening to his parents. As of now, I'm on Julia's side, but I also know she will definitely end up pregnant.
And finally, there's Jovi and Yara. In this episode, Yara unpacks and they immediately argue when Yara wants a clean apartment. Jovi realizes that living together and getting married is going to be harder than just traveling together. These two are such a trainwreck, I just want them to break up now. Yara doesn't want to live out of a suitcase and Jovi is just like "so, let's go get drunk at tourist attractions!" They also engage in some childish "my country is better than your country!" arguments that prove how immature they both are in this relationship. Jovi is right about staying at his mom's house — it's weird Yara is escalating the argument and already saying she'll go back to Ukraine. These two are doomed. If they do get married it's only because Jovi is going to be gone during most of their 90 days.