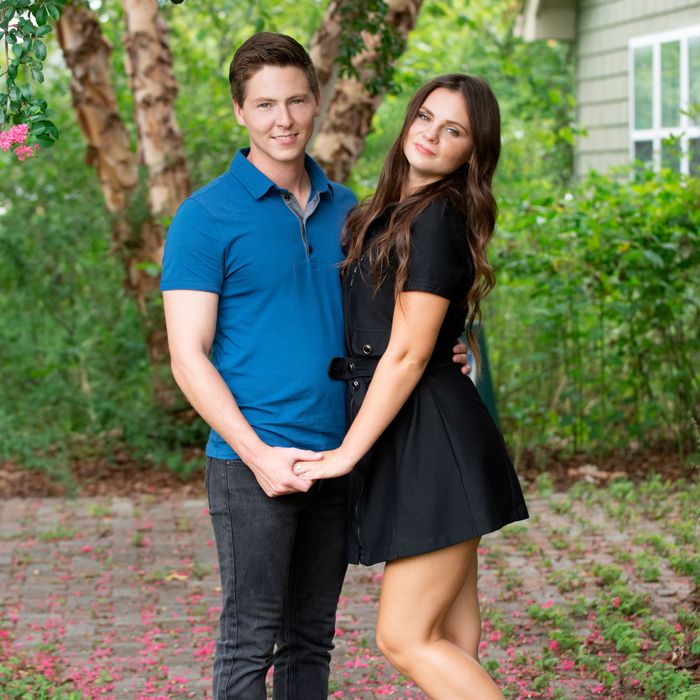 Photo: Caroline Martin/TLC
This season is so dense it's hard to believe we haven't even met all of our couples yet! I'm a fan of 90 Day's staggered couple release. I think it helps fill in the gaps when things get repetitive because Brandon and Julia are having an argument they've already had twice. There's still one more couple for the show to introduce, but with "Bless This Mess," we finally get Amira and Andrew.
From the trailers, it's unclear if Amira and Andrew are here only to represent some aspect of what international dating is like during COVID-19, but they definitely have way more drama in them than that. These two are perfect for 90 Day Fiancé for a few reasons: They're both delusional and have the wrong intentions but seem stubborn enough to actually make a relationship happen. Let's start with Amira. Do I think she's just trying to scam her way into the United States? Absolutely not. Like some of 90 Day's best queens, Amira just wants love. It seems like she truly just wants the excitement and drama of romance.
The image of the relationship she presents to her father is so different from how she describes things to the producers, so she knows she's overlooking some red flags. I just wonder exactly how much Amira is overlooking and what exactly Andrew is lying about. Because here's the other thing: I don't think this Frenchwoman who dreams of fancy lingerie and whirlwind romance wants to live in a day-care home. That's not to say Andrew couldn't be a rich man who can take care of her, but I grew up in a day-care home and, well, it sucks. Is Amira ready to have other people's screaming kids waking her up every day for the rest of her life?
Andrew's conversation with his sister makes it obvious that they probably haven't talked about this stuff. I would imagine it's because Andrew doesn't want to talk about it. It feels like Andrew spent all his money on the K-1 visa process and thinks like he needs to get Amira to America immediately because it'll be a while before he can get the money again. I think Amira is totally telling the truth when she says Andrew is manipulating her into this and he knows how to play the nice guy but basically he doesn't want to lose his investment. If these two actually make it to each other, it's going to be some great drama.
Hazel and Natalie got to experience a bit of the shock Amira is in for this week. There's this thing the American men on the show do where they expect women from other countries to be absolutely awed by their shitty American houses; it is, of course, great then when the women are absolutely disgusted and unimpressed. I have to give Jovi points for this because the place he got for Yara was nice but small. Natalie and Julia, however, are leaving their city lives behind for actual farms. Hazel is going to live with a man who has been a bachelor most of his life and simply cannot identify a clean countertop.
Even I was shocked that Tarik tried to say his house was clean for Hazel. As soon as they opened the door, I was shocked he didn't at least try to hide the mess. He really thought Hazel would lose her mind over a dishwasher and ignore the reality around her. I respect Hazel for being honest about her disgust. I can't wait for her to find her girlfriend and dip. Tarik also seemed kind of dismissive of Hazel's son, but I think that could have been editing. Tarik probably tries to stay off the topic since it clearly upsets her, but something about the way he talked about it made me want to see an actual plan or timeline for getting that boy back to his mother.
Natalie also couldn't hide her feelings about Mike's place. I have less sympathy for her than for Hazel. Mike never hid the fact that he lived on a farm in the middle of nowhere, and even viewers knew about his cat from last season. Like, did she think Uncle Beau and Mike were master decorators? Didn't she see what Mike's house looked like when they would video-chat? Sure, Tarik can hide a messy kitchen from Hazel, but Natalie was acting like she was suddenly in a haunted house. To Mike's credit, he didn't seem at all fazed by Natalie's unhappiness. She didn't like the flowers? Whatever. She doesn't like Uncle Beau? Whatever. She doesn't like his house? Whatever. Mike has been done with this woman's shit, and he is just watching her strike out on her chance to get that ring back. Also, Mike did have a ton of closet space cleared for Natalie, which, again, on the 90 Day Fiancé Scale of Men is impressive.
I'm happy Rebecca and Zied will be back next week, because Jovi and Yara and Brandon and Julia have already gotten pretty repetitive. The joy of Brandon and Julia's story is entirely in Brandon's mother and her exhaustive Washington, D.C., museum-tour list. His parents are such perfect stereotypical parents I almost expected his dad to start giving directions to strangers. They're also absolutely terrified to just give these kids space! Let Brandon take pictures! Every man should hype his girlfriend like that when taking selfies. He was truly getting the angles, doing the work.
Still, Julia is only now realizing Brandon has no leverage over his parents because he is broke. It's also shocking that she has been through this before in a prior relationship! I don't think she would have agreed to this if Brandon had been honest about their staying with his parents long-term. Not that it matters, but I don't think these two crazy kids are going to turn back now, even if Julia keeps threatening him with going home.
When Yara says she'll leave, I believe it, though. Even though she played polite in front of Jovi's mom, she's obviously stubborn and has a lot of issues with the way Jovi does things. If Jovi has to leave early and she's left with his mom, I can't see Yara wanting to stick around for that. Jovi's mom was also superpolite, but I don't think we've heard the end of this wedding issue. Yara's reasoning doesn't really make sense; they could still let Jovi's family throw them an engagement party or something. These two are constantly fighting over control, and it's childish. All Jovi's mom could confirm is that they are actually attracted to each other.
Next week, Rebecca and Zied are back, and we meet this season's last new couple: a self-described "cougar" and the young lover boy she sends watches to in the Caribbean. Only three episodes in and this season hasn't even gotten all the ingredients into the pot yet. I can't wait to see what drama they add to the mix.