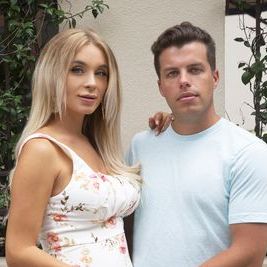 There's still nothing like the original 90 Day Fiancé! Before the 90 Days is high chaos. The Other Way is sentimental and legitimately interesting. Happily Ever After is a joyous trainwreck most of the time. But there's absolutely nothing like the drama, chaos, and feelings that come when the bureaucratic K-1 process gets involved and forces people to rush into horrible life choices.
Even though "I Think You're My Future Wife" didn't introduce all of this season's couples, I have already decided Brandon and Julia are my favorite. They already have all the traits of my favorite couples: they're stupidly optimistic, they have absolutely no plan and are relying on love and youth and one of them still lives with parents. It's obvious this is a recipe for disaster. Brandon looks like he realizes that as the producers question him, but then he just smiles and shrugs off his concerns.
Apparently, Julia has a really bad temper and even Brandon's (absolutely hilarious and precious) parents are worried about their daughter-in-law's attitude. Julia and Brandon's parents are going to clash probably immediately. Other than his mom's egregious overstep of boundaries in that staged doctor call, his parents are actually giving her a chance. I just don't think Julia knows she's going to have to work on a farm. Brandon definitely played Grown Adult Man while vacationing in Iceland with Julia, but back home he's a little boy on a farm with a little boy room Julia isn't allowed to sleep in. These two are going to make so many mistakes together and I'm going to love watching it.
Jovi and Yara kind of feel like a tethered version of Brandon and Julia. They're also young, dumb, and beautiful, but they're absolutely not in love. Jovi's introduction to their relationship might set a new record for the number of red flags it contained. First of all, this girl says she's pregnant and Jovi immediately accuses her of trying to trap him? Yeah, nothing in this relationship is going to be based on trust or anything good. Just like Brandon, Jovi also isn't thinking things through, but unlike Brandon, Jovi is entirely aware of his shortcomings. He explains that he doesn't like to stay home and he's impulsive. He has difficult work hours, which makes it even harder to build a relationship at home. Still, he isn't concerned about any of this. Meanwhile his friends are laughing at the idea of a woman moving across the world for him.
The thing is, I don't think Yara loves Jovi at all. I also don't think she's playing a game with him. She's made it clear that she likes expensive things and she wants to be taken care of. When Jovi proposed, he agreed to do that. They tried to play off her airport greeting as cold, but she did hug and kiss him! The girl did seem genuinely tired. When she said she didn't want to go to Bourbon Street, Jovi's face immediately dropped. Maybe he thinks this is going to be an extension of one of their vacations, because he's being incredibly inconsiderate. She just traveled 30 hours! She's going to have to spend most of the 90 days alone while Jovi works! None of this is going to be easy for her and he seems to think it's all a party.
Jovi and Yara and Julia and Brandon are pretty great new couples. It's clear from the promos we're getting the more chaotic couples in the future, so I appreciate the slow rollout. Also, two of our returning couples are absolute heavyweight champs when it comes to chaos and drama. Up first, we have Mike and Natalie, who you might remember from last season. When we last saw them, Natalie couldn't say she loved Mike and gave her ring back. They got back together. They fought again. And somehow, in the middle of their weird "semi-not-together" cold war, Natalie's visa actually got approved.
This is supposed to be the happiest moment on the show for the couples, but Mike is just sitting in a pick-up truck like he's recording a country music video in the rain about his favorite horse dying. He can barely smile when Natalie tells him the news, and her plea that he "be nice" to her was just sad and childish manipulation. Natalie does this weird thing where she starts arguments with Mike, then when Mike explains how the argument makes him feel, she says he's starting the argument. It happened a lot last season, but you see a glimpse of it in the way she tries to handle Beau. Obviously, the man is Mike's family and has lived with Mike for a long time, so why is she suddenly calling him a stranger? She gaslights Mike in some weird ways, but it seems like he's finally had enough.
If only Mike could tell Natalie that before she gets on a plane. Zied is letting Rebecca know all the reasons he shouldn't move to America before he heads out, but she doesn't really want to listen. Rebecca's kids are right: He is being weirdly controlling and it's sad that Rebecca thinks she'll never find another man like Zied if he leaves her. It doesn't seem like Rebecca agreed to live under Zied's religious rules in the house she shares with her daughter, but she isn't even trying to stand up for herself. Honestly, her son-in-law, Micah, did a pretty great job of saying Zied was gonna have to get with the program while just waltzing up to the line of being prejudiced.
Rebecca is in for more surprises, but Zied has always seemed like a fishy character to most viewers. Sometimes the men on 90 Day Fiancé simply do too much and that's a warning sign. The constant "I want to kiss you" videos and faces on T-shirts… it's usually a rush of this type of attention, then they get to America and everything changes. It's a classic 90 Day tale and as much as I want Rebecca to break this pattern, I'm afraid she won't.
Next week, we meet even more couples, but this episode has already given us some solid villains and heroes. So far, my bets are on Brandon and Julia as the only couple that actually gets married this season.