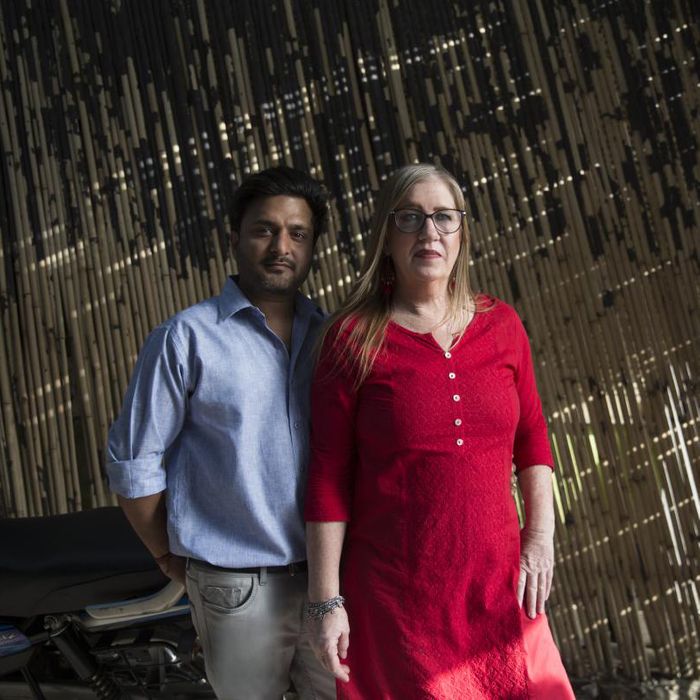 Wow, I missed this show. In the time since 90 Day Fiancé: The Other Way went on hiatus, the franchise has spawned even more variations, but there's something special about this group of geography-crossed lovers that I enjoy. Before the break, every couple was left in disarray, and this midseason premiere delivers on drama. Jenny was terrified Sumit's parents were going to kidnap him as he left to negotiate the terms of their relationship. Kenny and Armando were headed to pick up Armando's daughter and introduce Kenny to the family. Ariella and Biniyam realized that actually… they hate each other. Brittany was on her way back to America so she could get her secret divorce. And Tim and Melyza… actually, they realized they hated each other too.
Deavan and Jihoon don't appear in "Ready or Not," so we'll worry about them next week, but I didn't miss them. There are enough characters on the board to forgo Deavan and Jihoon's usual bickering. Let's start with Sumit and his brilliantly blunt parents, who've put it all out there: they will never accept Jenny. When Sumit's brother mentioned a meeting, I thought there was a chance they'd come around. Instead, they beg him again to reconsider and, again, he stands by Jenny. Sumit has never really explained… why he loves Jenny so much. In front of his parents, you'd think he'd give his most impassioned plea yet. He doesn't. I don't think Sumit is fighting for his relationship with Jenny, I think he was fighting for his divorce and Jenny was an excuse.
Also, Jenny's story about how they met keeps shifting. It feels like she really did betray Sumit's mom so I understand where they're coming from. Maybe Sumit's dad was wrong to force him to get married, but Jenny hasn't been completely clear about her motives, either. A classic 90 Day misstep we've seen time and time again. I think Sumit will get what he wants in the end, I just don't think that will involve Jenny.
At least Sumit and Jenny make sense, because I'm still struggling to understand why Brittany is putting herself through any of this. Does she really just want to be on TV this badly? It's obvious she has no intention of following the rules necessary to marry Yazan, so why pretend her divorce would change things? I can't say I'm shocked Brittany apparently filed her paperwork incorrectly and the entire thing was a waste of time. She doesn't really want to marry Yazan and probably wants any excuse she can think of to delay their inevitable break-up. Yazan is right to be suspicious; he might have to face actual consequences if things don't work out.
Brittany is just playing around with Yazan at this point and it's hard to watch. It doesn't seem like Yazan is in on it, but I think he puts up with all of this because he really thinks he loves Brittany. Or at least he knows he's attracted to her. Brittany and Yazan are still the weakest link because they cheapen the drama of the show. Everyone else is dealing with the stakes of familial abandonment, alienation, and children, while Brittany is just kind of spouting reality show catchphrases. Tim and Melyza aren't particularly interesting either, but they at least both seem equally impacted by their dissolving relationship.
I mean, come on, Tim and Melyza are so boring. I don't really care that Melyza slept with someone else while she and Tim were separated. If anything, it should make it easier for her to forgive him, but it's not. Tim will certainly see this as them being even, so if she's not ready to just move on what are they still trying to do? Even Melyza's friends seem absolutely over her relationship with Tim. There's no way these two should get married. Hopefully Tim's mom coming to visit next week will make him realize he needs to go back to the house and job he kept in Dallas.
For couples like Kenny and Armando and Ariella and Biniyam, there is no going back. They've made choices that will forever link them in each other's lives. Ariella and Biniyam haven't fixed any of their issues since we last saw them, but at least they have an apartment. They're just really different people and they're becoming parents faster than they even imagined. I'm pretty sure Ariella decided she was going back to America when she realized a car from 2001 cost $17,000 in Ethiopia. Unlike the other couples, when it comes to Ari and Biniyam, I can't tell who is pushing whom forward. In every other pairing, you can tell which party is more committed and forcing the relationship into reality.
For Ari and Biniyam, it seems like they fell into these circumstances, shrugged, and decided to go with it. They don't really like each other. They haven't discussed any plans for the future or their child. It's truly a vacation fling that got put on the wrong track. I don't even think Ari likes Biniyam enough to ensure he has a place in their child's life, frankly. Ari seems so upset with him sometimes I think she would just go back home if Biniyam works too much or stays out late. I think they both see the writing on the wall, but they're giving it a shot for the sake of their kid and that's good. Maybe they'll remember what it was they liked about each other in the first place.
That leaves Kenny and Armando. This episode broke my heart for them. The thing is, though… I have to blame Kenny. He rushed Armando into telling his family about the engagement rather than letting Armando do it on his own time. Of course his mom wanted to know before the rest of the family. Kenny should've talked to his parents first, even if his dad was standoffish. There was no need to rush this announcement on the night of their arrival. Armando also looked so nervous and shellshocked, I genuinely felt upset for him. The reality of the situation dawned on him at that moment and his partner, Kenny, can't even support him because they don't speak the same language.
Armando's family is obviously very hurt that he moved away. This engagement makes things permanent and it doesn't just involve Kenny and Armando, but also Armando's daughter. They're losing her, too. Kenny didn't seem to consider that. All he thought about was his own insecurity over Armando being in the closet. Hopefully, Kenny now realizes how serious this situation is after witnessing Armando's parents firsthand. If he keeps pushing Armando, though… we're going to have problems.
Next week, we get to check in with Deavan and Jihoon as they plan to renew their vows. I'm sure nothing can go wrong there! Ariella has her baby and it looks really scary! Jenny cries! Welcome back to 90 Day Fiancé: The Other Way recaps on Vulture!