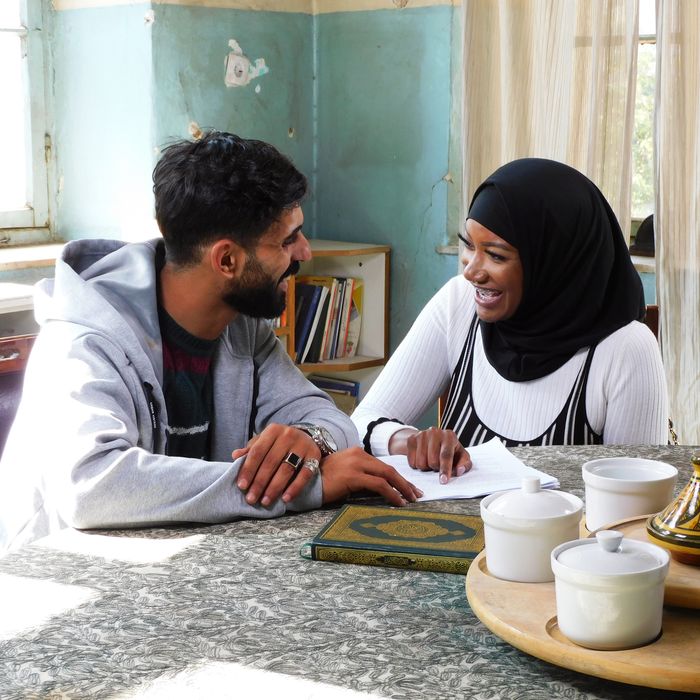 Welcome to Vulture's recaps of 90 Day Fiancé: The Other Way, the most intense subset of the 90 Day Fiancé franchise, where couples leave the safety of America and have the lowest success rate. You don't need me to tell you what happened last week, the show spends enough time doing that. Jenny and Sumit, everyone's favorite couple, don't make an appearance in "Wing and a Prayer," but there's still plenty of chaos, plus the introduction of a new couple, Melyza and Tim.
This season has done a great job of finding more relatable, realistic couples, and Melyza and Tim fit right in. There doesn't seem to be any scam at work here — they're actually in love! After weeks of promo clips, we finally meet Tim and his emotional support cat, Pepe, this episode. As far as 90 Day Fiancé introductions go, Tim bouncing around with his cat in the grass is one of the best in the series, but it's a false flag. It makes Tim look like an awkward guy who fell in love on the internet because he has a hard time interacting with women in real life. It turns out he has a way darker past than that, and he met Melyza in college.
When Tim says he has a secret and it's the reason Melyza isn't moving to America, it's pretty easy to guess this fool cheated on the best thing that's ever happened to him, probably. (Melyza is beautiful and genuinely likes his goofiness.) What I didn't see coming was Tim's friends supporting Melyza! Typically, the American friends warn against someone they perceive to be a scheming foreigner, but all of Tim's friends actually like Melyza and know her pretty well. Their relationship seems legitimate — they even have adorable photos together! — and I like that his friends are holding him accountable. Sadly, it does seem like he's moving to Colombia to right a wrong that may not be forgiven. If it doesn't work, at least he'll have his cat.
Since we're talking about couples who seem to genuinely love each other, let's get to Kenneth and Armando next. Kenneth is the most boring part of this episode, but what would 90 Day Fiancé be without long, tearful good-byes? Kenneth leaving his family behind is almost as moving as Armando coming out of the closet last week. Kenneth and Armando aren't just the franchise's first gay male couple, they're also the first interracial gay couple, so I'm happy the franchise is approaching their story with tenderness. Armando and Kenneth both seem to have amazing families behind them, so it's sad that cultural forces beyond their control might doom their relationship. Kenneth and Armando are like a Modern Family spinoff in reverse, and they're the couple I'm rooting for this season.
I want to be optimistic when it comes to Ariela, Biniyam, and her move to Ethiopia, but it's hard. She may only be leaving New Jersey, but she is giving up a lot to make this relationship work. In the end, though, she'll always have the ultimate power move: She can take their child and go back to America. In fact, we discover that's what happened with Biniyam and his ex. He hasn't seen his kid in years and his friends are worried it could happen again. But also, Biniyam sleeps on a couch and lives with his brother. He doesn't seem all that prepared for a wife and child, so there could be some justified frustrations on Ariela's part in the future. They seem like genuinely good people who are just moving too fast.
Deavan and Jihoon moved too fast, and they certainly paint a pretty good picture of Ariela and Biniyam's future. Jihoon has constantly failed to do any of the things he promised Deavan he'd do for their family. He lies to her. He's lazy. Even his parents point out that they told him to pack days ago, but he waits until it's time to pick Deavan and her mom up from the airport. Jihoon is frustrating, but it's understandable why Deavan is back in season two to give him another chance. So why is Jihoon doing everything in his power to ruin things? Initially, I thought Deavan's mom was just being a rude American when she was insulting their new neighborhood, but even Jihoon's mom said it was a bad area and Jihoon should've checked it out! If Jihoon's mom is worried about safety, he should be too. It's already embarrassing that Deavan had to find the apartment and pay for it, why couldn't Jihoon also give her some guidance on what the area was like? Why wouldn't he care enough to make sure his kids were in a safe place? His cluelessness isn't cute and Deavan shouldn't put up with it anymore.
Finally, there's Brittany and Yazan. I don't think I've ever seen a relationship in the 90 Day franchise implode so quickly. Yazan is still throwing a fit after Brittany hugged a cameraman and was caught with tequila last episode. He puts his fingers in her face. He tells her to shut up. He makes fun of her for crying and can't even understand why she'd be upset or feel isolated. I was glad Yazan couldn't stay in Brittany's room for the night. It felt like she needed to get away from him to really see how harmful his behavior was. For Yazan to react so intensely when his family isn't around is only a red flag for the future.
If Jenny and Sumit represent the harmless drama that can arise from dating abroad, Yazan and Brittany represent something darker. She's alone in a country with a man she barely knows. Brittany never promised Yazan she'd convert, so he's holding her to unfair standards. It doesn't help that there doesn't seem to be any love between the two of them. Even the most scamming 90 Day Fiancé couples can fake a smile for the camera as they do their initial airport interviews. Yazan and Brittany don't even have that level of camaraderie. He can't even pick up her luggage. As entertaining as this culture clash might be, I just want Brittany to go home to her dad. Yazan is not worth it. Let's hope Jenny and Sumit are back next week to lighten the mood. Haha, remember last week with the cow? Those two are great.