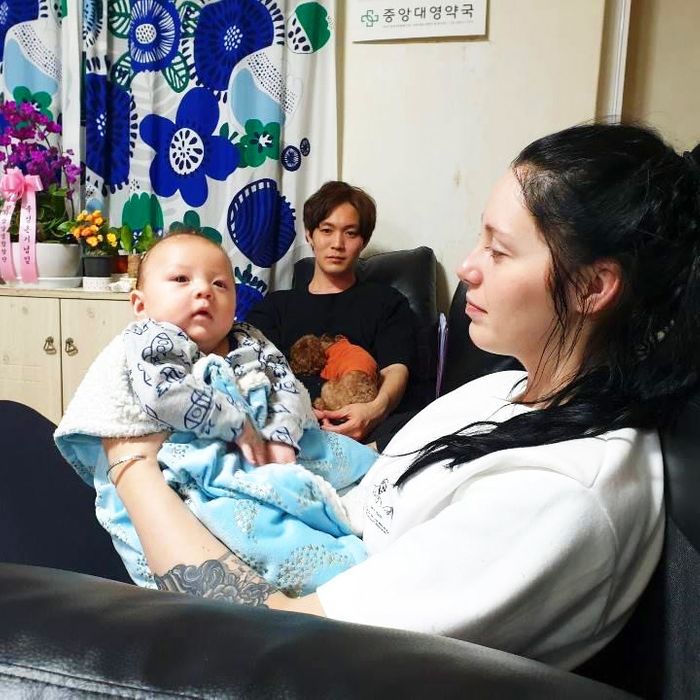 Longtime viewers of 90 Day Fiancé know the franchise can sometimes get uncomfortable when it comes to certain couples. Exploitation doesn't drive 90 Day Fiancé the way it does other reality shows; these are grown adults who would be making these decisions even if the cameras weren't there. 90 Day Fiancé didn't force these people to fall in love and pursue marriage on TV, but sometimes it's obvious when the lure of the show is the only reason a couple is together. It leads to some pretty dangerous situations that encourage people to take risks in unfamiliar countries for the sake of good television.
Danielle and Mohamad are the best example of this phenomenon. It was clear they were toxic for each other and Mohamad managed to get away from the situation, but producers encouraged Danielle to follow him to his new home. They took advantage of Danielle's rage (and need for a paycheck) to put her and Mohamad in a dangerous situation where she could've been arrested and he could've been deported. Not every season has a couple like this, and 90 Day Fiancé as a whole has gotten better at not casting couples like that, but Brittany and Yazan clearly slipped through the cracks.
Their lack of chemistry is so clear, it simply feels dangerous to watch them. Brittany is so clearly stranded and isolated that you just want a producer to step in and help her. Yazan is full of red flags as he refuses to apologize to Brittany for his outburst and instead says it's okay because he's just jealous. He laughs at her and treats her like a child. If Brittany actually loved Yazan, she'd probably be heartbroken by this. The thing is, Brittany is in on it in a way that also feels exploitative. During their argument, she basically speaks in reality TV catchphrases as she warns that she's a shit-starter, and gleefully smiles while she tells the camera about her hidden deep secret and says Yazan should marry his cousin.
Brittany isn't hiding her marriage for any good reason. She's playing around with Yazan because she doesn't take his religion or culture seriously. There's no way, if she can't even hug another American, she doesn't know his parents would be devastated to find out she's already married. Yazan's family is also fairly polite, until she uses excuses to push off their wedding yet again. After that, everything comes out. They don't like her social media, they expect her to convert, follow Yazan's every order, and forget about her old family. Maybe this is the first Brittany has heard of these expectations, but that's hard to believe. It feels like she's in this situation because she wanted to be on TV, but it's absolutely time for a producer to step in when she can't even understand what's being yelled at her.
On the other hand, Jenny and Sumit are again the perfect example of harmless, ridiculous 90 Day Fiancé fun. Jenny says it herself: She'll be a big idiot if she goes back and forth this many times and Sumit still hasn't filed for divorce. Jenny understands the responsibility of moving to a new country and she knows what she's sacrificing if it doesn't work out. It's been a week since she demanded to go to the courthouse to see his divorce paperwork and he still hasn't shown her. That means Sumit is lying. I don't think he's actually filed the official paperwork yet and his friend was being optimistic when he said Sumit's divorce wouldn't take four years. Even Jenny seemed skeptical that Sumit was ready to pay for the process. Jenny might know she's sacrificing a lot, but she still doesn't see that Sumit's promises aren't worth much.
At least Sumit still genuinely loves Jenny. That makes him one of the better male counterparts on the show right now. I mean, look at Deavan and Jihoon, they basically hate each other now. Once all of Jihoon's lies came out, Deavan decided to end things and it didn't really seem like Jihoon even cared. He just walked away in his little cargo shorts. I think he'd be happy to have her go back to America and make his life less complicated. Jihoon loves his kids, but he's obviously not willing to do the work necessary to take care of them. It's totally unfair that he made Deavan pay for everything and only worked part-time. If he loved Deavan, he would've tried to make her transition to his country easier. My favorite part of tonight's episode is when Jihoon admits that he has no marketable skills. Deavan deserves a break. I hope this is really game over.
Biniyam also puts Jihoon to shame. Sure, Biniyam's first apartment is a mess and Ariela can't really live there, but he has a second apartment! Biniyam deserves credit for having a backup plan, but he isn't being very realistic about his timeline. That was at least a month's worth of repairs, but he seems to think he can get it done in two weeks. Ariela's mom is right to be pushy considering there's a baby on the way, but Ariela is really good at sandwiching her criticism with praise. I still wonder why they didn't talk more so he'd know her expectations before she flew around the world, though.
Not that everyone can be Kenneth and Armando. They have planned everything out for Kenneth's move. Armando has found a perfect apartment with a beautiful balcony in a gated neighborhood to make sure they're safe as a gay couple. Kenneth is already thinking about being a good co-parent and how Armando's parents might react to him. They've thought of everything. Even though Kenneth spends the entire episode driving and dancing in his car (leave it to 90 Day Fiancé to stretch a four-day road trip across three episodes), he tears up at the mere thought of seeing Armando again. Armando cries thinking about Kenneth. As sweet as the two of them are, it's not enough to distract from Brittany and Yazan's horror story.