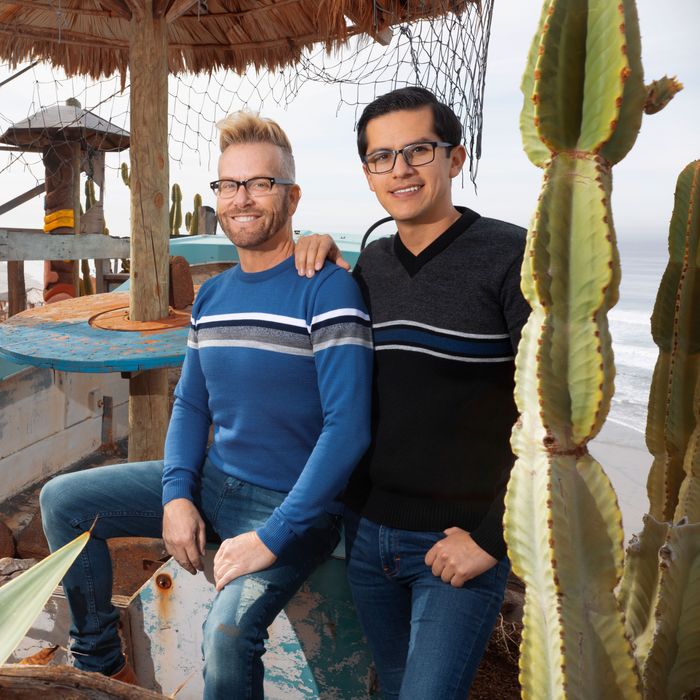 Photo: Sandy Huffaker/Getty Images for TLC
Obviously, this was a big Kenneth and Armando episode, but something even more shocking happened in "Fight, Pray, Love": I joined Team Yazan. When this season started, you could not have convinced me I'd feel anything positive about Yazan. From the jump, he was dismissive of Brittany's feelings and was incredibly aggressive with her. All of that was still incredibly wrong, but after this week, I understand where his frustrations with Brittany are coming from because she isn't making any sense! Even I know Yazan has wanted her to convert to Islam since episode one, so how can she say this is news to her?
Brittany is willfully playing dumb at this point, and it's entirely for the cameras. If she really wanted to marry Yazan, she probably would've studied his religion just a little bit. I think it's fair for Yazan to tell her he's on a timeline, because her disinterest is obvious. She can't even explain to him what questions she has about his religion or what her main concerns are so she can be educated. Instead, she just says she's going to remain an American woman and she won't change for Yazan. I suppose it's possible Brittany is just acting stupid to buy time before her divorce is finalized, but I don't think she has a genuine interest in Islam. It was nice that she joined Yazan in prayer, but she only did it to feel closer to him and that is not enough to convince her to convert. Brittany can't even imagine being Muslim right now.
If Brittany really wants to be with Yazan, she needs to do the work because Yazan is being a pretty good sport about compromising. She could learn something from Tim, who is all about putting the work in for his relationship. I started to doubt Tim's intentions because his interactions with Melyza have been bad, but he was right to tell Melyza's dad. It's hard enough for them to fix things, and leaving her parents in the dark would've just made things worse. I have a lot of respect for Tim's decision. They knew there would be consequences, but I think Melyza's dad will get over it eventually. Hopefully, her parents now understand how significant his move to Colombia was and forgive him. I also think it takes away some of Melyza's mom's power in rejecting Tim now that the secret is out. The best part of that scene, however, was Melyza immediately letting Tim know she could translate his apology for her dad. She made sure nothing got lost in translation there.
I know we all agree that Kenny and Armando are the season's best couple, but "Fight, Pray, Love" was a pretty good example of the issues they still need to work on. Yes, it's amazing and sweet that Kenny brought his daughters to Mexico, but I like how practical Armando is about their relationship. Kenny is already dreaming of their wedding and how excited he is to get married, but Armando is like, "Buddy, you can't even go to the bank by yourself." I truly believe Kenny loves Armando and loves being in love with Armando, but I'd like to see him get more proactive about learning Spanish! Sure, it was all a ruse to plan the proposal, but it shows how isolated Kenny is that Armando doesn't even think he can handle a trip to the bank.
The producers definitely tried to wring drama out of the proposal after Armando repeatedly made it clear that he's uncomfortable with public displays of affection, but it didn't work. It was obvious Kenny chose a resort where they would be free to be openly gay and their proposal would be celebrated. I'm glad Kenny thought about that and didn't plan the proposal for their trip back to Armando's parents' house. Things seem to be moving more on Kenny's terms than Armando's, but neither one of them seems afraid of difficult conversations. When Armando's daughter moves in with them, things are going to get even more serious. I hope Kenny doesn't just see marriage as an exciting and fun thing to do and knows this is going to require some serious work on his part, long term.
Sometimes, though, no amount of work can fix a relationship. Deavan and Jihoon were in a better place this episode, but it's hard to see that as a good sign. They moved into a new apartment in a better neighborhood but just for a month. Jihoon still needs to find a permanent place for them, and guess what: Jihoon is very bad at handling responsibilities. I have no doubt Deavan's one-month ultimatum will come and go without Jihoon getting a better job or an apartment. I understand that Deavan wants to be with her child's father, but they may need to start looking into international co-parenting.
Their parents' backing off will help, but Jihoon's mom still thinks Deavan is to blame for their relationship issues. At the end of the day, Jihoon is the one who lied and can't save money. It also doesn't seem like Jihoon is a particularly good parent, since the episode ends with him putting Drascilla down and her running into the street. Whatever goodwill Deavan's mom had for Jihoon seems to be destroyed in the preview for next week.
I missed Ari and Biniyam this episode! Brittany and Yazan aren't great at holding things down, and even though I love Kenny and Armando, this was a pretty drama-free episode for them. I know the lead-up to Jenny meeting Sumit's parents will be worth the wait, but "Fight, Pray, Love" could've used some of their antics. At the very least, Yazan doesn't seem like a danger to Brittany anymore, which makes the season a lot easier to watch as a whole.