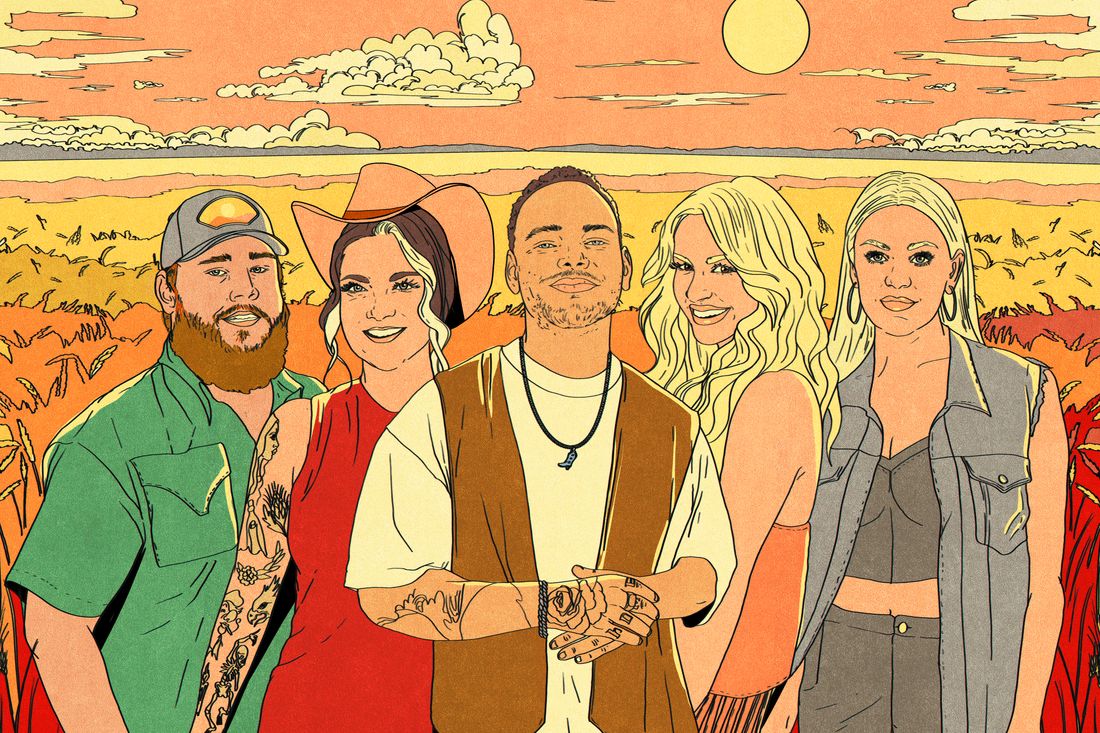 Illustration: Maria Contreras
A decade ago, country music of the '90s was treated like a novelty from a bygone era. In 2012, Jason Aldean released "1994," a single that had him chanting the name of honky-tonker Joe Diffie like a wannabe hip-hop hype man. A 2015 Saturday Night Live sketch cast host Blake Shelton opposite Aidy Bryant's Wynonna Judd and Kate McKinnon's Reba McEntire in a music video for a preposterous folksy tale titled "Wishin' Boot." And later that year Dierks Bentley and his touring band took on the alter ego Hot Country Knights, an affectionate parody of '90s excesses, along with mustaches, mullets, and acid-washed jeans.
Sure, plenty about country music 30 years ago was corny, stylized, overly flashy. But it was also riveting. Garth Brooks, the striving superstar, achieved previously unimaginable commercial feats; before his 1991 album, Ropin the Wind, no country artist had debuted at the very top of the all-genre Billboard 200 chart. An array of pop-savvy divas — Judd, Shania Twain, Faith Hill, Martina McBride, LeAnn Rimes — unfurled brightly modern visions of womanhood, agency, and romance. And the impulse to either uphold tradition or chase crossover success dropped away — Twain, Trisha Yearwood, and the Chicks felt genuinely down-home and wide open to the possibilities of a bigger world.
More recently, tongue-and-cheek references have given way to a full-on revival. As 2010s bro country has become the novelty and bygone are the white male artists grimly fixated on come-ons and stock fantasies of back-roads revelry, a new generation of country performers is finding inspiration in Brooks & Dunn hits and looking to Patty Loveless for collaborations. Some of the friskiest country tracks of the past few years have echoed the guitar-powered, line-dance-friendly drive that Nashville perfected in the '90s. There's a greater appreciation for robust vocals, too; singers with lustier instruments and hard country accents like Lainey Wilson and Luke Combs are beginning to break through again. Whether overtly or subtly, today's artists are making clear how heavily indebted they are to the acts that came to fame alongside Daria and dial-up internet. —Vulture Editors
In the '90s, drinking songs and line dances dominated the honky-tonks, bands piled on the fiddle and banjo, and nearly every chorus sounded better through a stadium's speakers. But beneath it all, the work had good bones, telling straightforward yet vividly rendered tales about love, loss, and life.
.

"If You Go Down (I'm Goin' Down Too)," Kelsea Ballerini
When the Chicks began disguising songs about revenge as songs about friendship, they had a hell of a lot of fun doing it. So does Kelsea Ballerini. On "If You Go Down (I'm Goin' Down Too)," she promises to be her friend's "getaway Mercedes" and sells lines like "Hypothetically, if you ever kill your husband" with a grin. The song even sounds like an homage to the Chicks, with a pared-back, twangy arrangement heavy on the fiddle, light on the drums, and just right for a sing-along. Ballerini draws from other inspirations, too: namely Shania Twain, from the cheeky Brad Pitt reference to her bold decision to perform the song live flanked by drag queens at this year's CMT Music Awards.
.

"Neon Blue," Joshua Hedley
"Neon Blue" is Joshua Hedley's best Garth Brooks cosplay. Once that opening guitar riff snakes in, you can just imagine Hedley holding court on an arena stage wearing a crisp off-white Stetson and singing into a headset mic. "Neon Blue" is all clangy honky-tonk piano, wailing fiddle, and swaggering guitar topped off by Hedley's smooth voice, which would give his hero Ronnie Dunn a run for his money.
.

"Human," Cody Johnson
As much as the guitars walk, the banjos pluck, and the steel guitars sigh on Johnson's album Human, his penchant for an affecting story is what sets him apart from today's other '90s-indebted stars. The title track may be a new write by Travis Meadows and Tony Lane, but it would fit right in among the decade's top sentimentalists like Alan Jackson, Tim McGraw, and Vince Gill (whom Johnson covers elsewhere on the album) with its simple, tried-and-true message of "I'm still learning." There's nothing flashy about the chorus, but that punch line is as classic as they come: "I guess all I'm sayin' is forgive me / If I don't know what I'm doin' / I'm still learnin' to be human."
.

"Fill 'Er Up," Jon Pardi
A '90s country drinking song is a specific sort of thing, one that Jon Pardi has studied and perfected. "Fill 'Er Up" follows all the rules. The lyrics may be melancholy, but Pardi doesn't let you hear it lest a tear fall into your beer. Like a good bar, the song feels packed but never crowded, with enough room for an acoustic-guitar solo here and a fiddle line there. Pardi checks off his lines about what he's drinking (including tequila, a blink-and-you'll-miss-it sign of 2020s influence), how much, and how he's ready to dance.
.

"Mr. Lonely," Midland
One side effect of a '90s-country revival: a line-dancing revival. Just leave it to the troubadours of throwback in Midland, who paired their 2019 single-steel-guitar-and piano-laden "Mr. Lonely" with a video of cowboy-hatted models trotting side by side. (You could say they're suckers for what the cowgirls do.) Midland is a band that knows its history, and "Mr. Lonely" could certainly slip in right between "Boot Scootin' Boogie" and "Any Man of Mine" on a honky-tonk playlist. But the truest mark of '90s country here is something more simple: a catchy-as-hell earworm hook that sounds just as good off the dance floor.
Maximalism wasn't new to Nashville in the 1990s, but it was certainly center stage as radio country leaned into its pop influences and ran with sillier jokes. Wherever you hone in on the spectrum of '90s country, you'll find artists and musicians swinging for the fences.
.

"Never Wanted To Be That Girl," Carly Pearce and Ashley McBryde
Woman-to-woman dialogue songs came into the mainstream much later than country's more common man-to-man songs and male-female power ballads. Carly Pearce and Ashley McBryde's duet builds on a tradition that is deep and wide. "Never Wanted to Be That Girl" stirs melodrama as Reba and Linda did, swapping vocals, powerfully harmonizing, and telling the song's central story cinematically and emotionally. The third-person voice feels solidly '90s as well, communicating distance from, and unfamiliarity with, oneself, as in Lee Ann Womack's 2006 track "Have You Seen That Girl" and her deliciously '90s stylized record Call Me Crazy.
.

"Tap That," Chris Janson
Chris Janson's "Tap That" is simply begging for a bespoke choreographed line-dance routine, and that may be the most '90s thing about it. With a utilitarian hook that's as thirsty as it is erotic, "Tap That" feels like the self-deprecating, (slightly more) self-aware '90s precursor to simplistic bro country, which often showcased wit, word play, and silliness more than just unbridled toxic masculinity and rural tropes. At the same time, it's entirely on the nose, leaning into its central pun, pouring unmetered "Saturdays are for the boys" energy into its frenzied southern-rock–meets–radio-country sound, and transporting listeners to boot-scootin' in front of a honky-tonk's chicken-wire-encased stage.
.

"Huntin' Season," Mackenzie Carpenter
The homage to Gretchen Wilson's "Redneck Woman" in Mackenzie Carpenter's "Huntin' Season" goes far beyond the four-wheeler-muddin' music video. Carpenter plays with gender roles, rurality, and domesticity, all within a traditional song format — the classic country "Opposite Day" trope, in which a singer celebrates something usually dreaded, gives someone a taste of their own medicine, or reclaims agency by turning the tables. Carpenter's variation on this theme is wry, winking, and affable but makes a striking point: If country is going to be a boy's club, that would naturally leave in its wake a non-male club — and doesn't that sound more fun?
.

"Brenda Put Your Bra On," Ashley McBryde
Even at its most mainstream, the '90s were full of pageantry and theater, two strong underpinnings of Ashley McBryde's 2022 concept album, Ashley McBryde Presents: Lindeville. Its depictions of pastoral America recall so many stalwart songs and performances of '90s country radio — like "Brenda Put Your Bra On," in which McBryde uses irreverent, working-class, and queer lenses to tell larger-than-life stories that are also down-to-earth. These characters are more complicated and nuanced than most mainstream country released today. The result feels as if it could have been pulled directly from an older era.
.

"You Can Have Him Jolene," Chapel Hart
Gratuitously self-referential songs have been a hallmark of country since its earliest days, but the '90s saw a resurgence of this nostalgia. Chapel Hart's 2021 viral sensation "You Can Have Him Jolene" is certainly not the only song built on a continuation of the lore in Dolly's "Jolene," but it feels palpably retro. Its modern rock-influenced aesthetics and crisp 2020s production feel simultaneously backward- and forward-looking, reminiscent of so many '90s radio hits. And while the lyrics' feminist-tinged self-possession, agency, humor, and unflappability draw on the work of women like Gretchen Wilson, Terri Clark, and Deana Carter, that tradition also reaches much further back in the country canon — beyond even Dolly herself.
Artists teaming up wasn't a new concept in the '90s. But when an established act passed the torch to a rising star, it felt like an event. Thirty years later, not much has changed.
"Dear Miss Loretta," Carly Pearce and Patty Loveless
Here we get three generations of bold country women in one song — a late legend, a '90s icon, and a current star who's taking what they did and moving it forward. In this tribute to Loretta Lynn, Carly Pearce and Patty Loveless (Lynn's distant cousin) sing about how their life experiences may be different but the feelings are universal — as Pearce says, she's not a coal miner's daughter, just the great-granddaughter of one. "Your songs were all fun till I lived them myself," she sings near the top, recognizing Lynn's ability to write a song that may be specific in detail but broad in sentiment. And she adds a lyric that perfectly encapsulates what makes a country tune an all-timer: "A lifetime of pain was three minutes long."
"How Far Can it Go," Hailey Whitters and Trisha Yearwood
Trisha Yearwood was no stranger to massive duets at the peak of her stardom, collaborating with the likes of Don Henley and Aaron Neville, not to mention her husband, Garth Brooks. So it's no surprise that the icon is a highly sought-after singing partner for younger stars. Here, she passes the torch to Whitters as they trade lines about young lovers in trouble like neighbors gossiping over a fence. It's all a clear throwback to Yearwood's 1991 hit "She's in Love With the Boy," showing that while the names may change, the stories stay the same.
"Hole In the Bottle," Kelsea Ballerini and Shania Twain
While the boys get the beers, Kelsea Ballerini has a drinking song for the wine ladies. Though "Hole in the Bottle" has a spoken-word intro that grounds the song in our current understanding of substance abuse, it's mostly a lighthearted romp about getting over a breakup with the help of Cabernet. Lyrically and sonically, it fits right alongside Shania Twain's early-career vibe so well that the Canadian icon guested on this remix version from late 2020, adding to the feel that this could have been included on 1993's ultraplatinum The Woman in Me.
"Brand New Man," Brooks & Dunn with Luke Combs
Just because a collaboration mostly comes from the desire to make a lot of money doesn't mean it can't be great. And we're not saying Brooks & Dunn teamed with Luke Combs purely for profit — it's just that their team-up came on the duo's 2019 LP Reboot, which featured rerecordings of their hits with younger artists providing guest vocals in an effort to introduce them to new listeners. The love on "Brand New Man" goes both ways: Combs is clearly delighted to be singing the 1991 hit, and the older fellas sound reinvigorated by having him there. The single wasn't a smash hit but provided the perfect modern blueprint for reimagining a classic without making it feel like a cash grab.
"Jealous of Myself," Tenille Arts and LeAnn Rimes
Talk about the circle of country life: Rimes was just a child when her mature-beyond-her-years voice catapulted her to stardom, and Arts got her big break in part by covering Rimes's "Blue" on TikTok when she wasn't even a teen. Rimes was sold on taking part in the duet based on Arts's talent alone, but the parallels between their lives made it a no-brainer. "After she shared her journey in music with me and how much I have influenced her, it made this opportunity even more special," Rimes said in a statement, and the two have developed a real bond, even duetting on "Blue" at Nashville's historic Ryman Auditorium earlier this year. Somewhere out there, a little girl is learning to play this song, not knowing that she'll be duetting with Arts and/or Rimes in a few decades.
Country artists have always nodded to earlier hits, either as a form of tribute or friendly competition. The approach is still a tried-and-true method for country acts to show they know who paved the way.
.

"Like I Love Country Music," Kane Brown
Like those of us who incessantly speak in the near-universal language of movie and TV quotes, Kane Brown's "Like I Love Country Music" uses a bunch of recognizable genre hits to convey his affection for his special lady. But rather than just lift lines on the sly, Brown makes sure to cite his influences. The first ones, for example, are "Girl, you gone and done it to me, hotter than a hoochie-coochie / Got me like the first time I heard Alan Jackson 'Chattahoochee.'" He goes on to name-check Willie Nelson, George Jones, Johnny Cash and June Carter, and Brooks & Dunn, even including a snippet of their "Brand New Man" in the background. It may not be the most romantic method of courting, but at least it's easily understandable!
.

"Half of Me," Thomas Rhett feat. Riley Green
Technically, Rhett and Green are interpolating a 2003 Alan Jackson and Jimmy Buffett song here, but bear with us. Those latter two artists teamed up to record "It's Five O'Clock Somewhere" back in the early aughts, but the song also felt just as '90s, when Jackson was at the peak of his stardom and Buffett's massive concert parties would lay the ground for Kenny Chesney and the like. On this cut from Rhett's 2022 album Where We Started, Green repeats the line "I think old Alan Jackson said it best / 'It's five o'clock somewhеre.'" The saying goes back well before Jackson or Buffett, but it certainly evokes the decade when beer companies started advertising directly to country fans and tailgating before shows became just as much of an event as the music itself.
.

"Everything She Ain't," Hailey Whitters
Hailey Whitters has written for both Alan Jackson ("The Older I Get") and Martina McBride ("Low All Afternoon"), and her own breakout single, "Everything She Ain't," is reminiscent of her forebears' hits. She doesn't quote them directly but seems to fully channel their sounds and writing styles — similarly poppy but with enough traditional instrumentation to make it clear she has sworn fealty to the genre's history. As she said in an interview, "This song to me is like going back to your roots, staying true to who you are, and knowing that you bring something to the table," which is the perfect explanation for why any artist would interpolate another.
.

"She Had Me at Heads Carolina," Cole Swindell
Even though Cole Swindell couldn't really relate to Jo Dee Messina's 1996 hit "Heads Carolina, Tails California," he loved the way the song told its story of a woman splitting town with the love of her life. The Georgia-born singer wanted to pay tribute to the music of that era without just copying the sounds and stylings, so he came up with "She Had Me at Heads Carolina," a tale of a guy in a bar falling in love with a woman who performs Messina's single at karaoke night. It's not a subtle tribute — Swindell sings, "She's got the bar in the palm of her hand / And she's a '90s country fan like I am" — but who cares? Certainly not Messina, who gave her blessing to the song and then guested on a new duet version on the deluxe edition of Swindell's 2022 album, Stereotype.
.

"He Set Her Off," Emily Ann Roberts
Emily Ann Roberts is the latest in a long line of the genre's female stars who can pen a great tune about getting back at an abusive, cheating, generally good-for-nothin' man. Here, she specifically harks back to the Chicks' "Goodbye Earl" and its cheekier sense of "guys are scum, but we can have fun getting even with them." Like many '90s empowerment anthems across all genres, both songs show how you can take a deadly serious subject and turn it into an upbeat jam without sacrificing the ugly truths about the male species.
Whether it has the range of an opera star or the monotone rasp of someone whose diet consists of Winstons and Jim Beam, a country singer's voice has to have personality. These artists are among those pushing the envelope forward now while standing on the backs of their Clinton-era predecessors.
.

"Things a Man Oughta Know," Laney Wilson
Lainey Wilson's gift for embroidering plain communication with pain is a big part of what makes her seem like such a throwback. Lee Ann Womack, that late-'90s exemplar of traditional country singing, is Wilson's most salient influence: Each of them specializes in a high-femme, hard-twanging variety of vivid emotional contouring. Wilson turned it on when she wanted to in early singles ("Workin' Overtime," "Dirty Looks"), and it was in full effect when she recorded "Things a Man Oughta Know." Her delivery is small and rueful as she inventories the survival skills she has learned in the name of self-sufficiency, then her voice fractures and flares as she bemoans the inaction of a male ex, how little effort he put into figuring out how to make things work. The contrast in dynamics makes the mismatch all the more tragic.
.

"How You Love Someone," Mickey Guyton
One of many things Mickey Guyton brought to the table in the latter half of the 2010s was her impressive vocal ability. As twisted as it sounds, that proved to be something of a liability at a time when so much merely passable singing was getting rewarded with chart success. On top of the barriers, double standards, and barely concealed hostility she faced simply for being a Black woman in country music, she was too much of a singer, too rangy, too emotionally present in her performances for the era. Like LeAnn Rimes and Faith Hill before her, Guyton excels at country-pop ballads, such as the testament to romantic survival "Better Than You Left Me," the urgent and resounding statement of "Black Like Me," and the probing of what it's like being swept up in grown-up passion on "How You Love Someone," where she has room to stretch out, handsomely pace her crescendos, and summon submerged anguish to the surface with her sensitive vibrato.
.

"1, 2 Many," Luke Combs
Long before the troubled chart reign of Morgan Wallen, Luke Combs's rapid breakthrough served as a bellwether for the shifting center of country masculinity. Combs had just the voice to help the format ease away from bro country's most tepid tendencies. He was familiar enough with what had become tired genre formulas and their often perfunctory emulation of R&B vocal cadences; he preferred reviving the robustness of '90s country with his vocal attack, which is virile without being aggressive and far more good-natured than self-pitying. It's no wonder he teamed up with Brooks & Dunn on their recordings and his; when Combs plays the lucky loser in "When It Rains It Pours," the affably rowdy, luckless barfly in "Beer Never Broke My Heart," and the bender-prone drinking buddy in "1, 2 Many," he sings in rippling, meaty, full voice, like an astute student of Ronnie Dunn.
.

"What He Didn't Do," Carly Pearce
The way Carly Pearce introduced herself with her 2017 single "Every Little Thing" suggested she might know more about adult-contemporary balladry than Appalachian singing. It was pretty intoxicating hearing her wallow in the fresh loss of intimacy, but that first radio hit revealed more about her writerly inclinations — her interest in crafting melodrama out of the accumulation of small realizations — than anything else. Since then, Pearce has drawn on her bluegrass background more. From the bluesy trills in "Hide the Wine" to the bent notes of "What He Didn't Do," Pearce is skilled at bringing her poised pop sultriness to lilting, sharp-edged laments.
.

"Somebody Else's Whiskey," Frank Ray
Frank Ray was plenty aware of the significance of owning his Mexican American identity in the country mainstream and strategic about how he arrived on the national stage: He led with a demonstration of his cultural and stylistic agility, sliding between English and Spanish in his suave upper register over the reggaeton-adjacent groove of 2021's "Streetlights." He brings just as much exuberance to the hard country singing he has done since, including in "Somebody Else's Whiskey," in which he bids high-spirited good riddance to all obligations to and impositions of an ex. The way he scoops out deep, rounded notes and articulates thoroughly country vocal runs, Ray provides a lighthearted bravado to the sort of brawny, ornamented twang that Tracy Lawrence and other '90s predecessors were known for.