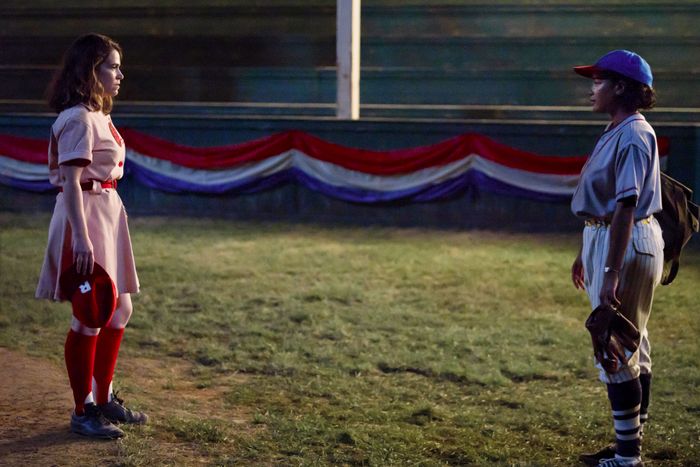 The separate arcs of Abbi Jacobson's Carson and Chanté Adams's Max don't quite jell as stories in
A League of Their Own
, but they make complete sense as two stories
about A League of Their Own.
Photo: Amazon Prime
We are now so comfortably in the age of remakes, revivals, adaptations, and IP extensions that the potential traps of these projects have become cozy old friends. Will a reboot feel familiar but also new? Will the revival be more like a homecoming or a reminder that it's never a good idea to bring back the dead? Which ideas are worth revisiting? Which relationships really needed to be rethought? The past decade has turned us all into scholars of retelling, as though we live inside an enormous middle-school compare-and-contrast paper. It's so pervasive that the prospect of some new re-creation — in this case, Amazon Prime Video's TV series adaptation of the 1992 Penny Marshall film A League of Their Own — doesn't invite the shiver of combined hope and trepidation it might once have. Maybe, finally, we're far enough into TV's retellings era that we can start shaking off our fears about new things ruining the old ones.
But if A League of Their Own is any indication, the retellings themselves have become just as conscious and conscientious as audiences. There's a precise, careful navigation that revivals have to pull off, weaving between originality and loyalty. It's Scylla and Charybdis: You can't sail too close to the nostalgia monster lest the fan service swallow you whole, but if you drift too far away, you'll fall victim to the demon of broken tradition, spurned by your fans and left without any compass to keep you on track.
For the most part, A League of Their Own's debut season, whose eight episodes all drop Friday, manages to sail between the two traps. For every moment it veers into fond tribute, there's another that tacks away toward reconsideration. Every warm nod is paired with a gentle critique. It is at once a celebration and a rejoinder. In flashes, both feel exactly right. Give me this movie again but fixed up and polished and new! But, as a whole, you can still feel the anxiety of it, the twin monsters looming on either side. Trying to be two opposing things at the same time can cause some vertigo.
The series makes two fundamental choices in its adaptation that are intended to fill in elements the movie ignores or overwrites. The first is to rewrite the story of the movie's Rockford Peaches, a fictionalized version of the women's baseball team that played in the real-life All-American Girls Professional Baseball League. In the Peaches story line of the adaptation, all the familiar settings and trappings of the movie return: There's the tryout at Wrigley Field; the scene in which the boyish, sporty teammates are schooled in ladylike behavior; the inevitable friction between coach and players. All the characters are new, but many feel close to a specific role or character type from the original. Abbi Jacobson plays Carson, who is obviously modeled on Geena Davis's character, Dottie. Like Dottie, Carson is a catcher who comes from rural farm country and has little experience with travel or professional sports, and she tries out for the new women's league while her husband is off fighting in World War II. The movie character Mae, played by Madonna, is more loosely rewritten as Greta (D'Arcy Carden). Rather than just teammates, Carson and Greta are friends who become attracted to each other. All the sublimated energy of the '92 film becomes swiftly, sharply explicit. The Rockford Peaches: good at baseball, very queer.
The queered reconstruction of the movie is only half of the League of Their Own series, though. The other half is a story that never quite coheres with the rest of the show. In part, that's because there's no reasonable way to knit them together, but it's also because it actually has more of its own creative gestalt than the rest of the show's faithful but slantwise movie remake. Carson is one of the show's two leads; the other is Max (Chanté Adams), a Black pitcher who's banned from the tryouts in the show's first episode and spends the rest of the series desperately trying to find her own way onto a baseball team — any team that will take her. While the Peaches story line hangs on to many of the memorable film scenes, Max and her best friend, Clance (Gbemisola Ikumelo), are well served by being left to their own devices, not beholden to the inherited outline of the original text. Max finds a factory job, hoping she can play on its men's team. She struggles to balance her baseball dreams with her mother's expectations that she'll inherit the family hair-salon business.
The two stories do not really belong to the same show, or if they do, A League of Their Own never figures out how to justify their fictional coexistence. But even if they don't fully jell as stories in A League of Their Own, they make complete sense as two stories about A League of Their Own. If the idea of the series is both to celebrate the film and to fix its two biggest blind spots — race and sexuality — that explains the nagging emptiness of Carson and Max. They are solutions rather than characters, and it feels as if they were designed from the starting point of addressing a problem rather than portraying a person. Everyone around them is more complete and more convincing. Ikumelo's performance of Clance is fantastic. Carden gives Greta a striking blend of joie de vivre and caution. Several of the minor Rockford Peaches characters are so much fun, especially Kate Berlant as a prim, too careful prude and the always excellent Roberta Colindrez as the Peaches' pitcher, Lupe. (When do we get to throw a parade for how good Colindrez is? I will be there with bells on.) But the show is built on two central figures who aren't as strong as the minor characters orbiting them.
A League of Their Own wants to be a vintage restoration newly powered by shining modern machinery. Who doesn't want a much-loved older work made functional and culturally appropriate for a contemporary audience? I do! I want it so much that, in spite of my misgivings, many scenes from the new series completely captivated me, especially in a few poignant, recontextualized callbacks to the film. And Max's story line in particular made me wonder what a season two could be like if it were given more room to develop from under the film's shadow. So much of it could be gloriously delightful if it were just a little less conscious of navigating around the triumphs and drawbacks of its predecessor.