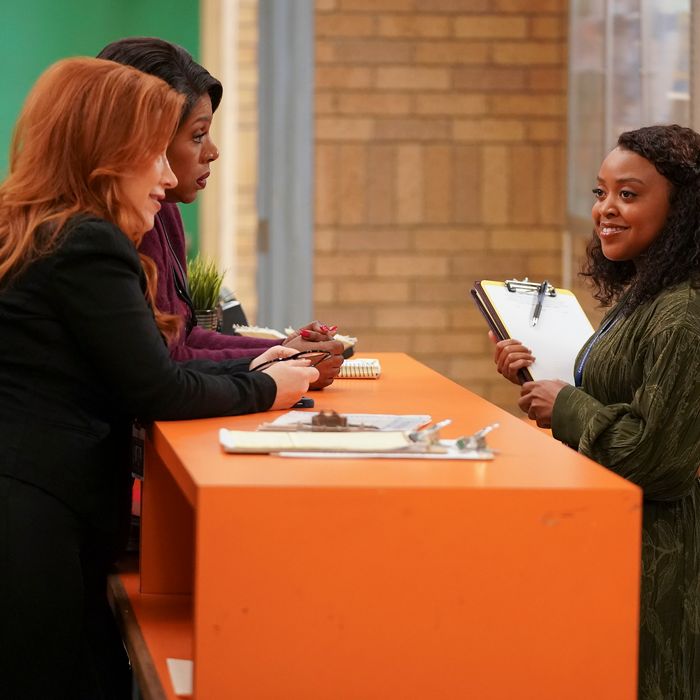 Photo: Vulture; Photo: ABC/Gilles Mingasson/ABC
Ava Coleman is one of the newest iterations of the enigmatic boss in the canon of workplace comedies. In just two seasons, Janelle James plays the role so expertly that her character could hold her own against memorable bosses such as Ron Swanson, Jack Donaghy, Malory Archer, and, of course, Michael Scott. Standout bosses tend to be played by actors who portray their characters with enough confidence to exude power effortlessly but also with a particular disregard for others that inevitably leads to tricky situations for those who report to them.
What's fun about Ava is that she's a perfect combination of the incompetent boss and the overconfident boss — she may not know what she's doing, but no one could ever call her dumb. She's totally self-serving; even when she's motivated by the greater good, there's got to be something in it for her. James's self-assured comedy style is perfect for the role, and Ava always delivers. In this episode, the narcissistic principal is up to her usual shenanigans when the staff of Abbott Elementary band together for "Operation Save the School."
Draemond Winding's pending takeover is now unavoidable since changing Abbott into a charter school is officially on the docket at the next school-board meeting. The plan is to turn the school into Legendary Charter Presents: Abbott Elementary. The conversion of Abbott from a public school to a charter school leaves the status of every teacher's job in the air and acceptance not guaranteed for every student. No one is confident in the ruling going their way, so they take it upon themselves to develop a grassroots approach and start a petition to keep the school public. Initially, Janine is hopeful about obtaining enough signatures because the first parent she encounters is Krystal, the creator of Forever Bitch Apparel with a "bitch" tattoo emblazoned across her chest. (I'd love to see Janine in her "extra-petite bitch" line.) As we found out the first time we met Krystal, regardless of her affinity for expletives, she's one of the most engaged parents, so the staff finds it harder to get more signatures.
They decide to find another way to finesse signatures since they need 500 to prove enough community members are against Abbott going charter. Surprisingly, it's Barbara who first brings up the idea of tricking people into signing the petition. She says that, even though it's not her preference to "dance with the devil," this is a special case. Janine unintentionally suggests using the upcoming open house to lure parents in by throwing a large party requiring a signature. Ava clings to the idea, claiming it as her own, and plans AVA Fest ("A Very Abbott Festival").
For AVA Fest, Ava is in her truest form. Even before the decision to use the festival to garner more signatures, Ava was interviewing for a new job … as chief marketing officer at Legendary Charter. But now that there's a better chance Abbott will remain as it is, Ava is fully on her school's side and takes it upon herself to enlist in Philadelphia's own Jazmine Sullivan as a headliner. No one but Gregory questions her ability to get such a famous artist, so they advertise the R&B singer and attract a slew of parents and community members. The staff plans an extravaganza featuring games, a performance from the school's step team (I wish they did get to perform to Ice Spice), a motivational speech from Barbara, soupy and solid macaroni and cheese, and even a dunk tank with the most dunkable teacher: Jacob.
Once the open house arrives, people start filing in as Mr. Johnson performs security checks with a curling iron he's pretending is a metal detector. Janine tries to inform everyone about the true purpose of the petition. No one really cares; they're mostly there to "dunk a white dude" and see Sullivan perform. But once it's apparent she might not be showing up, people start telling their friends not to come. Gregory and Janine finally ask Ava when the headliner will perform, and the principal guffaws at the idea that she would actually show up. She says she was following Barbara's orders to trick the parents. Ava is a hilariously terrible boss.
Gregory is as competent as Ava is incompetent and is fully prepared with a plan B. He's already called the next best thing to step in: Tariq. Legendary Schools declared his jingle to be infringing upon an existing melody, and he was fired from FADE after being declared a liability, so Tariq is fully available to perform in Sullivan's place. He has the crowd put their fists up before launching into a rap where the chorus goes, "Abbott on Abbott on Abbott / That booty big so Imma grab it." My favorite line? "Play with a teacher, you finna get slapped / No gonorrhea, but you gon' get clapped."
Regardless of the inappropriate nature of Tariq's rap, the crowd loves the performance, and Ava again claims the idea as her own. The moment is cut short by an appearance from Draemond himself. He waltzes onto the stage and addresses the audience, claiming that the petition circulating is "nothing more than a promise to hold your children back" and that the teachers are merely afraid of change. In his most self-righteous manner, he tries to sell Legendary Schools to parents and community members by promising better resources, better education, and better infrastructure. The parents start to push back, arguing with the idea that only some students would be able to go to the charter, so there's not even a guarantee they'd benefit. Draemond keeps trying to convince them otherwise, but they know better. They call him out about the biased lottery system and the possible unemployment of the very teachers who have gotten their kids this far.
The parents step up to the plate and shoot down Draemond's promises of a utopia, questioning why he doesn't pour back into the community instead of creating a new exclusive one. Mr. Johnson literally sweeps him off the stage as the crowd boos him, and Tariq gets back into his song. The festival continues, and Draemond has a one-on-one with his old kindergarten teacher. Another boss with an extreme lack of self-awareness, Draemond congratulates himself for really bringing the community together. All Barbara can say is "Bless your soul, Draemond," as she sees right through him. Barbara knows the truth, and as she tells the cameras at the end: "Every student is special, and you have to give them your best. And you hope that they will carry it with them. But, at the end of the day, they have to decide who they want to be. And this one decided to be a jackass."
Teacher's Notes
• Jacob has been cracking me up. Asking Siri who Lee Daniels is, confessing a parent calls him Stuart Little, chanting "Si, se puede" from the Disney Channel masterpiece Gotta Kick It Up!, almost fighting Mr. Morton, suggesting Nikki Giovanni as the headliner for AVA Fest — he's giving us comedy gold.
• I've been a fan of Vince Staples for years, and I tend to listen to his music as the days get warmer because they have a very summertime vibe. A few days ago, I turned on his latest drop, and friends, I couldn't not think of Maurice! I was like, Damn, he got Janine that Telfar, but it was great to see Amber finally got hers.
• Thank goodness Erika keeps pushing Gregory about the situation with Janine because we know Janine won't. I'm anticipating another kiss by the end of the season, considering his Freudian slips about "doing it" and "getting engaged." I also loved the look Gregory got when Janine told him he saved Abbott.
• Y'all know how much I love some Zack Fox, so of course I was ecstatic for Tariq to come back. The end of the episode — with Tariq lounging in the dunk-tank pool, catching us up on his life and new songs — was another Zack Fox treat. He may not have a way to move his stuff back to Philly from New York, but at least he's on the WNBA pregame pump-up playlist on Spotify!
Last but never least, here are some of the funniest lines:
• Ava: "This is going to be the best show in Philly since Dru Hill sold out the Wachovia Center in '03. They were like two hours late, but Sisqó did like 30 backflips."
• Jacob: "Times New Roman, the most decisive of the fonts."
• Barbara, after hearing Draemond's new name for Abbott: "What in the Lee Daniels?"
• Janine: "I'm very good at canvassing. People always open the door for me 'cause they think I'm a lost child."
• Ava, when Janine says she looks great: "It'd be breaking news if I didn't."