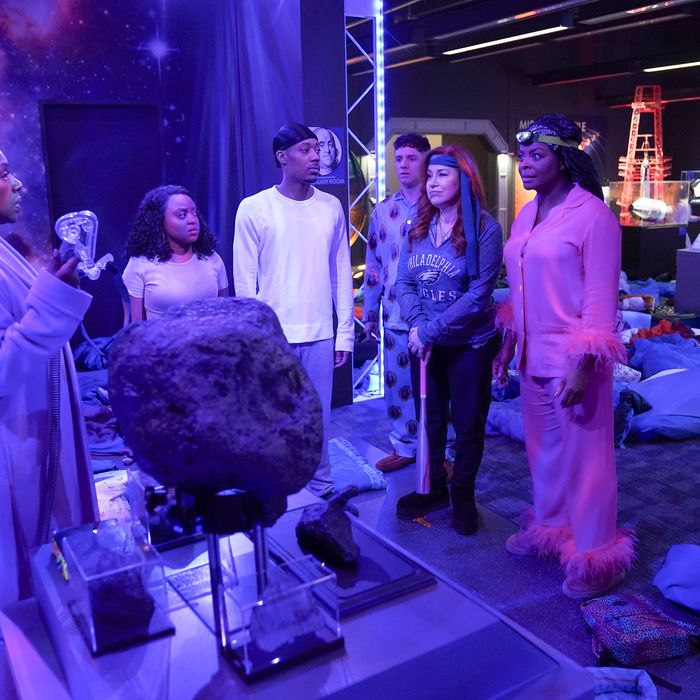 Photo: ABC/Gilles Mingasson/ABC
Our precious Janine and Gregory slow burn almost combusted into a full flame before taking an altogether different route. It's not easy to learn how to navigate the adult world, settle into our more mature identities, and follow our hearts all at the same time, so selfishness is the name of the game at this time in our lives — or at least that's what I've been telling myself. (I feel validated that Janine and Ava agree.) It takes Janine a moment to come to this conclusion, but I believe this is a mere "to be continued" in the Janine and Gregory story, not the ending. (Call me a hopeless romantic if you want!)
This season, Janine has been making huge strides in terms of her personal growth, which has been her goal since the beginning, when her breakup with Tariq was still fresh (her new part is paying off!), and we've seen her step up to the plate in some sticky situations. She's made new friends outside of work, bonded with her sister in a way she never had before, set a boundary with her mother, and dated someone new. Her relationship with Maurice, in particular, felt like a big exercise in accountability. In the moment, Janine felt that breaking things off with Maurice was noble and mature; sitting him down at his favorite barbecue restaurant to tell him that she kissed his best friend before breaking up with him in front of said best friend (who she didn't even want to date) seemed like the adult thing to do. Well, hindsight is 20/20, and when Janine runs into Maurice as the school is on its way to an overnight field trip at the Franklin Institute, she's forced to do some deep reflection about how much more growing she needs to do.
Thanks to Ava's mischievousness, Janine and Gregory are paired up for the field trip, and they're both overflowing with excitement over their first sleepover. The flirting has become undeniably overt; they giggle while talking to the camera crew, and Gregory admits to watching Night at the Museum because he watches all of her recommendations. It's all cute and innocent, and Janine is practically high on the sweetness when she bumps into Maurice while waiting to board her kids onto the bus. She goes to apologize for breaking up with him at Bone Town, and he calls her selfish. The accusation unsettles her, and Janine must reevaluate the situation. When it sinks in that she had hurt Maurice, she vows to do some soul-searching before she unknowingly hurts someone else.
Gregory immediately senses Janine's change in demeanor and lack of playfulness with him once they arrive at the Franklin Institute, but he pulls out all the stops to try to get her to smile. Nothing works, and when he tells her about the summer job opportunity with his dad in Baltimore, hinting that he hopes she'll want him to stay so they can hang out, she gets flustered and awkward. So he turns to Jacob, the person he's spoken to the most openly about his feelings for Janine. He lets it slip that he and Janine kissed at the convention, and Jacob urges him to finally verbalize how he feels about her, even if there's no turning back, because "there might be a lot of good stuff on the other side."
Janine's worries that she might be too selfish continue to fester the longer they stay at the museum. Gregory asks if they can have a side conversation, and she erratically avoids him by moving her whole class into the Galaxy Room, where Barbara is sleeping. Barbara, who has been acting suspiciously for the whole episode, chose the secluded Galaxy Room so she could sleep with her CPAP machine. Embarrassed by the large headpiece, she's been trying to be as discreet as possible, but it scares a student whose head has been filled with images of alien invasions courtesy of his principal. Ava took the science-related field trip as an opportunity to share her theories about the depths of the universe and the genuine possibility of coming in contact with extraterrestrial beings. One student was so inspired that she sketched her idea of a humanoid alien, complete with a breathing contraption, that just so happens to look like Barbara.
Right before the poor student starts a museumwide commotion when seeing Barbara, Gregory manages to pull Janine aside to directly confront her about what has been going on between them, finally confessing his feelings. Janine has no time to respond as the scared student sees Barbara, yells, "ALIEN!" and wakes all the students, who begin to run around in a frenzy when they see Barbara with her CPAP machine mirroring the image on the sketch. The teachers split up to gather the students running all around the museum, and Gregory and Janine search inside the huge anatomically correct model heart for rogue kids.
There's no way Janine couldn't express her feelings while inside a literal heart, so she blurts out, "I like you too." For the very first time, they're open and completely free with each other, talking about how they've liked each other since the first day he arrived at Abbott and the multiple roadblocks and side relationships that have happened since. But it's not enough. At her most vulnerable, Janine says that her conversation with Maurice didn't change how she feels about Gregory, but it did change how she feels about herself. Beyond that, she knows that her feelings for Gregory are real and intense — any relationship between them would be something special. However, Gregory has become a close friend to her and a huge part of her support system that she's not ready to lose. At this point in her life, she doesn't want to risk that friendship or hurt someone she cares deeply about because she has some growing to do on her own.
It's not the response Gregory wants to hear, and I don't think it's even the response Janine wanted to give, but it's the truth. Gregory understands that it's for the best, and they return to their students. Jacob consoles his friend with a long bro hug before all the teachers settle into their respective corners of the museum. Janine tells the camera crew that she thinks she made the best decision for this moment in her life and that she's not ready for Gregory, who she proclaims to be the greatest. I wanted to reach into the screen, shake her, and tell her that she deserves the best, but it is time for Janine to learn that on her own. Gregory, Abbott's resident landscaping nepo baby, is also okay with how things played out. He's satisfied with the outcome even if it wasn't what he wanted, as "it's time to plant something new."
Teacher's Notes
• Melissa schooling the museum tour guide was a blast not just because I thought the guide was annoying but because I learned so much about Philadelphia! I had no idea Philly had America's first hospital or that it used to be the capital (I probably should've known the latter, but I was raised in American public schools).
• Jacob's reaction to finding out that Janine and Greg kissed was perfection. It was pretty much how I looked watching them in the heart as they professed their feelings. Also, his pajamas had me in tears.
• It's so bittersweet ending this season of Abbott; it's been one of my favorite things to look forward to each week, and I've had a blast watching along with you all. Here's to season three coming quickly!
And finally, here are my favorite lines:
• Jacob: "Everyone that I like knows it. Zach and Diego Luna have seen my tweets."
• Melissa, after the guide said she was a volunteer: "And you're worth every penny they're paying you, sweetheart."
• Jacob: "You know, Night Jacob, he's got that dog in him."
• Barbara: "Scooching is an act best done silently."
• Mr. Johnson, unconvinced that Gregory and his father are not in the FBI: "Probably plotting on how to assassinate another Black community leader. COINTELPRO killed Teena Marie."
• Jacob, before he goes out to eat with Janine and Gregory: "Don't worry, every spot on my local restaurant spreadsheet has something you love: water."
• Mr. Johnson, when Janine asks his first name: "When you get home tonight, look up in the sky. It's written in the stars."