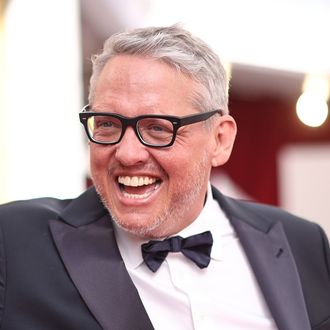 Photo: Emma McIntyre/Getty Images
Update April 30: Despite belt-tightening at Netflix, McKay has secured the bag for his A-list hangout. Deadline reports that the streamer has acquired Average Height, Average Build. Since Don't Look Up is still Netflix's second most popular film of all time, it makes sense that Sarandos would want to get the band back together. A release date has yet to be set.
Oringial story follows.
A-listers, assemble. Don't Look Up director Adam McKay has once again invited a bunch of big-name stars to work with him. Per Deadline, Robert Pattinson will star in the upcoming movie Average Height, Average Build as a serial killer who enters the world of politics — with the help of a lobbyist (Amy Adams) — because he wants to make it easier to get away with murder. Robert Downey Jr. will play a retired cop who won't stop trying to solve the murders, while Forest Whitaker and Danielle Deadwyler are also attached in yet-unknown roles. According to The Hollywood Reporter, McKay's script calls for "many more" characters to be cast before the Oscar-winning director plans to start shooting in Boston late this summer. (Deadline reports that production could begin in early fall instead.) Celebs, if you've been dying for an excuse to go to Beantown, here's your chance.