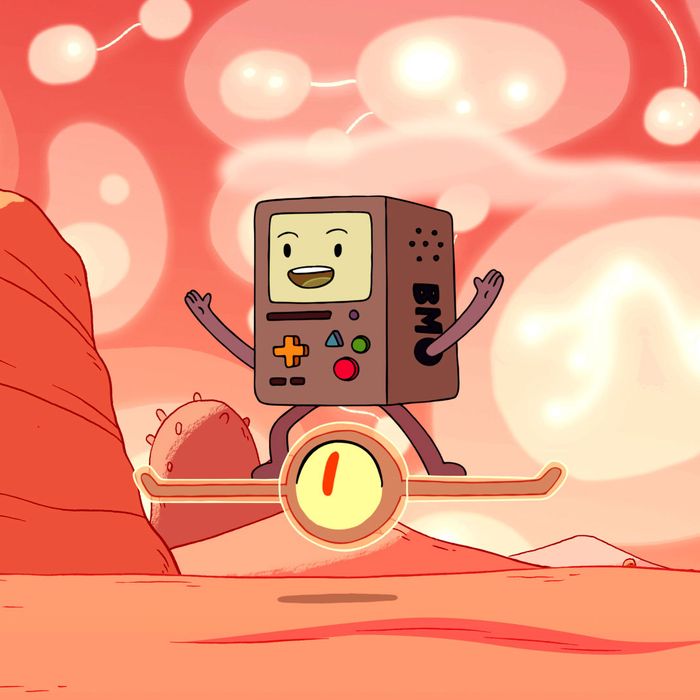 Photo: Courtesy of HBO Max
The last time we saw BMO save the world was in Adventure Time's series finale, when the sweet robot defeated Glob's chaotic, world-shattering strength by singing a simple song. After watching Finn the Human and Jake the Dog slay monsters, hunt vampires, and rescue princesses for ten whole seasons, BMO might have seemed like a curious choice of hero for Adventure Time's swan song.
Curious — but definitely not surprising. BMO might not be big enough to wield a sword (he's as tall as an average newborn), but that hardly matters, because, cheesy as it sounds, he's got something way better than brute strength: a hero's heart, overflowing with spunky confidence and imagination. And now he's leading Adventure Time's HBO Max revival. Nearly two years after the series finale, the beloved Cartoon Network series is back again with Distant Lands: Four stand-alone episodes, each about an hour long, will premiere on the new streaming platform over the next two years.
The first Distant Lands chapter to grace HBO's latest streaming platform is titled after BMO himself, exploring the robot's past as he wanders through the lonely expanses of outer space, tasked by Moe with the humble mission of terraforming Mars with potatoes. BMO talks to his alter-ego Football about needing new "interesting" friends and writes melancholic country songs dedicated to his cowboy hat to pass the time. It's a remarkably sad picture despite the whimsical premise. I can't help but think about the Adventure Time series finale, when we learned that BMO survived years past Finn's and Jake's deaths, living for so long that he forgot his best friends' names. I suppose when you're a robot, you're essentially an immortal being as long as you stay charged and avoid water.
It's a terrifying concept for a kids' show, but Adventure Time has never shied away from soul-searching, a quality that has always made this series so wonderfully complex and bittersweet. It's unclear if BMO has a grasp on his potential immortality. All he really realizes is that he's lonely.
So when BMO ventures outside of his rocket ship to patch a fracture and meets a shape-shifting green eyeball, it's like a sigh of relief. He instantly befriends the eyeball and names her Olive. Olive has plans of her own and launches BMO's ship on a detour to The Drift, where BMO meets his second friend, a bunny named Y4.
The Drift is nothing exceptional — it's like every classic sci-fi conceivement of a civilization living in outer space. It's a self-contained city floating in the cosmos, sustaining life with questionable — and often faulty — energy sources. There, BMO crashes his ship into the middle of a turf war between two of The Drift's communities, the Great Elves and Shell People. "I thought I was toast bread for sure! But I'm completely uninjured," BMO announces happily, waving his dismembered arm in the air as sparks fly from his joints, oblivious to the ongoing drama.
Despite BMO's charming positivity, the Elves and the Shells are not enamored, as the crash-landing destroyed the scrap equipment the two groups were scavenging and fighting over. In The Drift, it's all about finding valuable scraps in the desolate artificial lands and selling what you can find to Hugo, the mastermind behind The Drift's many functions. (Yes, capitalism always seems to find a way — even in space.) The Elves and Shells put aside their rivalry to exact revenge on BMO.
Thankfully, Y4 swoops in and saves BMO from what could have been a disaster, hoping to sell BMO as useful technology to Hugo. Y4 renames herself Y5 at BMO's encouragement, and BMO dubs himself sheriff of The Drift and Y5 as his deputy. Olive morphs into a sheriff's hat. Together, the trio tries to fix citizens' everyday problems — herding space lards, saving beetles from drowning. All the while, something sinister is infecting The Drift's pods. Hugo reveals himself as less of a leader and more of a selfish capitalist, sucking up resources from The Drift for his own gain.
If this exposition feels clichéd to you, you're not alone. BMO plays out expectedly: Y5 grows to truly care for BMO as a friend but breaks BMO's heart when she calls their sheriff duties a "dumb game." There are various betrayals, and the obligatory redemption when Y5 stands up to her overbearing mother and helps BMO save The Drift. This summary — if stripped down to its core — is just basic.
It's disappointing, considering how Adventure Time has always been good about incorporating bizarre premises or out-of-left-field plot twists into its short, 11-minute-long episodes. In comparison to its subversive predecessor, "BMO" is simply unimaginative in its structure. Even its expanded world-building — from the show that brought us a wildly creative postapocalyptic reimagining of Earth, filled with candy people and sentient fire — falls short of expectations.
But while the story falters, "BMO" answers a question I never knew I had: Why does BMO want to be a hero? He literally isn't built for the job. BMO is a small and lovable robot — he was engineered to be a child's companion. I previously assumed that it had something to do with Finn's and Jake's influence. But at the end of the episode, BMO rides a space lard back to Earth, spiraling back into the unknown without fear of solitude. He lands next to the treehouse, where a young Finn and Jake play with wooden swords. "Who's that?" BMO asks, presumably meaning the adventures of "BMO" happen right before BMO integrates himself into their lives. It proves one thing: BMO is a hero of his own virtue. As long as he remembers that, he'll always have a place in the ever-expanding cosmos of the universe.
In his words, "BMO is his own big boy. Thank you."
Potatoes (More Exciting Than Tomatoes):
• Distant Lands ditched the Adventure Time theme song for a new intro — a tour of BMO's mechanics, with a close-up of his smiling heart. I'm sad to see the old song go, but it's a new era!
• I can't believe Y4 was trying to pick a new name, and she decided on … Y5.
• BMO's obsession with cowboys and Western aesthetics is so fascinating, and it makes sense with his draw toward heroism — Western flicks have always relied on that (problematic) sense of nobility. I just wonder how BMO ended up falling into it, especially because Earth's history was basically erased after the Great Mushroom War.
• Between Elon Musk's SpaceX ventures and the collective, horrific realization that our planet only has so many years before it completely succumbs to climate change, "BMO" feels especially pointed. As adorable as BMO makes planting potatoes on Mars seem, it really is a fraught situation resulting from a fictional apocalypse that feels a little too close to home.
• I'm just realizing that the #AdventureTime hashtag will be slowly propagated with fan art instead of uninspired travel captions, and I'm very excited for this change.
• Is the jury still out on whether football is BMO's alter ego or an actual twin robot living in a parallel universe? Just checking.
• Mr. M bears a startling resemblance to Martin Mertens. If he's actually Finn's conniving, absent father, then that tracks — Martin has never really been one for doing the right thing.