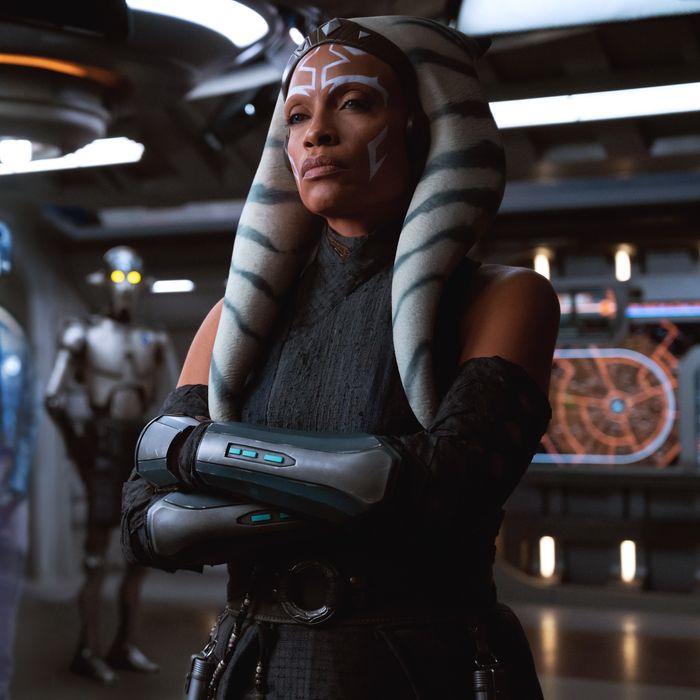 Photo: Suzanne Tenner/Lucasfilm Ltd.
Ahsoka Tano has had one of the biggest character arcs in all of Star Wars, both in-universe and out of it. When she was first introduced in The Clone Wars movie, the previously unnamed Padawan of Anakin Skywalker was essentially a walking death flag. (There was no sign of her in Revenge of the Sith, which didn't bode well for her survivability, presumably.) The fan base's reception of this perceived filler character was skeptical at best and outright heinous at worst (a sign of things to come for other female characters in Star Wars). And yet, she became not only one of the most complex and essential characters in the franchise but one of the most beloved, to the point where she not only survived Order 66, but became an important part of Rebels and even had a voice appearance in The Rise of Skywalker prior to a live-action debut in season two of The Mandalorian.
It makes sense that Dave Filoni would make Ahsoka the first animated Star Wars character to lead their own live-action show, but as a consequence, Ahsoka has more baggage than the other Star Wars shows. There are 15 years' worth of backstory and character development for the eponymous character. If the new series ignored all this for the sake of streamlining and universal appeal, it'd alienate a big part of the fan base and ignore a large part of the canon. And yet, you can't exactly make this season eight of The Clone Wars and expect newcomers to watch over 200 episodes of television to prepare for this latest hour.
It is a huge task, yet Ahsoka finds the right balance between familiar and fresh, and it has an elegant solution to catch newcomers up to the story so far, a solution Star Wars hasn't used since Episode IX. That's right, Crawly, the opening crawl, is back! Not even The Clone Wars featured a crawl, which makes Ahsoka's use of the iconic movie opener more significant, as if to make this show a bridge between the Skywalker Saga and the larger TV universe of the franchise. Indeed, the crawl explains the basics of not just Ahsoka, but the state of the galaxy in all post–Return of the Jedi Mando-Verse shows — which haven't done the best of jobs in explaining their context — including who Thrawn is and why his return would cause trouble. Does knowledge of Rebels enhance the experience and flesh out the characters more? Absolutely. Does the episode work without that knowledge? Yes, and that is rather impressive.
It is the search for Thrawn that kick-starts the story and drives Ahsoka (Rosario Dawson) in the premiere, as she goes on a treasure hunt to find a map inside an ancient tomb that would lead her to Thrawn. Regardless of the Rebels context, it is a story that is easy to follow and get engaged in — a big imperial threat needs to be stopped or there will be another war. And yet, the premiere also feels very much like a continuation of Rebels and its biggest lingering question — where Ezra Bridger went, as the Jedi Padawan turned freedom fighter ended the cartoon by essentially sacrificing himself when he sent the ship he and Thrawn were on into deep uncharted hyperspace. One of the best parts of Rebels was its focus on family, on the main crew, and how it balanced that against the galactic background, making the fight against the Empire a personal story about reclaiming Ezra's home of Lothal. Ahsoka is following in those footsteps by balancing the galactic threat of Thrawn with the more personal search for Ezra.
For Hera (Mary Elizabeth Winstead), now a general in the New Republic, the hope that Ezra is still alive means a chance to reconcile Ahsoka with her former apprentice, Sabine. On Lothal (which is exquisitely re-created here in live-action), Mandalorian Sabine (Natasha Liu Bordizzo) has seemingly become a bit of a recluse. The hero of Lothal and former rebel spends her days feeding a very cute Loth-cat and reminiscing about the good old days in Ezra's hideout, surrounded by his collection of stormtrooper helmets.
Even without knowing Sabine's history in helping unite Mandalore, the shot of her armor in some random box with the knowledge of Mandalore's fate from The Mandalorian, and her seemingly watching Ezra's good-bye message on a loop, show that she's been carrying a burden for years. It also doesn't help that Ahsoka seemingly became Sabine's master in the years since Rebels, despite Sabine never showing Force sensitivity, only to walk away from her. This is potentially a game-changing addition to Star Wars lore, but we'll have to wait to find out more.
Before they can find Ezra or even begin to mend their relationship, Ahsoka and Sabine have to face another threat — a phantom menace, if you will. At the beginning of the episode, we meet two people wielding lightsabers (specifically orange ones, which is an intentional choice): a master and an apprentice. The master is Baylan Skoll (the late Ray Stevenson), a former Jedi who disappeared at the end of the Clone Wars, and his apprentice, Shin Hati (Ivanna Sakhno). The two rescue Morgan Elsbeth (Diana Lee Inosanto), a former magistrate and close ally of Thrawn. Stevenson in particular makes a striking and memorable first impression as a new Force-wielding villain, with traces of Count Dooku's elegance, but more militaristic and ruthless.
And they should consider them a serious threat, because Hati heads to Lothal and finds Sabine, and not only does she steal the map, but she stabs Sabine with her lightsaber after a short and unimpressive duel. Worse yet, this was right after Sabine had unlocked the map, giving them an even bigger advantage.
As for the map, it turns out it shows a path to what looks like an entirely different galaxy. While this idea has long been a big part of the non-canon expanded universe, the franchise has never really explored the borders of the known galaxy. What's more, in Spanish, the Star Wars franchise's official title is La Guerra de las Galaxias, or "The War of the Galaxies," making this a very exciting full circle moment. Dave Filoni and his team have always found ways to push Star Wars to new places, exploring different tones, ideas, or pieces of lore. This one may be the biggest addition to Star Wars ever, and that alone makes Ahsoka a fascinating and essential new chapter in this story.
The Jedi Archives
• We get some reminders/explanations for Ahsoka's backstory in this episode, as she tells Hera about her walking away from the order and not finishing her training with Anakin.
• The opening crawl and the Star Wars title card are presented in red letters, a significant choice reminiscent of Lucas's original "Revenge of the Jedi" title, and a choice Filoni brought back in The Clone Wars for Maul- and Sith-centric episodes, meaning things are likely to go bad for the heroes.
• The witches from Dathomir is a cool concept that survived the expanded-universe purge and made its way to canon in Darth Maul and later The Clone Wars. They are like Sith, but cooler, and can become zombies.
• We see a celebration for liberation day on Lothal, which is a cool but meaningful nod to an early episode of Rebels portraying Empire Day "celebrations." Now, the city celebrates Ezra's heroic efforts in liberating his home world with a mural — the one from the Rebels finale — commissioned by Ryder Azadi, who Clancy Brown returns to play, now in live-action.
• In his good-bye message, Ezra refers to Sabine as a sister, which goes against all of their interactions on the show. Strange choice, but maybe there is more to this that we will see in the future.
• Praise Kevin Kiner, who scored Clone Wars and Rebels, for delivering a kick-ass score, one that feels fresh yet familiar. The theme that plays when Baylan and his apprentice first show up is chilling and unlike anything we've heard in the franchise, while his use of alien punk rock for Sabine's reintroduction simply rules. Between Ludwig Göransson's Mandalorian theme, Nicholas Britell's rousing score for Andor, and Kiner's longtime contributions to the franchise, post–John Williams Star Wars is in good hands.