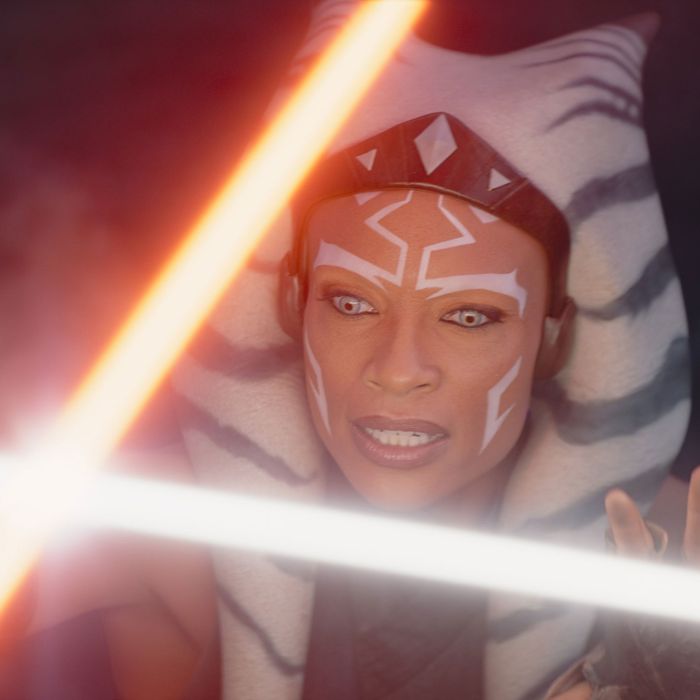 Ahsoka
Part Five: Shadow Warrior
Photo: Lucasfilm Ltd./Lucasfilm Ltd.
One of the many ways in which the context added by The Clone Wars improved the prequels was how the cartoon took the time to show that the Jedi were literally using child soldiers during the war. We never really see Ahsoka in the temple unless she is punished there, and all her lessons and training are about fighting, about killing. There's nothing religious or philosophical about what Anakin has to teach his Padawan, and that, of course, would mess a person up. All Ahsoka ever knew was war, all she ever saw growing up was violence, and look where that got her. Her order ruined, all her friends dead, and her master a genocidal monster. No wonder she has attachment issues, but we haven't really seen that play out directly, until now.
In what is the best episode of the show so far, which includes some of the best moments in all of Disney Star Wars TV, Ahsoka goes through her own version of the Dagobah cave from Empire Strikes Back, confronting the dark side and her biggest fear — becoming her master — before coming out the other side stronger and with resolve. We start with a continuation of her meeting with Anakin from last week, which definitely does not take place in the world between worlds, but rather some nebulous netherworld of the Force, with Ahsoka caught between life and death. Anakin promises to fulfill Ahsoka's training, which he never did in life because she left the order before her final tests.
Of course, in very Anakin fashion, his training involves fighting his former Padawan and trying to kill her. And with a quick lightsaber slash to the floor, the two fall to a flashback from the early days of Clone Wars — specifically, it looks like the Battle of Ryloth from the very first episodes of The Clone Wars. We see a baby Ahsoka (played by Ariana Greenblatt), still with one green lightsaber, as well as clone troopers with practical suits (what a delightful sight) and, most importantly, Hayden Christensen pulling Anakin's cartoon armor off to perfection. The de-aging works much, much better in this episode than last week, even if it is still a bit jarring at times. No matter, however, because what is most important is that Hayden Christensen sells this Anakin, finally getting to showcase an aspect of the character we never saw in the movies, but which made Anakin a fan favorite thanks to the cartoon — the sarcastic, fun, inspirational leader and hero of the Republic. This Anakin is snarky and he leads his troops with gusto, with Christensen marrying Matt Lanter's portrayal with his own.
Anakin finally turns subtext into text and talks to Ahsoka about how times changed when she became his Padawan. During the Clone Wars, he was no longer able to teach her how to be a keeper of peace. Instead, all he taught her was to be a soldier, which was the style at the time, like tying an onion to one's belt. Ahsoka was a child soldier, and it messed her up that all she knew was war. But what happens after? What happens when there is no more fighting, and what if Ahsoka wanted a Padawan? What could she possibly pass on? Evading answers like a good Skywalker, Dave Filoni, who wrote and directed the episode, pulls the kind of iconography-heavy shot his team did all the time in the cartoons, with a phenomenal show of Anakin leading his clone trooper into battle, transforming back and forth between Anakin and Vader.
But the lesson isn't over. We jump forward in time to the literal last day of the Clone War, the day of the siege of Mandalore. While we all expected this series to be mostly about playing off Rebels, this episode is more of a coda to The Clone Wars, particularly Ahsoka's story in the Mortis Arc of that show, in which she experiences visions of Anakin's dark possible future and wonders if she might turn out that way, too. We even get an older Ahsoka killing Death Watch members, and seeing an actual teenager playing Ahsoka truly highlights the cruelty (and the war crimes) of the Jedi in sending children off to war.
While the pacing of the episodes continues to be horrendous, it is a fantastic scene, one that serves as great fan service — Temuera Morrison voices the clones! Captain Rex makes his triumphant live-action debut! Clone troopers with the painted helmets! — and a recap for those not familiar with The Clone Wars. It is also an important moment for Ahsoka, who clearly is still struggling to reconcile the master she loved with the man he became, the lessons he imparted to her and the potential to follow in his evil footsteps. It makes sense now that she chose Sabine as a Padawan, as she was already a warrior that couldn't be twisted into evil, because she is already who she is. It also makes sense why Ahsoka pushed Sabine away so much, because she feared she would become like her master and follow in his legacy of war and death.
Speaking of fan service, we also get a moment that Clone Wars fans have imagined for years, a fight between master and apprentice, Anakin versus Ahsoka, both in their prime. The result is one of the best lightsaber duels in years, with Christensen demonstrating the raw power (and also the flair and penchant for theatricals) of Anakin, and Ahsoka showing she learned from the best. But this is part of the test, after all. And like Luke in Dagobah, or Rey in Ahch-To, Ahsoka needs to let go. So rather than strike down her dead master (in a duel full of stunning iconography, like both characters veering between light and dark, the lighting showing the potential of both), Ahsoka does like Luke and tosses her lightsaber away. She passed the test. She chose to live, to fight, rather than stand back and die.
Luckily for Ahsoka, Jaycen had already sensed her presence, so Hera manages to find her before she drowns — because magic Force netherworld or not, Ahsoka was still underwater. Sadly, the happy reunion is cut short, because Hera is called back to Coruscant for a court-martial, but Ahsoka has a plan to find Sabine and Ezra. She literally communicates with a giant, star-destroyer-size Purgill, and then jumps to hyperspace with them, hopefully toward Sabine. And so, we have our classic Empire Strikes Back finale here at the midway point. The bad guys have won a big victory while the heroes are scattered. And yet, there's always a new hope.
The Jedi Archives
• Huyang continues to be the show's MVP. David Tennant's delivery of "they never listen" when talking about Ahsoka is absolutely heartbreaking.
• We finally get a mention of Leia! Turns out, Senator Organa is helping Hera out, thankfully.
• Jaycen is definitely Force-sensitive, and we get our first mention of his father, the late Kanan Jarrus.
• Out of all the Clone Wars references and nods, seeing Captain Rex in live-action is by far the best.
• Ahsoka uses an ability from the Star Wars Jedi games that allows her to sense the history of an object, which rules.
• I need to ask again, where is Zeb? Is he safe? Is he all right?
• Give it to Filoni to dedicate the entire episode to a Lord of the Rings reference. Ahsoka literally fights her version of a Balrog, then falls into shadow before finally emerging dressed in white like Gandalf the White. She even seems more cheerful than before, more like her old self.