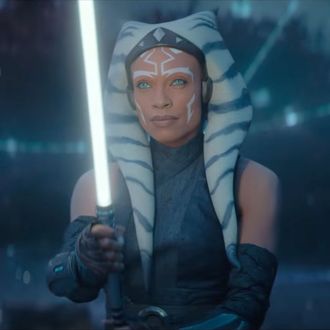 Rosario Dawson as Ahsoka Tano.
Photo: LucasFilm
An Ahsoka Tano show has been a long time coming for Star Wars fans. After making her debut as Anakin's young Padawan in the animated series The Clone Wars, George Lucas's last Star Wars effort, Ahsoka's journey has been a high-climbing roller coaster with high highs (becoming one of the franchise's most beloved and developed characters) and low lows (receiving extremely contentious fan reactions). Originally voiced by Ashley Eckstein, the character was drawn and created by artist Dave Filoni, now Lucasfilm's executive creative director, for Clone Wars. Since her inception, the character has been shepherded from many seasons of Clone Wars to Star Wars Rebels and recently into The Mandalorian universe as he and his Ahsoka, now played by Rosario Dawson, make the leap from animation to live action. Here, everything we know about the upcoming, highly anticipated Star Wars series.
Ahsoka will be released in 2023.
Let's get to your most burning question first, shall we? Filoni has finally spilled the release date at Star Wars Celebration 2023. After a year of teasing, Ahsoka is officially coming in August, people! That'll give you plenty of time to queue up Rebels because, as we'll explain below, you may to need it.
Has a trailer come out yet?
As you can see, the release date wasn't the only thing revealed at this year's Star Wars Celebration. A teaser for the show premiered at the event, and the two-minute trailer centers on Dawson's Ahsoka as she continues to wander the galaxy, even "hearing whispers about Thrawn's return." But it's not without a few surprises, like confirmation that Mary Elizabeth Winstead is, in fact, playing live-action Hera Syndulla. Mother!
Who is in the series?
While Ahsoka is clearly Dawson's show, it seems more and more likely that Natasha Liu Bordizzo will have a major part to play as Sabine Wren, another prominent character from Rebels (voiced by Tiya Sircar). Filoni also confirmed our suspicions that Winstead — whose involvement in the series was sweetly spoiled by her own husband, Obi-Wan Kenobi himself, in a Vanity Fair cover story — will be playing Hera, who was voiced by Vanessa Marshall in Rebel. The footage confirmed that Genevieve O'Reilly's Mon Mothma joins the cast along with The Inspection's Eman Esfandi as Ezra Bridger. It'll be the character's live-action debut after appearing in Rebels (originally voiced by Taylor Gray). Ray Stevenson and Ivanna Sakhno's unnamed and possibly Sith (they're wielding red sabers!) baddies also debuted in the trailer. Oh, and how could we forget that Chopper the droid will make his live-action debut as well.
The one rumor hanging over us is that Hayden Christensen may return as Darth Vader for Ahsoka. After THR reported the news in October 2021, Dawson commented on her Instagram with the caption "Skyguy … They know!!! See you soon, Snips." (Skyguy and Snips are their character's nicknames for each other in The Clone Wars.) She quickly deleted the post. Dawson later told Vanity Fair for its June 2022 Star Wars cover story that she deleted the post after someone from Star Wars HQ emailed her saying, "You might want to take that down."
What do we know about the plot of Ahsoka?
The plot of Ahsoka has largely been kept under wraps … that is, until footage — which we normies have yet to see in 2023 — at Star Wars Celebration 2022 confirmed fan speculation. Ahsoka and Sabine are searching for Ezra Bridger, baby! In a short teaser shown exclusively for the Mando+ panel crowd, fans saw Ahsoka in front of the Rebels mural as Bordizzo's Sabine walks in to join her.
A year later, at Celebration 2023, fans at the event and online were treated to footage that just further solidifies the idea that Ahsoka is a Rebels continuation rather than a Mandalorian spinoff (though we're sure Grogu and Din will be obligated to pop up somewhere in the series). The teaser clearly presents us with Ahsoka coming to Sabine as she starts to hear rumors about the return of Thrawn, the blue-skinned Imperial who was "defeated" by the end of Rebels. Although, despite the rumors of Thrawn's return ("as heir to the Empire") — we see presumably the back of his head — the teaser shows Sabine still wondering about Ezra, who is seen only briefly on a hologram. With the looming threat of the Empire, Winstead's Hera says, "We must prepare for the worst." Will they have to desperately search for more Jedi (a.k.a. Ahsoka and Ezra) as the Empire rises?
Now what the hell does this mean if I'm unfamiliar with Rebels?
Okay, yeah, it's a lot of story if you haven't seen the animated shows, but Star Wars is going to keep weaving in animation with the live-action shows whether we like it or not. To keep it short, the finale of the Rebels animated series featured a huge face-off between the Ghost crew (Ezra, Hera, Sabine, and Zeb Orrelios, who was just on an episode of The Mandalorian) and the Empire. Jedi Ezra saves his planet and friends by flinging himself and Thrawn into space with the help of some Purrgil space whales (I promise it's more emotional in context.) The Purrgils also made their live-action debut in this season of The Mandalorian. But since the show's finale, way back in 2018, fans have been waiting for a continuation show with Sabine and Ahsoka on the hunt for Ezra. Now the pieces are all coming together for Filoni's Ahsoka.
When is Ahsoka set in the Star Wars timeline?
While Star Wars Rebels takes place about five years before the events of A New Hope, the new Ahsoka series will presumably pick up after her appearance in The Mandalorian season two. The Mandalorian series is set five years after the events in Return of the Jedi.
This post has been updated.