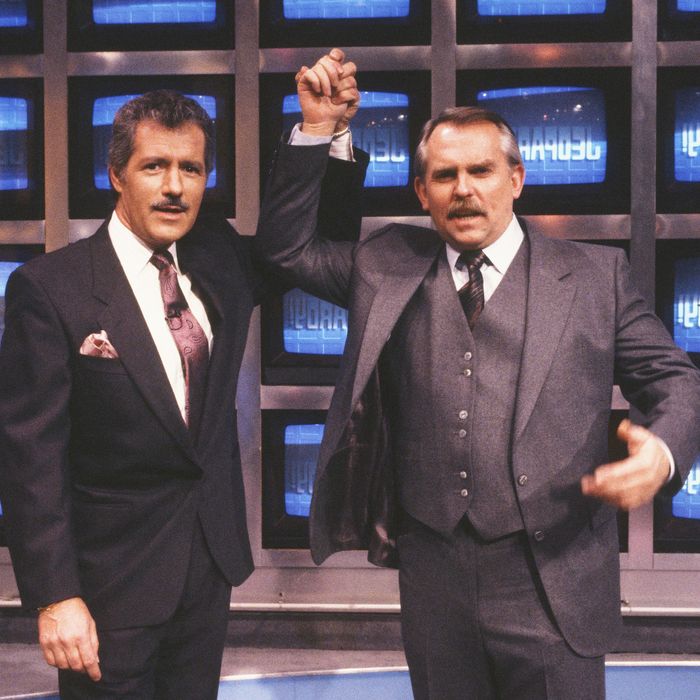 Photo: Kim Gottlieb-Walker/NBCU Photo Bank
It was Jeopardy! that cemented his legacy, but Alex Trebek — who died from pancreatic cancer on November 8 at the age of 80 — had a much richer TV résumé than a lot of people realize. To start, he had been hosting game shows since 1962, including The Wizard of Odds, Classic Concentration, and To Tell the Truth. Yet he did more than stand behind podiums and quiz contestants: Trebek also appeared on a variety of TV shows — usually as some version of himself.
It didn't take long after he started hosting Jeopardy! in 1984 that Trebek transcended his role as a career game-show host and became a major figure in American pop culture (despite being Canadian), appearing on multiple sitcoms and iconic shows like Baywatch and Beverly Hills, 90210. Trebek also lent his voice to several animated children's programs of the '90s, like Rugrats, The Magic School Bus, and Arthur, meaning some millennials grew up familiar with his baritone before they had ever heard of a Daily Double.
If you're missing Trebek and are in need of extra doses of his signature wit, here are a few of the our favorite Trebek forays into other, non-Jeopardy! types of television.
Mama's Family
Season 4, Episode 19: "Mama on Jeopardy!" (1988)
When Jeopardy! comes to Raytown, Thelma Harper (Vicki Lawrence) winds up as a contestant on the show, up against a college professor and thermonuclear physicist. After not performing particularly well during the first two rounds of the game, Thelma manages to end up with $1 following Final Jeopardy, which is enough to put her in second place. Though she assumes the second-place prize is a set of Lee Press-On Nails, it's actually a trip to Hawaii. Thelma reacts with a high-pitched scream, and by running over to Trebek and kissing him on the lips. Available for purchase on Amazon Prime Video and airing on MeTV.
Cheers
Season 8, Episode 14: "What Is … Cliff Clavin?" (1990)
Know-it-all postal worker Cliff Clavin (John Ratzenberger) is a contestant on Jeopardy! when the show has a taping in Boston. The game was a runaway for Cliff, but he risks it all on Final Jeopardy, and instead of identifying Cary Grant, Tony Curtis, and Joan Crawford by their original names, he responds with, "Who are three people who've never been in my kitchen?" The show ends with Cliff having an on-camera meltdown, insisting that he is the real winner (which is now a more timely twist than it should be). But the part where Trebek really shines is later in the episode when he visits Cheers to grab a beer and ends up making a connection with Cliff — and, of course, gets propositioned by Carla Tortelli (Rhea Pearlman). Streaming on Hulu.
The Golden Girls
Season 7, Episode 16: "Questions and Answers" (1992)
Dorothy Zbornak (Bea Arthur) and Blanche Devereaux (Rue McClanahan) both take the Jeopardy! test (like Carla, Blanche would like some alone time with Trebek), and Dorothy makes it to the next round of auditions. While prepping, Dorothy falls asleep and dreams she's on the show competing against Rose Nylund (Betty White) and their neighbor, Charley Dietz (David Leisure). Dorothy is ahead until Final Jeopardy, when she incorrectly responds that Ulysses S. Grant was buried in Grant's Tomb, when the answer Trebek was looking for was "Cary Grant" (evidently a popular Final Jeopardy response on sitcoms at the time). Dorothy pleads her case to Jeopardy! creator Merv Griffin, telling him that he's the most beloved man in America, adding: "You are bright. You are charming. You are the anti-Trump." She still doesn't win — both in her dream and after she wakes up. (In 2014, Trebek appeared on another Betty White sitcom, Hot in Cleveland, where he played a version of himself who works as park ranger on the weekends, and came to the rescue when he found out that "there were women in … jeopardy.") Streaming on Hulu.
The Nanny
Season 3, Episode 2: "Franny and the Professor" (1995)
C.C. Babcock (Lauren Lane) bets her brother Noel Babcock (Michael McKean) that he wouldn't be able to get Fran Fine (Fran Drescher) on Jeopardy! He succeeds, and Fran is a contestant on the show. Playing himself, Trebek effortlessly banters with Fran, as she over-explains her answers, files her nails at the podium, and celebrates getting a Daily Double by making (and then blowing out) finger guns. Her opponents get Final Jeopardy wrong and wager too much, and Fran ends up winning with a total of $200. The episode also features a cameo by Roger Clinton, playing himself. Airing on CoziTV.
Blossom
Season 5, Episode 14: "Who's Not on First" (1995)
Irritated that no one is taking his intellect seriously, Joey Russo (Joey Lawrence) dreams that he's a contestant on Jeopardy! (is this really that common of a dream?!), playing against his sister Blossom (Mayim Bialik) and Albert Einstein (what appears to be Ted Wass). In his dream, Joey is the returning champion, married to Cindy Crawford, and ends up winning the most prize money in Jeopardy! history: more than $13 million. Trebek portrays himself, announcing a round of Joey-centric categories including "Hair Today," "Sleeveless Shirts," "Famous Muscles" and "Whoa" — which he delivers via a decent but admirable Joey impression. In this version of dream Jeopardy!, Trebek says he's inspired by this successful contestant, ending with the line: "Joey Russo: An incredible human being." Available for purchase on Amazon Prime Video.
Beverly Hills, 90210
Season 5, Episode 25: "Double Jeopardy" (1995)
Brandon Walsh (Jason Priestly), Clare Arnold (Kathleen Robertson), and Andrea Zuckerman (Gabrielle Carteris) are competing against each other for a spot on the Jeopardy! College Championship. Brandon and Clare both have similar dreams where they appear as contestants on the game show, both of which feature Trebek as himself. Clare's dream involves a round where every response is "What is Brandon Walsh?" in categories including "Minnesota Studs," "Walshes," and "Hot Guys." When she wins, Jeopardy! announcer Johnny Gilbert presents Arnold with her very own Brandon Walsh "with moveable limbs and pullable hair." Show is streaming on Hulu, but episode is unavailable.
Rugrats, The Magic School Bus, and Arthur
Season 2, Episode 24: "Game Show Didi/Toys in the Attic" (1993)
Season 3, Episode 6: "Shows and Tells" (1996)
Season 5, Episode 1: "Arthur and the Big Riddle/Double Dare" (2000)
Those who grew up in the 1990s were treated to not one, but three Trebek appearances in children's animated shows. The first is in a 1993 episode of Rugrats, where he plays Alan Quebec, the host of a Jeopardy!-esque game show called Super Stumpers, on which Didi Pickles (voiced by Melanie Chartoff) appears as a contestant. Three years later, Trebek lent his voice as the host of the International Show-and-Tell Competition on an episode of The Magic School Bus. His animated character is a smooth-talking, suit-wearing, mustachioed silver fox, so between that and his distinctive voice, the reference is pretty clear. On top of all that, Trebek voices another animated TV game-show host based on himself (Alex … Lebek!) on two episodes of Arthur. You can judge for yourself which performances is the best out of the three. Streaming on Hulu, Netflix, and Amazon Prime Video.
Baywatch
Season 9, Episode 8: "Swept Away" (1998)
Lifeguard Alex Ryker (Mitzi Kapture) lands a spot on Jeopardy!, but a few days before the taping, she rescues a fisherman who falls off a breakwater and is in danger of drowning. As it turns out, the fisherman is Trebek (again, playing himself), which is unfortunate for Alex Ryker because of a strict rule disqualifying you from the show if you know anyone who works there. And no, exceptions are not made, even if you save the host's life. To make up for it, Trebek shows up at the lifeguard station with a bag of Jeopardy! merchandise for Alex. Streaming on Amazon Prime Video.
The Simpsons
Season 24, Episode 5: "Penny-Wiseguys" (2012)
In order to earn some money in a hurry (don't ask), Marge Simpson (voiced by Julie Kavner) competes on an episode of Jeopardy!, where she ends up with –$5,200. This leads Trebek to ask Marge for the money she lost to the show. While obviously that's not how the game is played in real life, it's definitely the kind of things that would happen in Springfield. Streaming on Disney+.
RuPaul's Drag Race
Season 10, Episode 7: "Snatch Game" (2018)
Though Trebek didn't make it into the Werk Room, he did make three video appearances in one of the show's fan-favorite "Snatch Game" episodes. The first was during the game itself, when he provided the prompt: "I'm putting together a brand new version of the show just for drag queens. Instead of answering in the form of a question, the queens must now respond with a blank." Trebek came back during the final portion of the show with a Latrice Royale reference ("What is, 'chunky, yet funky?'") and to provide Ru with an "amen" per his request. Available for purchase on Amazon Prime Video.