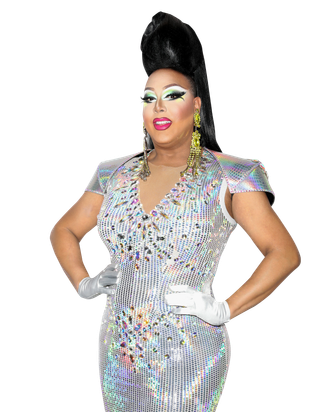 Photo: Tristan Fewings/Getty Images for World Of Wonder Productions
Alexis Mateo has been the source of some of the biggest surprises on RuPaul's Drag Race All Stars this season: returning again after All Stars 1, getting a rap about Daddy Jhankeey stuck in all our heads, paying tribute to Walter Mercado, and, yes, getting entangled in drama over an alleged conspiracy to vote out the Shea Couleé. But as she leaves Drag Race for a third time, she wants you to know just one thing: "I cannot even be more truthful to myself than this show," Mateo says after her elimination. "A lot of people call me mean. I was not mean. I probably was bitchy, but guess what? That's who I am. I'm 40 years of age; I deserve to be who I am."
So that's how Mateo competed this time around. No, not just being bitchy, although she did give us a healthy dose of that. (Let's take a moment to appreciate her parting words to India Ferrah: "You're a liar, and this is why Derrick don't like you.") She wanted to be unabashed about her Puerto Rican culture, choosing to come back in the first place because she still hadn't seen a queen who spoke Spanish as their first language win the competition. Although she stayed sickening for her whole run, the drama caught up to her as her fellow contestants unanimously voted her off in the season's most shocking elimination yet.
When you saw that Latrice and Manila got to come back on the last season of All Stars, did that get you thinking about coming back?
Honestly, yeah. I am a Latino who speaks Spanish as my first language, and going into the show, it has been always in my head that [there's] not enough Latino participation. I have never seen somebody like me, that doesn't speak English as their first language, win the competition. So it's always in the back of my head that there's something missing to win the crown. That's the reason why I came back to the show.
This season, you showcased a lot of Latino culture that some people weren't as familiar with. With the Snatch Game, one of the judges said, "I didn't know who Walter Mercado was, but now you did this and I know exactly who he is." How did that feel for you?
It's always great. I mean, part of my drag is to educate people. People take it in the wrong way sometimes, 'cause people are like, "Oh, Alexis hasn't evolved," or "Alexis relies too much on Latin culture." I always have to remind people that I've relied on nothing — that's who I am. I am not playing a campy queen. I am not playing a fashion queen. I am a Latino queen, and that's who I am. It was a very important thing to not only introduce Walter Mercado, but walk into the werkroom with my Puerto Rican flag, meeting Ricky Martin, singing in Spanish for the first time on TV for me, introducing people to Daddy Yankee. I did what I needed to do this season to give a little piece of who Alexis is on the inside.
I just wanted to say, too, I still have the Daddy Yankee verse playing on repeat in my mind.
[Laughs] Let me tell you, all the girls do it all the time. We have a little All Stars group chat, and randomly during the night or something, Shea Couleé or Cracker or Jujubee, somebody always goes, like, "Daddy Yankee!" They're like, "We cannot take it out of our heads!"
You knew a lot of this season's cast, either through season three or All Stars 1. What was it like to come in and see so many people again?
I was very excited to see Mariah [Balenciaga]. Me and Mariah, people don't know this, but we're very close. She's one of the only girls who I remain in contact with from season three. I don't even see her any longer as a drag-queen sister — just one of my best friends. And she deserved another chance to be exposed to the new generation of Drag Race. I work with India every day of my life here in Vegas, of course — our season-three common bond is there. Jujubee and I, we're not close, but we represent the old school of Drag Race. Seeing her there, I was like, Okay, this is gonna be really, really interesting, 'cause I know she makes everything a fun time.
I do have to talk to you about what happened these last few episodes. It seems like a lot of this goes back to when you voted for Shea to leave.
Right.
Do you stand by that vote? Do you regret it at all?
Okay, let me tell you one thing. India and I work every day here in Vegas. I did not want to vote against her, 'cause it would be a miserable time at work when I come back home. Mariah, of course, one of my best friends, it's not gonna happen. Plus, people don't get to see how hard she worked on the season. I saw her making photocopies; I saw her writing a script for the challenge. So, yeah, I was not gonna vote for her. And even though everybody [wants] to love Shea Couleé, she got the worst critiques of the night. We, in the beginning, decided we were going to follow a track record, and I think she had the worst critiques that day. As the great pageant queen I am, I'm not as scared to place my vote for the person who deserves it. So, yeah, I voted against Shea — and, yeah, it was a big deal. The fans hate me. They tell me I needed to kill myself and things like that. But you know what? I did it with a clear conscience. It was no plot; it was no campaigning; it was nothing. It was just me being a fair competitor on a national TV show.
If RuPaul puts a game in front of you, you should play the game.
I feel like people go into watching the show with their favorite already picked and don't give the opportunity to see what's happening and the growth through the competition. I was granted a vote every challenge, and [Shea] got the worst critiques. All the girls were like, "Yes, she did." So I don't understand. I feel like the other girls were very scared of voting against her. I'm that bitch! I said, "I'm not scared!" If you got the worst critiques, you're gonna get the vote. Good night, God bless you. [Laughs] Just like I respect that she didn't vote against me when the whole India shenanigans happened, because I didn't deserve to go home. I did great in the Snatch Game; my runway was a hit; I was literally a contender to win that challenge; and it would have been unfair for me to go home.
You got a note from India in this episode, and you said you're working with her a lot in Vegas. Have you talked to her since the show?
We exchanged some text messages. Even though I did not like the stupid stunt, I also believe that she was being attacked by the fandom too hard. I was in that position weeks before, so I reached out to her and made sure she was okay. My conscience is clean. I don't care about what she really has to say about me. At this point, I'm living my life to make myself happy, so I don't want to hold grudges against nobody.
What did you get to show people this time around that you didn't get a chance to show before?
I reminded people that I'm still a great competitor, a great entertainer, and a well-put-together drag queen. People got to see that I am a very secure human being and that I have my head well put on my shoulders. People realized that I'm not a stupid little girl from Puerto Rico. I am a fierce individual: I have a voice, I have an opinion, and I'm not scared to take the steps to a better future. Point-blank, that's what I showed on that show. [Laughs]. That was some crazy shit.