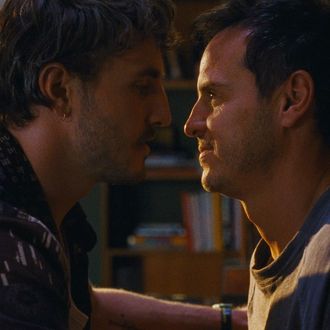 The one and only Sexy Priest.
Photo: 20th Century Studios
In news designed to make homosexuals make weird sounds when they hear it: Looking and Weekend creator Andrew Haigh's new movie includes Fleabag's sexy priest, Andrew Scott, and Normal People's sexy shorts wearer, Paul Mescal, in a loose adaptation of Taichi Yamada's 1987 novel, Strangers. Also starring in the cast are The Crown's Claire Foy and Kate Mara's Jamie Bell. Foy has plenty of reasons to shout "A bunch of boys!" again. And the trailer for the film is just as sensual, gorgeous, and gay as any self-respecting homosexual might hope.
There's fondling and leg touching and a sexy mustache. Plus there's parental ghosts, dramatic, colorful lighting, and a writer expressing deep yearning. There's even a father apologizing to his gay son for their lack of connection, which is honestly reaching a point of pandering, but we accept it anyway. On top of all of that, the trailer is set to Pet Shop Boys' version of "Always on My Mind." When taken as a whole, this trailer is reaching a fever pitch of gayness not seen since Anetra lip-synced to "Boss Bitch," though this example is a lot more British and dignified.
"One night in his near-empty tower block in contemporary London, Adam (a screenwriter, played by Andrew Scott) has a chance encounter with his mysterious neighbor Harry (Paul Mescal) that punctures the rhythm of his everyday life," reads the press release describing the film. "As Adam and Harry get closer, Adam is pulled back to his childhood home where it appears his long-dead parents (Claire Foy and Jamie Bell) are both living and look the same age as the day they died thirty years before." And yeah, for those worried about a non-explicit "sculptural" gay "lovemaking" situation, don't worry. Vanity Fair has confirmed already that sex is definitely on the table. The film is set to come out (ha!) December 22, 2023, so take your parents while you're home Christmans. They can handle it.
This post has been updated.