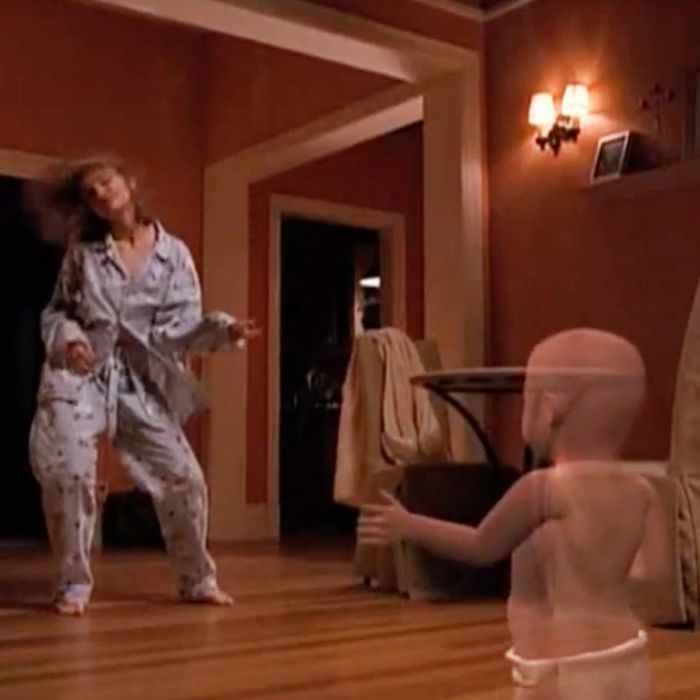 Photo: 20th Century Fox Television
Before Crazy Ex-Girlfriend's Rebecca Bunch used song-and-dance numbers to interpret her inner monologues, and before Jane the Virgin's Jane Villanueva saw telenovela tropes everywhere she turned, there was Ally.
Calista Flockhart's titular 20-something attorney from David E. Kelley's Fox dramedy, Ally McBeal, appeared on TV screens in the fall of 1997 as a nervous, overly educated-yet-still-unsure-of-herself mess. What made her so relatable was the way the show used imagery as a sort of fast-paced shorthand to explain her neuroses. How does Ally feel when she learns her ex-boyfriend, Billy (Gil Bellows) — the one she never really got over — not only works at her new law firm but is now happily married? Like she's been hit with multiple arrows through the heart. How nervous was Ally about giving a eulogy at her college professor's funeral, especially since they'd had an affair? Like she might put a giant foot in her mouth. How would Ally's concerns about her biological clock metaphorize? As an animated diaper-clad baby who runs in front of her and dares her to take notice until they dance it out in her bedroom to Blue Swede's cover of "Hooked on a Feeling."
It was this scene, from the season-one episode "Cro-Magnon," that catapulted the show from cult hit to an office water-cooler sensation. But where do dancing babies come from? The creative team behind it explains how it was born.
'It Was Kind of the Birth of the Internet'
The Dancing Baby — who will also answer to Baby Cha or the Oogachaka Baby, given its proclivity for the musical stylings of Björn Skifs — was not born on a Hollywood backlot but from the minds of Silicon Valley creatives. Robert Lurye was working as an animator for VFX house Rhythm & Hues Studios when his friends from The Ohio State University, John Chadwick and Michael Girard, asked if he'd like to work on a freelance assignment for their new animation project, Biped. Girard had already created a demo of a human skeleton that could move and dance, but they needed samples of various skins that could be mapped on top of that image.
Lurye created "five or ten" examples including "a weird purple alien," a chicken, a Tyrannosaurus Rex, a model of Demi Moore, and a baby. That one looked so good that Lurye called his next-door neighbor, a co-worker at Rhythm & Hues, over to look at it because "it was spooky and cool." He says everyone who saw it "got chills."
They demoed their work at the Siggraph computer graphics conference, after which Girard discarded it, later telling the New York Times that "I remember how disturbing it was and not really understanding why until I realized that the structure of a baby has a lot of baggage that comes with it about how we expect babies to move." That article also provides a crucial detail: The Biped file name for the baby was chacha.bip. Eventually, Ron Lussier, another animator, got the file and provided his own tweaks to the design before uploading it to a CompuServe forum, calling it Baby Cha. More nips and tucks were made by other users, including the addition of the famous opening "Ooga Chaka Ooga Chaka" lines from Blue Swede's version of "Hooked on a Feeling."
The Dancing Baby became the industry meme to know even if the word meme wasn't yet part of common vernacular. It was sent as email attachments, used as screensavers and, according to another Times story, evoked parodies like "Psycho Baby, Rasta Baby, Car Crash Baby and even Drunken Baby, which shows the corrupted digital infant smoking, drinking beer and urinating."
"It was symbolically part of the birth of the internet, the birth of memes, the birth of YouTube," says Lurye. And then, it made its way into Ally creator Kelley's office after his assistant showed it to him. "As soon as I saw it, I asked, 'How do we get it into [the] show?'" he told The Hollywood Reporter in 2017. "It may have been terrifying and hypnotic but it was also perfect for Ally. It tapped in to her internal war. She knew that on paper, a woman her age was supposed to be married with a child, but that wasn't how she felt she wanted to be. The Dancing Baby represented that feeling."
'We Taped Each Doll to a Broomstick'
One of the most interesting things about the Dancing Baby's big dance number is just how far removed it is from the rest of the plot of "Cro-Magnum" — an episode Kelley wrote and which its director, Allan Arkush, otherwise describes as "an exploration of masculinity."
The episode's A story line is about Ally's love life. She's going to go out with a nude model she meets in sculpting class. In the B story line, Ally and her co-worker John Cage (Peter MacNicol) represent the teen son of a client who is facing assault charges after he punched out a guy who insulted his date (Ally argues in the name of chivalry). The C story line involves excitement over an upcoming boxing match.
"The D story is the Dancing Baby," laughs Arkush. Arkush asked his friend Joe Dante, who had directed Gremlins and Gremlins 2, for advice. He was talked out of using a puppet because it would take too long to make and the cables would be visible. But he still needed something to work off of for filming. "So we go out and we buy a couple dolls of various sizes," he recalls. "And what we do is we get a bunch of broomsticks and we taped each doll to a broomstick."
Arkush acted out the movements with the impaled toy to demonstrate to Kelley and the other producers what it would look like during filming. (Technically, he jokes, it was actually he and not Flockhart who first danced with a baby for the series.) But the doll-and-stick trick wasn't entirely effective — they had to hire a choreographer to dance behind the camera during filming.
The actual image of the animated baby would, of course, be added in during post-production. Richard Kerrigan, the visual EFX supervisor for this episode, says he directed Flockhart to be in one half of the frame during filming so he could insert the baby in the second half. He was also involved with the look of the baby, saying that "at one point, David wanted it really solid. And I wrote a memo back saying it'll look fake if it's solid. It's got to be partially transparent in order to blend it in."
'A Cultural Touchstone'
Ally is certainly not the first, or only, film or TV series to use imagery to reference the oft-used "ticking clock" metaphor. But "it became a cultural touchstone," Ally co-executive producer Jeffrey Kramer says, "because it was her fantasy that so many women could identify with."
Watching the scene today is also a measure of how much things have changed since the episode first aired. Rebecca Ortiz, an assistant professor at Syracuse University whose work includes studying media's portrayal of women, points out how much the show focused on Ally's sexual interactions with men. "You can look at that and kind of put it in a time capsule," she says. "That made a lot of sense in the late 90s. Now, the culture around women having children and children being the most important thing has shifted dramatically."
Still, the fandom has endured offline. Vonda Shepard — the musician who sang the show's rendition of "Hooked on a Feeling" and performed regularly on the series — encounters it often when she tours. "We'll do 'Hooked on a Feeling' and the place just goes insane," she says.
But like so many other memes, it's the Dancing Baby's simplicity that has allowed it to prosper online, no longer attached to the TV show that helped make it famous. Earlier this year, Jack Armstrong, a teen studying games programming at University of Bolton in England, went down an internet rabbit hole to find the original file for the image and re-rendered it in HD after a friend asked him to look up the model of the baby to put in a video game called Garry's Mod. He detailed his process in a Twitter thread, which quickly went viral. Since Armstrong's post, it's found life on TikTok — where else?