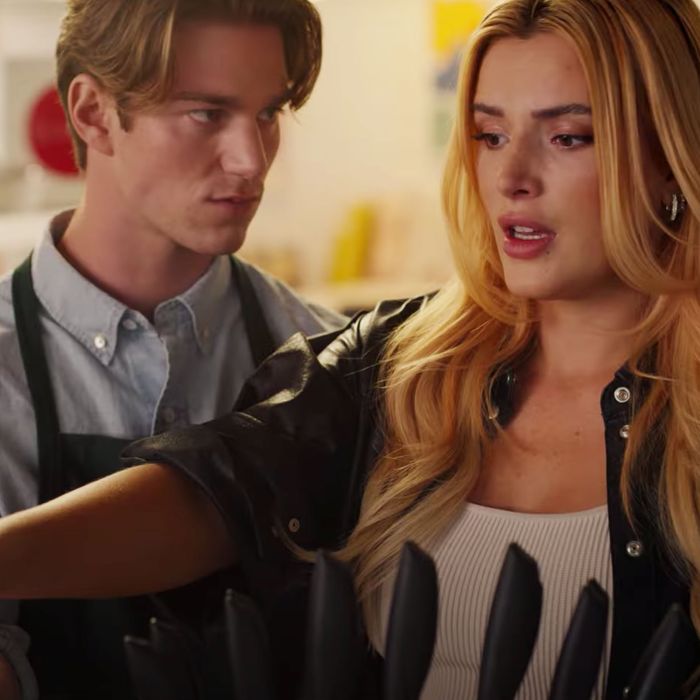 Photo: FX Networks/YouTube
As I mentioned in my recap of "Dollhouse," the AHS franchise has made a reputation for itself as being a hit-or-miss type of deal. Even so, fans of Ryan Murphy and Brad Falchuk's distinct style of horror welcome and embrace the show year in and year out, regardless of any flaws. We take what we're given and — some might say — love the shows unconditionally. That being said, it always feels nice to see something you've been rooting for and championing for years level up in ways you knew it was always capable of.
"Dollhouse" started off season two of American Horror Stories a few weeks ago with a clever and well-written take on an origin story for Spalding, an AHS fan-favorite character. Since then, people have been commenting on Twitter and elsewhere that this season is far better than the first season. Episode three, "Drive," makes this improvement an indisputable fact. Manny Coto, who has written every episode of season two so far, was also the primary writer for American Horror Stories season one. Between then and now, it seems he's come to the realization that if fans were already loyal enough to help bury the bodies of season-one episodes that flatlined, we deserved some fresh cuts from a sharpened writing perspective that slices like a well-balanced knife that feels just like an extension of the hand and feeds our hunger for modern takes on classic scares.
While watching "Drive," I found myself questioning where the episode was going in a truly exciting way and not a "Wow, they're just doing whatever here" kind of way. When we first meet Marci (Bella Thorne), a beautiful and boob-tacular blonde in a one-sided open marriage with her husband Chaz (Anthony De La Torre), we're quickly shown that she loves going out to different dance clubs every night to hook up with men and women in her SUV, so at first, I thought we were headed toward a vampiric The Hunger-type situation where she needed to feed on fresh bodies to keep young and vibrant. Later, when a red Jeep follows her from the club, flashing its high beams and ramming into her, I felt the theme verging into urban-legend territory. In the end, both of these theories proved to be elements of a larger whole, leaving me surprised. Genuinely surprised! By a TV show in 2022! Imagine that.
Making use of soundtrack in a way the AHS franchise hasn't since American Horror Story: Hotel, which created an icy and sexy mood with the use of songs like "Neverland (a Fragment)" by Sisters of Mercy, "Drive" weaves in tracks like "Battles" by Emika to pull viewers into Marci's perspective as we watch her hunting for something that was not what we (or I, I guess I should speak for myself here) expected.
Thanks to some news clips that Marci's friend Piper (Billie Bodega) references, we catch on that people are going missing from these nightclubs and that Marci is either in danger of becoming one of them or has something to do with the disappearances in another way. Both Piper and Chaz show concern for Marci, but she pushes back, saying she just wants to have fun and live her sex-positive life. In the scene that made me think Oh, this is about urban legends, Marci leaves a club one night and is followed by the previously mentioned red Jeep, which revs up its engines, flashes its lights, and eventually rams into her. It seems like a scene straight out of the urban legend often referred to as "killer in the backseat" or "high beams," where this very thing happens to a woman as the driver behind her tries in vain to warn her that there's someone in the backseat ready to decapitate her. This particular urban legend has been used in countless horror movies in the past, such as John Carpenter's Halloween, Black Christmas, and even The Curse of Chucky, but in "Drive," it's more of a red herring. 
After her "killer in the backseat" moment, Marci uses the license plate she jotted down from the Jeep to track down the person who was driving it, a young guy named Paul (Nico Greetham) who works in a Crate & Barrel–esque home-goods store. You may remember Greetham from the second half of American Horror Story: Double Feature, where he plays Cal, a gay man forced to give birth to an alien-human hybrid baby. I'd say that, situationally, he fairs better this time around, but not by much.
Entering Paul's house through a conveniently unlocked door while he's in the shower, we're given another red herring when Marci finds a selection of missing-persons fliers tacked up on a corkboard over his desk. We're briefly made to wonder if Paul is the one killing all of these people, but then Marci plunges a needle into his neck, knocking him out with some sort of animal tranquilizer which doesn't take effect fast enough. There's a struggle, but then Chaz pops up with a baseball bat to take Paul down. It's true what they say about marriages, couples do well by sharing common interests.
With the story clicking together at this point, I thought back to a line Marci delivered to a guy at the club earlier in the episode: "I believe everybody should be a little scared now and then." We were given hints about Marci's dark side but were made to wait to see the root of it. One side of Marci's face is tinted with a dark birthmark, and when she was younger, hot, popular guys like Paul made her life hell because of it. Her hunger in her adult years is not for sex from these men but for a bloodier type of physical revenge. In a sealed room within the wine cellar of her home, she tortures these perfect bodies the way they mentally tortured her by shaming the "flaws" on her body.
The real theme of "Drive" is not so much hunger for revenge but loyalty. Chaz, the husband who stood by Marci no matter what, loving her for all her imperfections and quite literally helping to "hide the bodies," proved himself to be ride or die in a way most aspire to be — or aspire to have. Surprise! It's an American Love Story!
If the episode has one flaw, it's the end scene where Chaz and Marci kill their first joint victim, Piper. If Marci's whole motivation for killing was to get revenge, why would she target the person who, aside from her husband, seemed to be her only true friend? Felt like a cheap move and an easy way to wrap up the episode with a bang. Piper could have been swapped out with a person coming to the house to say the water's gonna be shut off for the next hour as they work on city plumbing and it would have been a better choice. If the episode has a second flaw, it's the choice of Chaz as a character name. (No offense to anybody actually named Chaz out there reading this.)