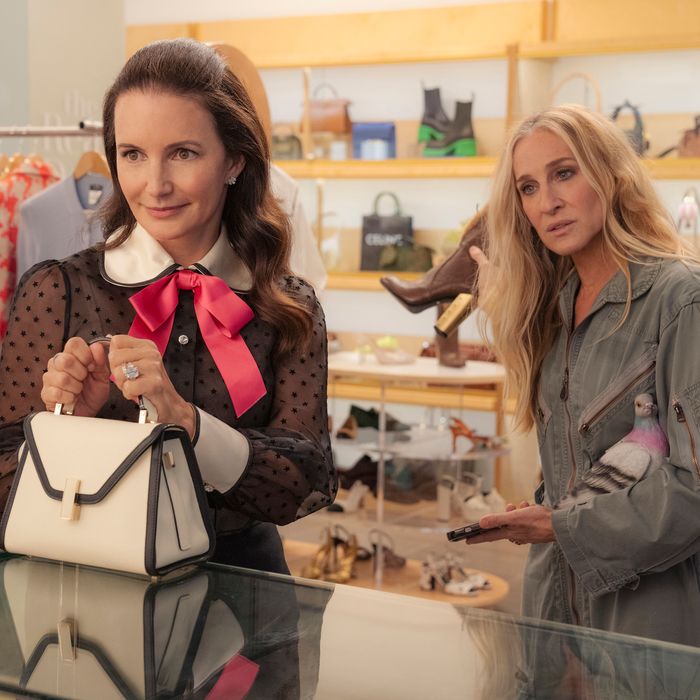 By my calculations, this episode had seven separate story lines running through it. By the end, I had almost forgotten that there was one about Lisa and Herbert dealing with discrimination because the whole thing wrapped up halfway through the episode. That feels like it's going to become a problem if the trend continues — we don't need to check in with every character, every episode; let some stuff breathe, you know? Somehow, it's both too much and not nearly enough. That being said: Where to begin here? My heart wants to start with Carrie's pigeon clutch, which is equal parts hilarious and impractical and apparently costs $890 (!!), but my head wants to go with Che Diaz is married to Oliver Hudson. Unlike Miranda, I refuse to recklessly follow my heart across the country or to tangents in recaps, so Che Diaz is married it is!
Have you heard? In a huge reveal that goes mostly nowhere in this episode, Miranda learns Che Diaz is married. To Oliver Hudson! Okay, so he isn't actually Oliver Hudson, but a bartender at the Malibu Soho House named Lyle and played by Oliver Hudson, but still — I assume that casting means we'll be circling back to this whole situation at a later date. Here, though, we get very few details.
In a welcome surprise, Miranda attends an AA meeting — it's nice to see AJLT did not actually forget Miranda's alcohol problem from last season — and makes a friend who invites her to an afternoon of volunteering at a beach cleanup. In true Miranda fashion, things go very wrong. She winds up losing her phone amid all the collected seaweed and after digging through it with no luck, borrows a phone from some kindly surfers to call Carrie, the only number she knows, to get Che's number and get a ride the hell off that beach. Che is a little peeved by the whole situation since they are supposed to be meeting their TV dad, Tony Danza for dinner and Miranda was supposed to come, too. Why Che Diaz can't just call an Uber for Miranda, one will never know. Instead, Che sends Lyle, who lives nearby, to help Miranda out. When Lyle explains that he knows Che because they were married — and technically still are — Miranda begins to spin out a little.
When Che gets home from their dinner, in which Tony Danza tells them that he and the Danzalions (top-notch fandom name right there) don't think it would be appropriate for him to play a Mexican American character and he wants to change the character to Italian American (and make TV Che's mother the Mexican side), in yet another tiny change to Che's dream, Miranda is waiting for them. She has questions. But, like, not enough questions. Miranda's worried she doesn't actually know Che — she didn't know Che's number; she didn't know Che was, or is, married — and although it is wild to equate those two things, it's understandable that Miranda's a little worried about what she blew her life up for. Che explains that they both are lazy and just never got around to getting divorced, so it's no big deal; this shouldn't be some major crisis for their relationship. Miranda… accepts that? She literally has zero follow-up questions to this information. Isn't Miranda a lawyer?! Ask one follow-up, I'm begging you.
Meanwhile in New York, Carrie's dealing with the drama of having to come up with a fun way to talk about vaginal dryness. Look, I don't come up with this stuff, I just report the news, okay? No one wants to talk about vaginal dryness, but it is a thing and it is a thing that's very important to the vaginal-wellness company that has paid for advertising on the Sex and the City podcast. Carrie could just read the copy handed to her and get it over with, or she could protest and wind up having the most boring postcoital pillow-talk session known to man because she and Franklyn need to come up with new copy for the ad. Carrie chooses the latter because Carrie is a menace to society.
In the end, it doesn't matter much anyway: As much as Chloe — they couldn't have given this character, like, one more note to play? — wants us to believe it was Carrie's hesitation to record the vag ad that tanked the entire podcast-production company, it seems like the company was in a lot of trouble before that. Alas, the Sex and the City podcast is canceled before it really got started, and the same can be said for Carrie and Franklyn. In a very mature move, Franklyn tells Carrie that he thinks he wants a relationship that is more than just Thursdays and if she doesn't want that, they should probably end things. It's so amicable! Carrie's not too busted up about it, nor is she too upset about the end of Sex and the City; she can admit that she thinks she may have outgrown it anyway. Is that a meta-commentary on the reason for creating And Just Like That … instead of simply rebooting Sex and the City? Probably! Anyway, Carrie and Franklyn didn't have much in the way of chemistry, so it's not a huge loss, and honestly, I'd be happy to take a breather from podcast chatter for a little while.
Carrie isn't the only one of our girls learning about being at peace with outgrowing things and letting them go: Charlotte gets a dose of it, too, by way of Lily's new passion — emo songwriting! She puts purple streaks in her hair and everything! Lily is nothing if not committed. When she asks her parents for an electric keyboard because she's a serious songwriter now, they tell her she'll have to come up with the money herself. Lily does so by selling a bunch of her designer clothes to the RealDeal, which is like the RealReal, but it pays in cash. When Charlotte realizes Lily has sold the cute pink Chanel dress Charlotte bought for one of Lily's first recitals, she loses it. She wants to take the RealDeal down, or at least get it to give her the dress back.
After a Charlotte spiral in the middle of one of the RealDeal locations, it's Carrie who has to pull her aside lest she become a meme and get to the heart of what's really going on here. It doesn't take long for Charlotte to admit that this breakdown is less about the Chanel and more about Lily rejecting all of the things Charlotte's given her. She's no longer interested in classical piano; she easily gives away a dress that holds so much meaning for Charlotte. Eventually, though, Carrie helps Charlotte see that it's not really Lily rejecting her mother, she's just outgrowing some of those things and that is natural. It's a nice moment shared among a group of friends, and by group I mean, Charlotte, Carrie, and that fucking pigeon clutch. That pigeon clutch will haunt me for days.
This and That
• Are we also going to circle back on Lisa and Herbert's story line? Herbert's mother is appalled when she catches him yelling at a cab driver who clearly did not want to pick him and his daughter up because they're Black. She tells him that he should never "surrender [his] dignity" and that "Wexleys win by winning," and Lisa agrees with her, telling him that they "know the rules." "When we go off, they win," she tells him, reminding him that he could "pound on the wrong car." It feels like something that calls for a much more nuanced discussion than what two short scenes can offer.
• Okay, Herbert's mother is really savage. When she arrives and finds Lisa at the door in a zebra-print skirt, the first thing she says to her daughter-in-law is "I see you just returned from your matinee performance in The Lion King." Yikes!
• Seema takes Zed back after her hairdresser calls her out on making up red flags in order to run away from relationships, but she winds up being right about having hesitations — Zed is more interested in using her for a new investment. She dumps him for a second time. I hope all of this is setting Seema up for a real love interest this season. She deserves one!
• When Nya's husband tells her that he hasn't cheated "yet" and that he thinks they could solve their issues by using a surrogate to have a baby, Nya officially pulls the plug on their marriage. It's clear he hasn't been listening to any of her concerns or fears about becoming a parent. Karen Pittman is great in her unhinged moment of trashing all of Andre Rashad's belongings. "Bonfire of the beanies at 11!"
• Lily's emotional song about "the power of privilege?" Oh, I laughed so hard. The youths on this show are so ridiculous.
• Never want to hear a grown man say the phrase "it'll take you from dry to wet-ass pussy" ever again, thank you so, so much.
For more, join us for And Just Like That Club, our subscriber-exclusive newsletter dissecting and obsessing over all the minutiae of the new season. Existing subscribers can visit this page to sign up. If you're not a subscriber yet, click here to get started.