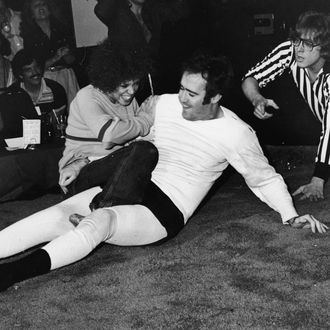 Photo: Fotos International/Getty Images
Andy Kaufman was many things: a performance artist, "song and dance man," comedian, and also pro wrestler. On March 20, Variety reported that the WWE will honor Kaufman's wrestling legacy by inducting him into its Hall of Fame on March 31, an honor shared by many professional wrestlers and a few celebrities whose identities will surprise you. I dare you to find another honorary body on this earth that includes Snoop Dogg, former president Donald Trump, Mr. T, William Shatner, Kid Rock, and Drew Carey. You can't!
Kaufman's wrestling career began on Saturday Night Live and as part of his stage act, where he would invite women in the audience to challenge him for the "World Inter-Gender Championship," a made-up title he claimed to hold. He kept winning matches against the women, which is where real pro wrestler Jerry Lawler came in. A star of the Memphis wrestling territory, Lawler started a legendary feud with Kaufman over his antics, which culminated in a physical confrontation between the two in Memphis. Their match ended when Lawler gave Kaufman a piledriver that would send him to the hospital (where he paid to stay for three days in a neck brace to convince everyone his injury was real). The two would meet again on Late Night, still presenting their conflict as entirely real, in what would become one of the most famous moments in each man's career:
Kaufman and Lawler maintained kayfabe for years, meaning they never let the audience in on the fact that their rivalry and subsequent physical confrontation were staged. But by the time Jim Carrey portrayed Kaufman in the 1999 biopic Man on the Moon, traditional wrestling kayfabe was a thing of the past, and Lawler began to speak openly about his real (good) relationship with Kaufman. "He was so respectful of wrestling," Lawler told an interviewer for RF Video in 2001. "He certainly helped my career and wrestling in general, and I really miss the guy."
While Kaufman's contributions to the world of pro wrestling are undeniable and certainly worthy of induction in any Hall of Fame worth its massive LED-screen entrances, it's interesting that this is happening now. After all, WWE has had a Hall of Fame on and off since 1993, and Kaufman died of cancer in 1984. So what took so long? And why now? Given that this is an honor decided on by Vincent K. McMahon, widely understood to be one of the most calculating men in the entertainment business, there are a few theories to consider:
It's a shot at AEW
In just the last few months, WWE's main rival, upstart promotion AEW, has seen itself gain a lot of cool comedy fans. Marc Maron did a whole offshoot-podcast series where he learned about wrestling from AEW's stars. Paul Walter Hauser had his Golden Globe stolen by Jay Lethal and Jeff Jarrett, who still use it as a weapon to this day. Tim Robinson, Freddie Prinze Jr., and Ken Jeong were spotted in the crowd at Dynamite in Los Angeles. Danhausen got a whole New York Times profile. Maybe all of this cool-kid energy has WWE leadership feeling the need to one-up these indie nerds with a real hard-core comedy legend. This is highly unlikely, however, given that there are lots of other ways McMahon's promotion could throw their comedy weight around. They can probably book Colin Jost and Michael Che anytime they want!
It's an excuse to get someone huge to come to Wrestlemania
As we've mentioned, Kaufman is unfortunately no longer with us, so his induction into the Hall of Fame is really only helpful for ratings and headlines if it involves a huge star, which it has to anyway as each inductee must be inducted by someone else. There are two most likely options here: The first is Jerry Lawler himself, who suffered a stroke in February. But he's reportedly on the mend (enough to be retweeting the Kaufman news, at least) and could very well be healthy enough to attend the ceremony, which would itself be a huge, emotional moment. Though the induction ceremony is March 31, the inductees or their representatives typically appear at Wrestlemania itself the following night for a round of applause from the crowd. The idea that maybe they did this just so Lawler — who was already inducted into the Hall of Fame in 2007 — would have another opportunity to get a big crowd reaction (known in wrestling as a "pop") is almost too heartwarming to believe. The other possibility is, of course, Jim Carrey, which isn't out of the question given that Wrestlemania is happening in Los Angeles this year. Having Carrey there would also be a big moment, but in a more "Whoa, dude, Jim Carrey is at Wrestlemania" kind of way.
Vince has the Memphis tapes
This is maybe the wildest and nerdiest of these three theories. You see, Lawler and Kaufman never wrestled for WWE. Lawler didn't even join McMahon's promotion until 1992, a full eight years after Kaufman died. When Lawler and Kaufman faced each other, it was in a promotion called the Continental Wrestling Association, which was based in Memphis, and which would later become the United States Wrestling Association before going out of business in the mid-'90s. That means the tapes of their feud are not even owned by WWE. In fact, due to several legal battles following USWA's crumbling, it's long been a source of confusion as to who does own the tapes of Lawler and Kaufman wrestling. Now, why would Vince McMahon, whose moves are usually very intentional, want to celebrate the career of a person whose matches he can't even add to the extensive library of wrestling footage he's licensed to Peacock? Is it because Lawler helped him finally secure the rights to this lost treasure trove of wrestling history? I mean, maybe!