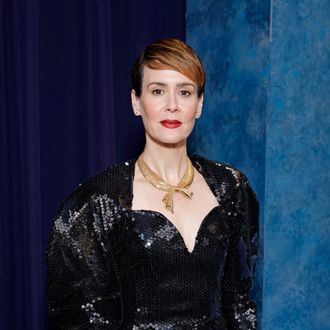 She's so appropriate.
Photo: Stefanie Keenan/VF23/WireImage for Vanity Fair
Actors taking to the stage while SAG is striking against film and TV production? That's appropriate. Sarah Paulson is coming back for the first time since 2013 when she starred in Talley's Folly, alongside the newly announced Corey Stoll (House of Cards, Girls), Natalie Gold (Succession), and Alyssa Emily Marvin (Grey House). Rava hive rise up! They're joining playwright Branden Jacobs-Jenkins's Broadway debut, Appropriate, which first opened Off Broadway in 2014. Appropriate will be directed by Lila Neugebauer, a stage veteran who collaborated with Jacobs-Jenkins on Everybody, for which he earned one of his two Pultizer Prizes. Appropriate follows a family's attempts to deal with the emotional and clerical impacts of their father's death. It's set to begin previews at Second Stage Theater on November 28 with opening night on December 18. All in all, it seems like a perfectly appropriate time for these stars to escape American Horror Story: Hollywood to tread the boards.
This post has been updated with additional cast.