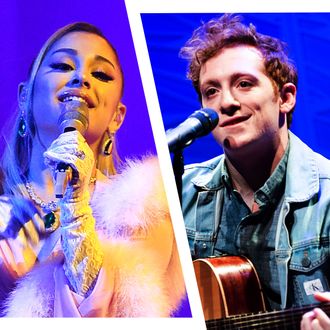 That one theater couple.
Photo-Illustration: Vulture. Photos: Getty Images
Update July 26: TMZ has obtained the divorce papers Ethan Slater filed to divorce his high school sweetheart, Lilly Jay. They also reported a little "his source says, her source says" about the timeline between Slater, Jay, Grande, and Gomez. Some sources told TMZ that Grande and Slater had both been single when they started dating. Meanwhile, sources close to Jay said "she was heartbroken to hear about Ethan's new relationship … and feels he abandoned his brand-new family."
Original post follows.
Looks like she did save a dance for him. Ariana Grande is dating her Wicked co-star Ethan Slater after her split from husband Dalton Gomez, TMZ first reported and People confirmed. The couple began dating "recently," per a People source. It's unclear when Slater split from his wife, singer Lilly Jay, with whom he welcomed a child last year. Their relationship is a bit of a departure from the Wicked script — in the musical, Slater's Boq, a Munchkin, has an unrequited crush on Grande's pretty, popular Glinda. It's also a sort of inter-Nickelodeon collab for the two stars, after Grande got her start on Victorious and Slater broke out as SpongeBob in SpongeBob SquarePants: The Broadway Musical. You could say they deserve each other.
Grande's new relationship is a new wrinkle in her split from Gomez, which was just reported earlier this week. Sources said Grande filming Wicked in London was a challenge for the couple as Gomez, a real-estate agent, stayed back in Los Angeles. She and Gomez reportedly separated earlier this year, and she hasn't worn her wedding ring since at least April. (They married in May 2021.) When the Wicked cast celebrated co-star Michelle Yeoh's Oscar win in March, Grande and Slater were pictured sitting next to each other, with Slater appearing to have his arm around her. The actors may not be doing interviews anymore, but we seem to think the Wicked movie will still be getting plenty of promo.