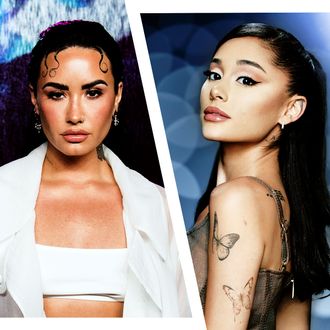 Scoot scoot!
Photo: Illustration: Vulture. Photos: Getty Images
Hey, kids, get outta here! Scoot! Glinda Girl Ariana Grande, the wickedly talented Idina Menzel, and Demi Lovato, who has no relation to the property Wicked, reportedly join the growing list of clients deserting manager and noted nemesis of Taylor Swift Scooter Braun this year, as first reported by Puck's Matthew Belloni, Billboard, and The Hollywood Reporter, respectively. While Menzel, Lovato, and Grande have not spoken about the change, one does have to wonder if they are sorry or not sorry, or perhaps mourning the wicked. Also on the list of Scooter Braun expats is J Balvin, who left Braun in May, and apparently Justin Bieber, who was reported to be making moves to pursue new management last week, though both parties have denied that. Below, a rundown of what's going on with the biggest names in music — Braun included.
Justin Bieber
Reports of a rift between Braun and Bieber — the client he's been identified by for most of his career — kicked off the current speculation on Braun's empire, but Bieber hasn't left quite yet. While Puck reported on August 17 the two haven't spoken in months as Bieber searches for new management, Billboard since revealed Bieber is still under contract through 2027. That could lead Bieber to resolve things and stick it out with Braun, per Billboard, if he isn't able to wiggle his way out of the contract. In the meantime, Bieber and Braun's reps put out a joint statement denying his departure.
Ariana Grande
Grande and Braun first began working together in 2013 with her first album Yours Truly, coincidentally the same one that was rereleased for its tenth anniversary on August 25. A report in Puck claimed Grande was disappointed that Braun did not step up amid tabloid scrutiny on her divorce from Dalton Gomez and new relationship with Wicked co-star Ethan Slater. Braun was reportedly on vacation in Europe when Grande's team asked him to come to New York. "I deserve a vacation," he's said to have replied. One source called Grande's departure "a long time coming." She has also reportedly fired and rehired Braun multiple times, not just the instance that was previously reported in 2016. Meanwhile, a source simply told People that Grande has "outgrown" Braun and is "excited to go in a different direction." Regardless, per Puck, Grande still has time left on her contract with Braun, who wants to keep her (and Bieber) working with HYBE in some way. The Grande source, however, dismissed reports on Grande and HYBE as "speculative at best and not based on fact."
J Balvin
The reggaeton star reportedly left Braun in May, before the current mass exodus; he signed in 2019. It's unclear if his departure was related to the others, since he signed with Jay-Z's Roc Nation shortly after leaving.
Everyone Else
Lovato first signed with Braun in 2019. They're currently in the midst of a rerecording project (Taylor Swift, your impact is immeasurable) (that's a joke), in which they are rerecording a slew of their hits as rock tracks, for an album titled Demi Lovato Revamped, due September 18. The artist does not currently have new management, but is in conversations, according to Billboard, and "was thankful for her time with SB Projects." Menzel also signed with Braun in 2019 and reportedly left this past January. Reps told the Associated Press that Carly Rae Jepsen, BabyJake, and Asher Roth all stopped working with Braun a while ago.
So who else is left?
It's unclear how much artists directly work with Braun these days, since most artists signed to SB Projects have separate day-to-day managers. That said, Billboard reports a number of artists are still on the SB roster (or have not confirmed that they left). These include some of Braun's longtime clients like Tori Kelly (whom he signed in 2013), the Black Eyed Peas (2015), and Lil Dicky (2016). Country acts Dan + Shay and Zac Brown Band, who both signed in 2018 (in a co-management deal), appear to still be on the roster, as do rappers YG (2020) and Quavo (2021, also co-managed), and producer Andrew Watt (around 2017). The Kid Laroi notoriously left SB Projects in September 2021, shortly after signing, but returned in May 2022 after his new manager resigned. And SB Projects has continued to sign new clients this year, including Ava Max, who confirmed to the AP she is still working with Braun, and Ozuna, who signed with SB Projects in June.
How has Braun responded?
After memes about who Braun is and isn't managing began to spread, Braun snarked out one of his own, tweeting, "Breaking news … I'm no longer managing myself." What he is managing to do currently is be on vacation with Usher.
Meanwhile, sources are disagreeing with one another in the press, leaving many people confused about what exactly is going on over at Camp Braun. Some have hinted at more issues at play. "It's a different world since the pandemic," one source told Variety. "You just can't be an asshole like that anymore." But others claim the reporting is a misinterpretation of Braun's career shift. "He's getting out of management — he has been for years," a different source said. "That's the real story." In "Page Six," a source assured that all was fine: "All of Scooter Braun's clients are under contract, and negotiations have been going on for several months as Scooter steps into his larger role as HYBE America CEO." But another simply added, "Where there's smoke, there's fire." So, what's the scoot scoop?
This post has been updated throughout.