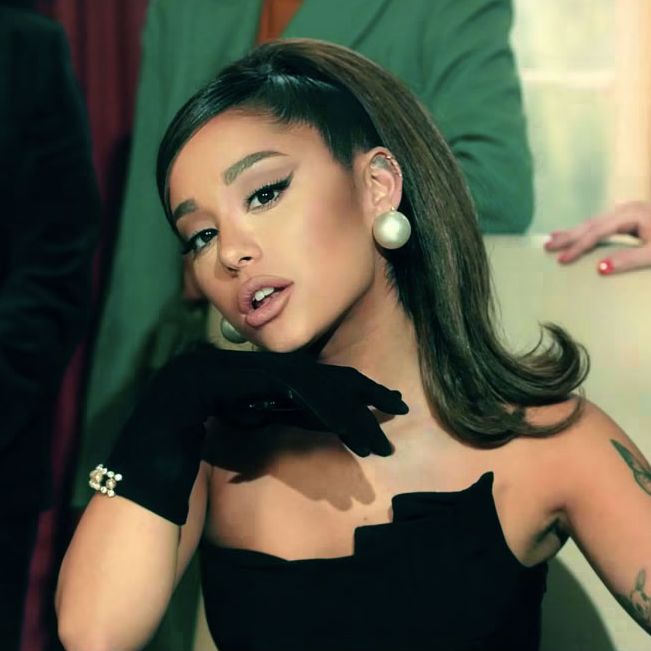 The artist in thirst position.
Photo: Ariana Grande/YouTube
No news is good news in 2020, a time when the nonstop flurry of gag-inducing current events means that to lift your phone in the morning is to subject yourself to a wave of uncertainty, and to watch just 15 minutes of network television is to expose yourself to a tsunami of political attack ads. Peace and quiet, some semblance of the humdrum old-world normalcy we took for granted all our lives, are the prize when the greatest gift a wealthy celebrity like Kim Kardashian thinks to get for her 40th birthday is a calming getaway with friends and family. It is an existence all too familiar to Ariana Grande, who has endured a three-year whirlwind of unexpected losses, terror attacks, new relationships, highly publicized breakups, hit records, and tours — and who has made it through the storm. She's seeing someone new — a real-estate agent you almost never hear anything about, a big shift from the regular Saturday Night Live teas of her days with Pete Davidson. She's writing songs about finding happiness instead of venting about her troubles in songs like "Fake Smile" and "In My Head." "Stuck With You," Grande's spring benefit single with Justin Bieber, signified a rosier outlook on life, treating the unplanned time inside like an opportunity to get to know a significant other better. Her new album, Positions, out today, ups the ante, seeking to dethrone the Weeknd's After Hours for the title of the year's horniest quarantine album.
Positions picks up where "Side to Side" left off on Dangerous Woman. It's risqué and unsubtle in its carnal pursuits. If you don't clock what "34+35" is about from verses and choruses hyping sex as a main event requiring monklike training and preparations, like boxing, at the end, she's there to explain that "It means 69 / Math class." "My Hair" is a step-by-step guide on how the singer wants to be held and caressed (and also a suggestion that you might get to see her out of her signature ponytail if you play your cards right). "Love Language" rewards a smooth talker for knowing how to put a lover at ease. "Nasty" patterns itself after great R&B songs about yearning for a boyfriend to get home from work. Lyrics are lurid and intimate, balancing conversational sweet talk with reckless one-liners. "Nasty" glides from sensual whistle tones to a chorus where Grande sings, "This pussy designed for you." "34+35" gives Cardi and Megan's "WAP" a run for its money: "If I put it quite plainly / Just give me them babies." "You know I keep it squeaky." "I'ma leave it open like a door, come inside it / Even though I'm wifey you can hit it like a sidechick." When she's not serving devilish pickup lines, she's celebrating newfound peace. "Just Like Magic" prizes meditation, good karma, and getting to the bag. "Shut Up" waves off gossip sites and bad vibes but not the lessons learned in dealing with them: "All them demons helped me see shit differently / So don't be sad for me."
As was the case with Sweetener and Thank U, Next, the magic of Positions is the ability to fold different genres into compact hybrids. The lead single and title track is a slick mix of pop, hip-hop, and R&B that goes down smoother than a lot of noteworthy pop-star adventures in trap, which often carry a faint air of trespassing in forbidden territory. Grande seems comfortable in any setting, as Thank U's slick slide from New Wave to dancehall to boom bap to pure pop proved last winter. Positions expands Ari's horizons in unexpected ways. Where Sweetener's secret weapon was Pharrell's fluffy confections, and Thank U's was Max Martin and Ilya Salmanzadeh's unflappable precision, at center stage on Positions is Ariana Grande's effortless vocal runs. Here, they're applied to a spate of beats that employ guitars and string arrangements for color. On "Six Thirty," they dart around the track giving glitchy production an unexpected gravitas in a breakdown at the end. On opener "Shut Up," she slides elegantly across an array of plucked and bowed violins, tumbling down the chorus line — "Maybe you should shuuut uuup" — like snow flurries in winter. The strings invite a measure of Old Hollywood grandeur reminiscent of the music in 20th-century Disney films, at once a subtle reminder that it was wholesome kids' television that first brought Grande to national attention and a setup to draw sharp contrast to the lyrics, which show how far she's come since.
While Positions finds Ariana Grande at peace with her personal life and at the peak of her powers as a singer — few vocalists in a mainstream field of play right now could nail the hairpin turns on "My Hair" and "Love Language," and fewer still would dare schedule those pristine homages to '90s jazz rap and house music in the middle of an album as high stakes as this — it isn't quite the sea change the last two albums were. There's a hint of filler in songs like "Motive," a slight return to the dance-pop sound Ari blasted out of the park with early hits like "One Last Time." Positions feels transitional, building on ideas the singer has explored before and toying around with new ideas but never fully committing to the promise of songs like "Six Thirty" and "Shut Up," undercutting each step forward with a look back at something Ari already perfected elsewhere. These songs are all expertly constructed and pleasant. This team — Ari, Victoria Monét, Tayla Parx, Tommy Brown, etc — is gifted and savvy and deserving of every win it gets, but the formula is starting to feel a little safe now.
Twice in six months between 2018 and 2019, Ariana Grande showed us that she's the young pop star best able to adapt to changes in the landscape of pop, dance music, R&B, and hip-hop — and to make the differences between these genres seem negotiable at best. What else is she capable of? The Disney trap sound peppering Positions posits a jarring new idea, a reckless toying with conventions and expectations, and a tug-of-war between the sacred and the profane, the bedroom and the boardroom (or, in the case of the "Positions" video, the Oval Office) that Grande's uniquely suited for as the teen actor turned pop ingénue having the least worst time adapting to those life changes. She didn't have to hedge bets with holdovers from earlier eras like "Motive" and "Just Like Magic," but smooth, straightforward love songs like "West Side," "Nasty," and "Off the Table" keep Positions afloat. It's a good album; it could have been brilliant.