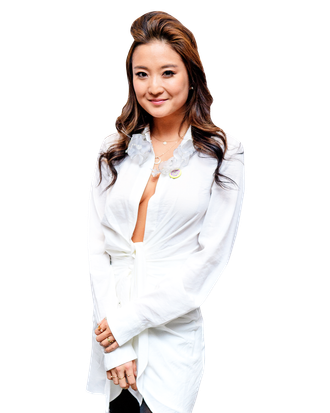 Ashley Park.
Photo-Illustration: Vulture and Roy Rochlin/Getty Images
The key to surviving when you suddenly move to another country — at least in the new Darren Star Netflix rom-com Emily in Paris — is to quickly find a sassy expatriate to school you in the language and make lots of sex jokes. Lily Collins's midwestern social-media maven, Emily, happens to find that person in Mindy, a young Chinese-Korean woman who grew up partly in the U.S., fled a life of privilege, and spends her time as an au pair yelling at children in parks. She's played by Ashley Park, a Broadway veteran who has been in everything from Mean Girls to The King and I. On the show, she gets to gallivant around Paris in fashions partly inspired by her own taste, and she shows off some of her singing talent as we learn about Mindy's reality-competition backstory. Park caught Vulture up over Zoom to talk about how Mindy fits into the Sex and the City friendship framework, along with the status of her theater plans.
First of all, I'm jealous of the fact that 90 percent of your scenes with Lily Collins seem to involve the two of you hanging out over coffee or wine at a table on a Paris street. What was it like shooting on location?
It was amazing. The show exists in these three worlds: the office, her romance world, and the Mindy world. It started to feel like home a bit, like their bench in the Grand Palais garden and that one café that's near the restaurant on her street. Lily is in every scene, and she had no off days so we would just use our scenes together as hangout days. This is what we'd be doing if she had time off: sitting at café drinking Sancerre.
On the show, Mindy is fluent in English, French, and Mandarin. How familiar were you with those last two languages?
French I had taken since seventh grade, but that didn't mean anything. I'm sorry, Madame Harris! I understood certain verbiage and intonations and stuff, but when I had to say French lines on those days, I would just say them over and over again with my hair-and-makeup team because our entire crew is French.
For Chinese, we had someone give me dialect coaching because I had never spoken Mandarin before, and that for me was very important. I wanted it to be the way she'd be screaming, yelling at kids at the fountain with that intonation. For the audition, my sister actually has been teaching in China, so I remember audio-messaging her, being like, "Can you just send me how to say 'Stay away from the fountain' in Mandarin, if you can?"
How much of Mindy's backstory, with her family and her failed run on a Chinese music-competition show, was already established when you were auditioning?
Darren called me after the first table read, and they hadn't written anything past episode three yet. He'd seen me in Mean Girls on Broadway and asked if I'd mind if they wrote in some singing for Mindy. We talked about how we would want it to be story driven and not just singing for the singing. So a lot of that backstory developed after the casting and is still in development, you know? The thing that was written from the beginning is that Mindy is an heiress, and to be the only child of a very wealthy family in any country, from any culture, is a lot of pressure.
I was curious about the song choices for the show. Mindy sings "La Vie en Rose" in the park and then later "Chandelier" to make up for her reality-show experience. Why those songs?
They liked the idea of "La Vie en Rose" from the beginning. Reading on paper, I was like, I'm going to sing this in an epic part of Paris with French extras watching me? That's too much! But it's just right. I learned it all in English and then, a couple of days before, they let me know they actually only got the French rights to the song. I had to learn the French version in two days! It was crazy.
For "Chandelier," I believe we originally intended to do a Lady Gaga song called "Gypsy," and the rights were not attainable. And then they said, "We love the feeling of 'Chandelier' for this big moment for her." I was so terrified to sing that song; it's been done so well. But I remember going to a practice room myself and just figuring out what's my voice and what's Mindy's voice. It was fun when I first saw the series — I've done Broadway, but I've never heard my own voice, what I would sound like just singing from my own soul. I wasn't thinking at all about the style or anything.
Costumes are a big part of this show, as they are for any Darren Star production. How did you all talk about what Mindy would be wearing?
If [costume designer] Patricia Field asked me to wear anything, I would do it, no matter what. She and Marylin Fitoussi, the Frenchwoman who was our costume supervisor and head, we developed it together. As the scenes took shape, we'd talk through, "Okay, Emily and Mindy are at a café, it's this time of day, she might wear this." It felt like picking out my own outfits, like Clueless. Actually, on my way to my audition for the show, Patricia's costume assistant took a photo of me on the subway, just randomly, as inspiration for Mindy. I was wearing a pink hat that I wear in the show. It's what I strive for in real life with my fashion but just much more glamorous.
Wait, what else were you wearing on the subway?
Some Zara heeled boots and comfortable leather Spanx leggings and a black shirt. So all black, very Parisian, and this yellow corduroy jacket and my pink Goorin Bros. hat and my little black Coach backpack.
If there's a Sex and the City analogy to the show, Mindy is the Samantha to Emily's Carrie. Did you think in those terms?
We actually talked about this! The characters are on the spectrum on all four of them. Emily lives in the Charlotte-Carrie world, and Mindy lives in the Carrie-Samantha-Miranda world. Because they both have a bit of Carrie, they get along well.
Do you think of yourself as one of the four?
I wish Samantha, but no! A Carrie. Maybe we're all supposed to connect with her but also because I like to observe life the way she does. She looks at what happens to her and comes up with the lessons she learned.
Lily had to be shooting constantly, but it sounds like you had plenty of off days. What did you do with all that free time in Paris?
It was the best time of my life because I've had to work on a Broadway schedule, eight shows at week. I'm very grateful to have worked from show to show. [But] I've had very little time to ever travel or study abroad. Sometimes [with Emily in Paris] I would have a week off at a time, so I traveled alone for the first time ever. I went to Milan, Geneva, Budapest, Greece, London. It is insane now thinking about everything I did at this time last year, because I obviously can't right now.
Speaking of theater, you were involved in a reworked version of Thoroughly Modern Millie, which was supposed to happen in the spring but was shut down because of the coronavirus. I was curious about how you all were thinking of approaching the show.
Everything is up in the air until we get through the election and get through all this, figuring out how to safely open back up. We're actually still developing it because the most amazing part of that production was the new script that was going to come from it. The conversations we had started and talked about were ones of great allyship. We are still working on it.
It's the kind of show where there are some great elements but then, of course, there's the cringe-inducing "white-slaver" plotline, in which a white woman poses as an Asian woman.
What's amazing is that Jeanine Tesori [who wrote the music and lyrics] and Dick Scanlan [who wrote the book] are thriving writers now, as they were then. I listened to that CD constantly in high school — that and Wicked — and it was insane to me sitting in a table with Lear deBessonet, our director, and Jeanine and Dick talking about how we could make an edited version of this.
Also talking about theater, are you still involved in KPOP? I know that's aiming for a Broadway run eventually.
You know, every plan that theater had was postponed in some way, and until the chips fall, you don't really know where the rest lands. My priority is entering back into the theater when it is safe, because when I go back, it is gonna be with gusto.