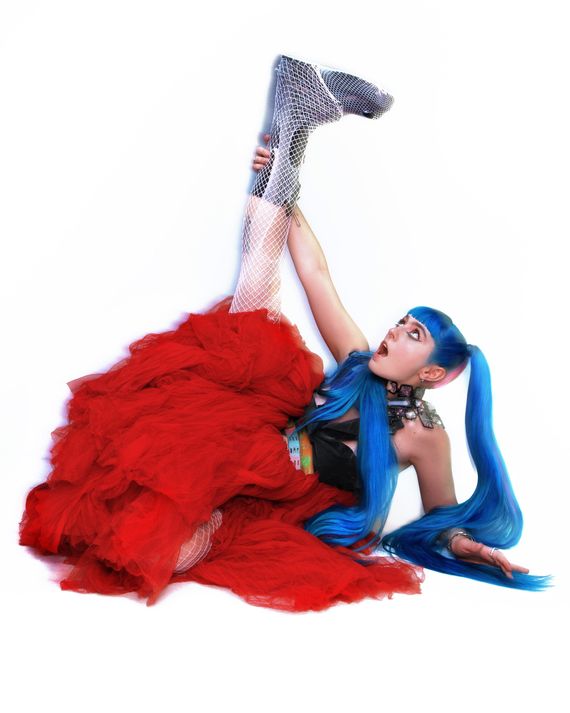 Photo: Charlotte Rutherford
A voice laughs maniacally. Logan Paul sways his hips. Swipe down. A voice laughs maniacally. Two college-age men, both shirtless, grab their crotches and sway. Swipe. A voice laughs maniacally. Miley Cyrus lip-syncs along with the lyrics "Stupid boy think that I need him."
This was the experience of being on TikTok in the fall of 2019. While that grating laugh seemed, at first, to belong to the app, you could discover, with some research, that it came from the mouth of Ashton Casey, an artist who raps — under the alias Ashnikko — about clits and cutting off dicks like she's writing the script for the next Human Centipede movie. Within just three weeks of its first upload, her song "STUPID," featuring Yung Baby Tate, was the No. 2 most-used song on TikTok with 1.3 million video uses. And in the months that followed, "STUPID" became inextricable from the TikTok experience. You couldn't scroll through the app without hearing "Wet! Wet! Wet!"
On TikTok, it's common to hear the same song over and over. If a sound inspires one user to create a video with it, it will inspire another and another, until it amasses hundreds, then thousands, of videos that use the same sound. It's a kind of exposure that reaches far beyond the capability of radio, YouTube, Spotify, or any other music-discovery platform, past or present.
When the shortform audiovisual app launched internationally in September 2017, TikTok was a punch line to a joke about "kids these days." Hardly a year later, it became the world's most downloaded app, and today it holds an unprecedented power over the music industry. Kids these days no longer wish to just listen to music; they want to create on top of it, and artist development has shifted accordingly. It's uncommon for major labels to sign talent without a significant social-media following or a history of impressive performance metrics, but on TikTok, a new user theoretically has the same chance of going viral as Miley Cyrus does. And owing to the app's reactive nature, it is uniquely suited to spreading popular music at a rate that confounds record labels — or, sometimes, any analysis at all.
Unlike obvious TikTok panderers like Justin Bieber, Ashnikko appeals to users of the platform because she presents something that seems impossible to engineer: an impression of not being watched. In the social-media panopticon, a lack of inhibition is aspirational, and she cackles, gurgles, and screams in her songs. Her style can seem at times formulaic, a nexus of current fashion trends — industrial, Y2K, cyberpunk, space faerie, anime fantasy. But even as there's something slightly trollish to everything she does, it's all undergirded with a sense of humor. ("Pee pee poo poo saved my life," she tweeted recently.)
Musically, Ashnikko is part of a new cohort of sex-positive, domme-like rappers — alongside BigKlit, ppcocaine, and Jazmin Bean — who both embody and castrate the phallic grandezza of hip-hop's male past. Her performed misandry (the whole "Fuck men, I'm doing me" thing) seems to have a genuine impact on her listeners. "You've inspired me to nix all the F-boys and really focus on my life," said a fan with great sincerity in one of Ashnikko's recent Instagram Live sessions. And while the unanticipated success of " STUPID" could well have forced her into a TikTok one-hit-wonder narrative, she has converted her viral moment into material gains. Her mixtape, demidevil, expected in February, samples Kelis and Avril Lavigne and features collaborations with Grimes and Princess Nokia.
Ashnikko may also owe her success to the fact that she's savvier than TikTok's brand managers and her team at Various Artists, which tells her to keep milking TikTok for everything it's worth. "Big companies don't get to dictate how a song develops on TikTok. It is totally up to the people on TikTok," she says, speaking from her family's North Carolina home. Ashnikko knows better than anyone that social-media users and the fans themselves have become the ultimate gatekeepers. And that they can smell bullshit from a mile away.
Born on February 19, 1996, Ashton Casey, the eldest of three children, grew up in a Christian family. She still carries herself with the bumptious pride of a 5-year-old who has just learned her first swear word. In middle school, she wrote a story about her friend, one of her teachers, and "loads of pooping"; it led to her suspension. "The girl in that story, Emily, took her own shit in her hand and rubbed it into her hair and called it 'butt-chicken booty works,' " she says, bursting into laughter. Her mom, who is sitting behind her, sighs. "I don't like that you disrespected your teacher," she says, "but it was written really well." Ashnikko is almost 25, but the way she talks can sometimes make it easy to forget she's not a teen. "Everyone reverts back to a child when they're around their mom, don't they?" she says at one point while ribbing her mom in a strong North Carolina drawl. "Go away, Mom, you slut!" and "No, Mom. I called you a power slut. It's a good thing."
When her family relocated to Riga, Latvia, for work, just before she started ninth grade, Casey began to withdraw further into her world of stories and scatology. Aside from her brothers, she was the only American kid in school. At night, she read Neil Gaiman books and wrote raps. "I wrote lots of songs; they were really bad," she says. Then she found Tumblr.
An enclave for the socially alienated, Tumblr had a significant impact on this new generation of feminist and queer artists. Joining the platform around the same time as TikTok favorites Doja Cat and Princess Nokia, Ashnikko discovered a new world of fantasy fanfiction, porn, and intersectional feminism, all of which have since become core components of her music. ("Cisgender heterosexual men / I'm bored of your fumbling hands," she sings, like a Tumblr test-tube baby, on an upcoming song called "Clitoris! The Musical.")
At 18, Ashnikko moved from Latvia to London, certain that she would find the path to her rap career somewhere in the city. She spent her first two weeks there on an Italian man's couch. ("Sometimes he'd watch me in my sleep," she says.) It was another two weeks before she began performing at open mics. "I don't want to talk about it," she says, a phrase she repeats whenever I push for more details about her past. "I don't remember. It was so long ago." She says she also doesn't remember her first meeting with a music executive in 2015. OddChild, a London-based label with a taste for the eccentric, discovered her SoundCloud page and began managing and developing her, leading Parlophone to sign her for a single EP deal that resulted in 2017's Sass Pancakes.
Ashnikko bristles when her older music is brought up too. She says she can no longer listen to anything pre-2018; the songs from Sass Pancakes make her want to cry. There's a clear before and after in her short discography. As with most talented teenagers, the precociousness of her earlier music has since given way to a slick, laconic pop sensibility. "Now I'm confident in my ability to write songs," she says. "I feel like a songwriter. Before, I was just trying to be that, but I had no idea what it took. All of a sudden, I became what I wanted to be, and I was like, Oh shit."
Perhaps "all of a sudden" puts too neat a spin on it: During a particularly rough time, when she was in the midst of a breakup and nothing seemed to be working musically, she dyed her mousy-brown hair first green, then blue. "The success didn't come immediately, but it did come," she says. She noticed how industry gatekeepers began "taking her more seriously" and how more fans were coming to her shows and even starting to dress like her. She began parting her hair into two blue pigtails, bearing a likeness to the Japanese hologram superstar Hatsune Miku (of whom Ashnikko owns a life-size pillow). Perhaps it's just poetic coincidence that Miku, who emerged in 2007, crowdsourced music from her fans in a way that might have pre-figured the fan-centered industry of which Ashnikko is now a part.
In 2018, her years of bad songs and bad dye jobs began to pay off. A feature she had recorded for the London dance trio Jaded was serendipitously picked up by Apple and Nike for an Apple Watch commercial. "That's when I started to be a full-time musician," Ashnikko says. She cut off a lock of her blue hair and stored it in a vial. "It was my symbol of change."
Parlophone, a subsidiary of Warner Music Group, signed her for her third EP, Hi, It's Me, in early 2019. Glossing over the small print, she signed on the dotted line. "I just needed the money, so I definitely signed for a lot less than I should have," she says. "I wish I'd had better managers then." (Shortly after, Various Artists Management came calling.) In September of that year, Ashnikko's team saw her relatively small base expand dramatically. In just a week, her streams went up 1,800 percent, while traffic on Genius.com's lyrics page for "STUPID" skyrocketed. The cause, her team soon realized, was TikTok. The song had been incorporated into a user's video for the first time that month. It took just three weeks for "STUPID" to reach 1 billion views on its hashtag page, which quickly translated into cross-platform success as the song gained more than 16 million streams on Spotify and 8 million on Apple Music in just one month.
Ashnikko has been engaged in promotional activities seemingly nonstop since the success of "STUPID." A month after the song first went viral, she was asked to tour with Danny Brown, one of hip-hop's all-time-great eccentrics. In February, she made one of her first awards-show appearances at the BRIT Awards, where she was flanked by two masked bodybuilder-type men who carried her Rapunzel-like pigtails. The pandemic hit almost a month after, slowing her promotional roll, but that hasn't seemed to hurt her. Her latest hit, "Daisy," a song about a superhero who "throat-punches rapists," was picked up for a brand deal with Dr. Dre's Beats in October. The company, which launched in 2006, was a staple for the millennial generation, but it hasn't connected with Gen Z in the same way. So, alongside the artist and the app, it created the #BeatsDaisyChallenge, the brand's first-ever TikTok campaign and its first initiative to make a music video out of user-generated content. Over four weeks, Beats invited TikTok users to create clips, corresponding to its headphone colors, for Ashnikko's video. The content came in droves, the impact reaching even further than "STUPID" had the year before. As the power of TikTok and Ashnikko's fandom concurrently grew, "Daisy" became her first crossover hit, reaching No. 24 on the U.K. charts.
Ashnikko laughs at the success of the challenge and swears she is bewildered by it. "When you try to create something on TikTok, the kids laugh in your face and are like, 'Nice try,' " she says. But while it may not be possible to reverse engineer virality on the app, it is possible to understand the consumer. Ashnikko is a brand-friendly aggressor and transgressor who knows her cynical yet winnable audience better than anyone. Today, you can't earn the big pop numbers she's angling for without that kind of insight. Whoever's best at keeping the fan in charge wins.
*This article appears in the November 23, 2020, issue of New York Magazine. Subscribe Now!