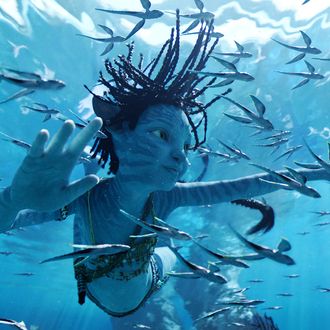 Do hold your breath.
Photo: Courtesy of 20th Century Studios/Courtesy of 20th Century Studios
If you'd like a big blockbuster to help you kick off the summer from your living room, praise Eywa, because after a digital VOD run, Avatar: The Way of Water hits Disney+ and HBO Max (soon to be just "Max") on June 7. This move comes after the James Cameron sequel beat out his own Titanic as the third-highest-grossing film of all time (at least until the next round of Avatars hit). The Way of Water will be simultaneously available to stream on Disney+ and Max, with no exclusivity window. Both streamers will host bonus extras on the making of the film, so brace yourself for a lot more time on Pandora.