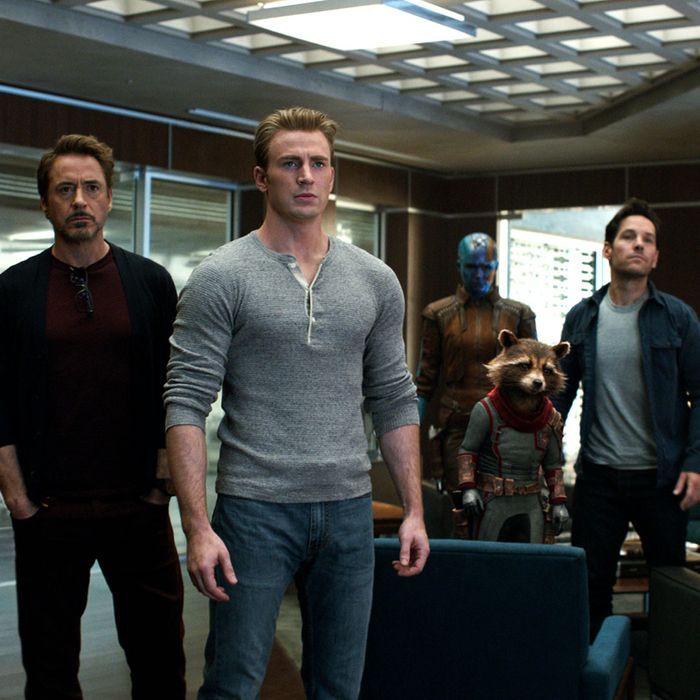 Light spoilers ahead for Avengers: Endgame.
There's so much movie in Avengers: Endgame that it's hard to break down the three-hour epic into individual, digestible parts. There's chubby Thor. There's the Hot Tub Time Machine reference. There's the ongoing Captain America–has–the–best–ass joke. (There is, also, the whole plot and stuff, too, I suppose.) But there exists one part of Endgame that I absolutely cannot stop thinking about. On a loop, this sequence has danced in my head. It's swallowed up basically every other thought I have. Drink does not satisfy me; food turns to ash in my mouth. I absolutely must get to the bottom of this truly incredible sequence. What is the scene that has me so obsessed? Endgame's three-act end credits.
The wheeling and dealing of star billing has long fascinated Vulture, especially when it comes to the Marvel machine. (It has also fascinated me, ever since that one joke Ben Affleck made in Shakespeare in Love.) What Marvel pulls off with Endgame, though, is unparalleled: one movie with 54 stars? Thirty-two actors are given regular-degular solo cards in the end credits, which I will henceforth refer to as Act I. Nine stars are grouped into trios to share cards, which I will call Act II. And in Act III, seven stars get extra-special solo cards — some having "with" and/or "as" designations — followed by six extra-special super stars who get solo cards, fancy animation, and fancy signatures! Would you like to join my mania? Perfect, let's start at the beginning.
Act I: Here is the official listing of the first 32 actors to appear in Endgame's credits
Don Cheadle
Paul Rudd
Benedict Cumberbatch
Chadwick Boseman
Brie Larson
Tom Holland
Karen Gillan
Zoe Saldana
Evangeline Lilly
Tessa Thompson
Rene Russo
Elizabeth Olsen
Anthony Mackie
Sebastian Stan
Tom Hiddleston
Danai Gurira
Benedict Wong
Pom Klementieff
Dave Bautista
Letitia Wright
John Slattery
Tilda Swinton
Jon Favreau
Hayley Atwell
Natalie Portman
Marisa Tomei
Taika Waititi
Angela Bassett
Michael Douglas
Michelle Pfeiffer
William Hurt
Cobie Smulders
No one — not even Elizabeth Olsen's agent — has spent more time poring over this list longer than I have. You think the utter chaos of these 32 names are your ally? You merely adopted the utter chaos of these 32 names. I was born in it, molded by it! Around hour 32, when my brain fell out my noggin and I started crying to the Florence and the Machine song I was listening to on repeat ("The End of Love," for the curious/also interested in crying), I consulted ex-Vulture Kyle Buchanan. I love Kyle, and I miss him a lot. Here is what Kyle had to say about this list of 32 names: "UTTERLY random."
"But," I countered. "Don Cheadle–Benedict Cumberbatch–Chadwick Boseman–Tom Holland is the same order as their Infinity War billing." I held my breath as a three-dot bubble appeared on my phone, suggesting Kyle was replying with a brilliant and correct answer. Instead he said: "But why do Paul and Brie go where they go." And so I cried some more and descended into a deeper level of mania.
Instead of analysis, which we are far past, let's approach it this way: How about a few observations? Starting with Paul and Brie, who have stuff to do in Endgame, which helps their credits case. Brie Larson had a big movie open last month and a bad (fictional) haircut debut this month — could that have helped her cause? Paul Rudd had a birthday recently, and with it came Vulture dot com republishing our very good Paul Rudd quiz — could that have upped his status?
Another observation: Natalie Portman, who had no lines, is billed above Michael Douglas, who had one line (and also said he got throat cancer once from oral sex. Also, Natalie Portman ought to have won an Oscar for Jackie.)
Another observation: As far as the not-aging-thing goes, the smoothness of Angela Bassett's skin deserves to be billed above Paul Rudd's. So maybe I was wrong before, and the fact that Paul Rudd doesn't age actually has nothing to do with his Endgame billing.
Yet another observation: If, in 2008, you would've told me that one person in Gossip Girl would appear 14th in a list of 32 supporting Marvel characters, I probably would've guessed that it would be Sebastian Stan. But I would've also guessed that Leighton Meester would've appeared second or third. It's a funny world we live in, but I am happy that Dan Humphrey was, for a time, chronicling the lives of Manhattan's teen elite.
One last observation: The things I would do to trade places with Letitia Wright, who is positioned between Dave Bautista and John Slattery … we can't speak about this in public!
ACT II: The threesomes
Sean Gunn/Winston Duke/Linda Cardellini:
Sean Gunn did motion-capture work for Rocket Raccoon and Groot, Winston Duke is Winston Duke, and finally something bumps Green Book from the top of Linda Cardellini's IMDb profile. I said thank you!
Maximiliano Hernandez/Frank Grillo/Hiroyuki Sanada:
Agent Jasper Sitwell, Crossbones, and the Yakuza boss Hawkeye fights in Tokyo. Sure!
Tom Vaughan-Lawlor/James D'Arcy/Jacob Batalon:
Thanos's friend, Tony Stark's butler, Peter Parker's bestie. Okay!
ACT III: The biggies
"Featuring Vin Diesel as Groot" and "Bradley Cooper as Rocket."
This is the same as their Infinity War billing. Vin Diesel has the Guardians franchise, the Fast franchise, and The Chronicles of Riddick! It hurts my heart to say this but: If Bradley Cooper was either (a) still publicly complimenting Lady Gaga, (b) took home an Oscar for A Star Is Born, or (c) told me why Ramon was listening to "Yonkers" by Tyler, the Creator in A Star Is Born, mayhap he could've pulled rank here and scored an even greater designation in the next Guardians movie. Alas!
"With Gwyneth Paltrow" and "With Robert Redford"
Alexa, find me two people who claim to have "retired" and yet seem to find themselves on a Marvel lot! To crack this one I once again consulted my esteemed ex-colleague Kyle: "Redford gets a 'with' because he had it in Winter Soldier, but Tilda or Rene don't," he said. Mrs. Gwyneth "I Don't Know What the Cut Is" Paltrow was billed above Zendaya in Spider-Man: Homecoming, so she definitely gets a "with" here. I'll allow it!
"With Josh Brolin as Thanos"
Josh Brolin dies twice in Endgame. Two times. The same number of times people used the F-word in The Social Network! And his Infinity War billing carries over …
"With Chris Pratt"
Ditto Pratt's Infinity War billing, except this time he's dropped down from Infinity War's "and Chris Pratt" to "with Chris Pratt." Hmm.
"And Samuel L. Jackson as Nick Fury"
Samuel L. Jackson was here long before a lot of these people, and his Nick Fury will be here long after they're gone.
Naturally the six Marvel OGs — who've always gotten the sweetest billing spots — appear last. Their names don't just flash across the screen, though, because Endgame is the culmination of 22 movies, not to mention that two of these 22 movies feature Michelle Pfeiffer! This is when the credits game really goes for broke. (However, I invite James Cam'ron's dozen Avatar sequels to try and outspend Marvel here.) These core six get a special animation montage of their appearances across the MCU, a solo card, and an animated signature. This is a win for those of us who love this goofy group of pals, and also for those of us who are absurdly curious about who does and does not have sloppy handwriting.
So, up first in this lengthy montage is app enthusiast and rumored Lady Gaga boyfriend Jeremy Renner, who is the new sixth member of this elite core. After Renner, Scarlett Johansson continues her legacy of being billed fifth for an Avengers film. (She has other credits to look forward to, when she returns for a Black Widow prequel.) And Mark Ruffalo again scores third billing. (For what it's worth, he also has the distinction of having the best signature; Evans has the worst.)
But for Endgame, Chrises Evans and Hemsworth switch: Evans, haver of the best ass and not-haver of any more Marvel movies left on his contract, gets the second billing Hemsworth had on Infinity War, while Hems and his old hair are bumped down to fourth. Does this mean Thor is destined to show up in a subsequent Guardians film? Maybe! The most coveted spots in this act are reserved for the members of the Avengers crew who have truly passed on to a better place. So at the tippity top of the Marvel empire remains Robert Downey Jr., RIP, billed last.
Beyoncé stunningly remains unbilled for single-handedly powering humanity.*
*A previous version of this article suggested that Beyoncé does not canonically exist in the Marvel Cinematic Universe. Actually, she was referenced in Doctor Strange, in a scene in which Wong (Benedict Wong) is shown listening to — and enjoying — "Single Ladies." Vulture regrets the error.